Led by Senior Intelligence Analyst William Altman
The telecommunications industry is growing increasingly dynamic as a host of new technologies redefine connectivity, networking, and digital media. To get ahead, telcos are investing in startups, stepping up their M&A activity, and expanding their offerings. In fact, telcos are increasingly active in private markets with deals reaching an all-time high in 2017, at over 250.
Telcos face challenges including the need to expand their sources of revenue and the need to differentiate themselves in an increasingly crowded market. This briefing sheds light on the strategies and forward-looking moves of telcos as they seek to adapt to today's technology and lead in the future of this dynamic and fast-paced industry.
In this briefing we cover:
Where are leading telcos placing bets in the private markets?
Spotlight: Telcos in the Middle East and North Africa (MENA)
What are the emerging technologies and disruptions affecting telcos?
What are the forward-looking moves of top telcos?
Which telcos are positioned to win the innovation game?
Your Panelist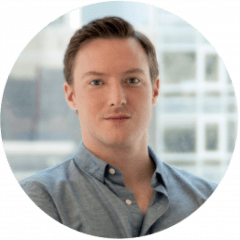 William is a senior intelligence analyst at CB Insights, where he produces data-driven research on emerging technologies, industries, and geographies with a focus on cybersecurity and digital identity. William's published industry research has been featured in the The Wall Street Journal, Forbes, CNN, and The New York Times.
Before CB Insights, William worked in the Middle East and North Africa where he conducted research on entrepreneurship in the Wamda Research Lab. William has a degree from Denison University, and a Master's Degree from the Middlebury Institute of International Studies at Monterrey.