Led by Intelligence Analyst Mike Wholey
Materials innovation is critical to future advances in computing power, electronics, and clean energy.
As automakers and consumer electronics manufacturers demand ever more raw materials for devices and increasingly high-tech vehicles, companies are looking for cheaper, higher performing, and more environmentally friendly materials for products.
We'll use CB Insights data to look at the state of materials innovation, and how advances in nanomaterials, flexible electronics, and microelectronics will affect automotive, consumer electronics, and clean energy markets.
This briefing looks at:
Advanced Materials Development
Recycling Trends
Corporate/VC Investment Trends
Your Speaker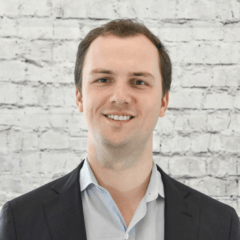 Mike Wholey is an intelligence analyst at CB Insights, where he focuses on startups with industrial manufacturing and energy applications. Prior to joining CB Insights, Mike worked for Arconic (formerly Alcoa) as a research analyst in the company's internal strategy consulting group, and as a consultant for Capgemini.
Mike is a graduate of Virginia Tech.