Led by CB Insights Research Analyst Nikhil Krishnan
As the cost of gene sequencing continues to decrease, we have an unprecedented amount of data about our genome that's helping us understand more about our bodies. This area presents a lot of opportunities for pharmaceutical companies, health insurance, and investors as both tech and biology converge.
But how much of this is hype and how is genomics actually being used today?
In this webinar we'll talk about:
Key developments enabling genomics today
Frameworks for understanding the different value adds and business models of different genomics startups
Case studies of specific genomics companies
Who the active players in the space are and important moves that corporations like Illumina and Roche have made
Opportunities in the services and application layer as more genetic data is created
Your Panelist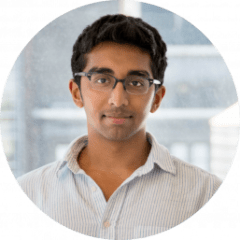 Nikhil Krishnan is a research analyst at CB Insights. His research focuses on biotechnology/drug development, digital health, autonomous vehicles, and consumer products. Nikhil worked at several other startups in the past, including Relationship Science, Global Thermostat, and Uber.
Nikhil's research has been featured several times in the Wall Street Journal, Bloomberg, New York Times, and Reuters. Nikhil is a graduate from Columbia University.