Led by Senior Intelligence Analyst Nikhil Krishnan
What might healthcare look like in the coming decades?
We look at different demographic, technological, and cultural shifts that are poised to change the landscape of healthcare in the next 10-15 years and where the opportunities might be.
This includes:
The aging boomer population in the US as well as very different age distributions across other countries
How technologies like AI, genomics, and new types of monitoring are developing
The changing physician-patient relationship and societal/ethical implications of new technologies
New jobs that might exist in healthcare or grow in demand like genetic counseling and digital coaches
Regulatory shifts that might be highly impactful
Your Speaker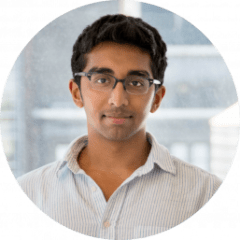 Nikhil Krishnan is a senior analyst at CB Insights, where he produces data-driven analysis and research reports on trends in digital health, ag tech, and construction. He sends the weekly Digital Health Insights newsletter to 30K+ members. His research has been featured in The Economist, New York Times, Wall Street Journal, and more.
Prior to joining CB Insights, Nikhil worked at Uber, the Small Business Administration, and Relationship Science.