Led by Intelligence Analyst Lindsay Davis

Fintech in Q3'18 continues on an upward tear. Ant Financial's record $14B investment shattered 2017's funding record and deals remain on pace to top a new high.
The quarter has also seen additional investor liquidity through M&A. Though IPO activity has been muted, one of the top tech IPOs to-date was alternative lender Funding Circle which debuted on the London Stock Exchange.
Other top investments in Q3'18 saw Stripe cross a $20B valuation, making it one of the most valuable private companies in the world.
In this briefing, we dig into fintech data through the first three quarters of 2018 and what we're watching for through year end. We discuss the new business models and technologies we're seeing in the market, how incumbents are shifting their business models to fight back, and new competitors emerging across verticals.
This briefing examines:
Q3'2018 financing trends
Fintech sectors with notable heat including challenger banks, regtech, insurtech, AI, blockchain, and more
Regional competition between the US, Europe, and Asia
Exit trends including M&A and IPO analysis
What we're watching through year end
Your Speaker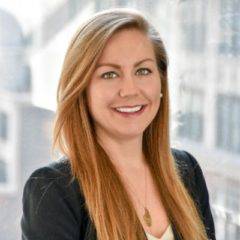 Lindsay Davis is an intelligence analyst at CB Insights where she researches emerging technology trends in fintech, capital markets tech, wealth tech, and regtech. Her research has been cited in Bloomberg, The New York Times, The Financial Times, and Thomson Reuters and presented her analysis at Nikkei's Reg Summit and Money 20/20.
Prior to joining CB Insights, she worked at the Depository Trust and Clearing Corporation (DTCC) as an internal auditor where she most recently lead coverage of the enterprise risk management group including operations, vendor, credit, market, & liquidity risk.
Lindsay is a graduate of the University of Florida and holds a Bachelor's in Economics, a minor in Chinese, and a Master's in International Business from the Warrington School of Business.