Led by Intelligence Analyst Lindsay Davis
Fintech in Q2'18 continues on an upward tear. Ant Financial raised an unprecedented $14B investment and Dutch payments unicorn, Adyen, had one of the top tech exits this year, closing out their first day of trading at $15.1B.
The quarter has also seen additional investor liquidity through M&A. One of the top tech acquisition to-date was Paypal's acquisition of Sweden-based iZettle for roughly $2.2B. This was more than double what the company was looking to raise in their scheduled IPO.
Other top investments in Q2'18 minted 2 new fintech unicorns including capital markets tech startup Tradeshift ($1B Valuation) and blockchain company Circle ($3B Valuation). Following Adyen's exit, the VC-backed list stands at 27 fintech unicorns valued at $81.8B.
In this briefing, we dig into the fintech data through the first half of 2018 and what we're watching for in the second half of the year. We discuss the new business models and technologies we're seeing in the market, how incumbent are shifting their business models to fight back, and new competitors emerging across verticals.
This briefing examines:
Q2'2018 financing trends
Fintech sectors with notable heat including payments, blockchain, lending, capital markets, and more
Regional showdown between the US, Europe, and Asia
Exit trends including M&A and IPO analysis
And what we're watching in H2'2018
Your Speaker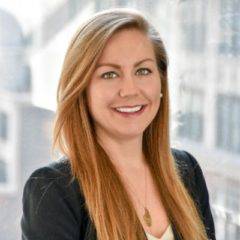 Lindsay Davis is an intelligence analyst at CB Insights where she researches emerging technology trends in fintech, capital markets tech, wealth tech, and regtech. Her research has been cited in Bloomberg, The New York Times, The Financial Times, and Thomson Reuters and presented her analysis at Nikkei's Reg Summit and Money 20/20.
Prior to joining CB Insights, she worked at the Depository Trust and Clearing Corporation (DTCC) as an internal auditor where she most recently lead coverage of the enterprise risk management group including operations, vendor, credit, market, & liquidity risk.
Lindsay is a graduate of the University of Florida and holds a Bachelor's in Economics, a minor in Chinese, and a Master's in International Business from the Warrington School of Business.