Led by Senior Intelligence Analyst Lindsay Davis
In this briefing, we take a data-driven look at what happened in fintech in 2018 and what we're watching for in 2019.
2018 was a banner year for fintech with over 1,700 deals worth nearly $40B. Key drivers included consumer tech adoption reaching a tipping point, investors pouring in record levels of funding, and emboldened regulators levying fines and marquee regulations. One of the most exciting driving themes is that fintech is growing on a global scale.
What's ahead in 2019? These drivers are a positive signal for the year ahead.
Key highlights from 2018:
Funding crossed a new annual high of just over $39B, largely boosted by a surge in $100M+ mega-rounds and Ant Financials' record $14B investment
16 new unicorns were minted in 2018, a new record, including Revolut, Plaid, Nubank, Policy Bazar, and Tiger Brokers, among others
New categories cropped up globally, including digital challenger banks (like Monzo and Chime) that combined have amassed over 15M consumers
Other categories fizzled, like crypto, which saw market volatility from increased regulatory guidance and scrutiny over fraud
Globally, Asia made a run at the US as the top market for fintech with a surge in early-stage and mega-round investments
A few themes in 2019 we cover include:
What's next for fintech re-bundlers
Incumbents' fintech playbooks and how they could fight back
Which tech giants could be actively launching financial services
Emerging technologies and areas ripe for fintech disruption
Markets that could see fintech hubs emerge and others that could stall
The outlook for fintech IPOs, M&A, and more
Your Speaker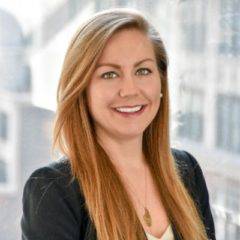 Lindsay Davis is a senior intelligence analyst at CB Insights where she researches emerging technology trends in fintech, capital markets tech, wealth tech, and regtech. Her research has been cited in Bloomberg, The New York Times, The Financial Times, among others and she has presented her analysis at Nikkei's Reg Summit, Money 20/20, and on Bloomberg.
Prior to joining CB Insights, she worked at the Depository Trust and Clearing Corporation (DTCC) as an internal auditor where she most recently lead coverage of the enterprise risk management group including operations, vendor, credit, market, & liquidity risk and oversaw the formation of new tech initiatives.
Lindsay is a graduate of the University of Florida and holds a Bachelor's in Economics, a minor in Chinese, and a Master's in International Business from the Warrington School of Business.