Led by Intelligence Analyst Meghna Rao
Big tech's next move is into the smart home and they're starting to claim stakes.
In this briefing, we discuss how FAMGA is infiltrating homes with smart devices that manage everything from energy efficiency to security. With their help, the future of the home might look like a personalized delivery center, a node in an energy management network, and a care center for seniors and children.
We outline multiple possibilities and explore what FAMGA will get out of owning the smart home. We also discuss FAMGA's battle to dominate voice technology and mention some startups taking sides in the fight.
This briefing discusses:
From Amazon's investments in Tado and ecobee to Google's Nest, what could energy efficiency look like in FAMGA-backed smart homes?
How is the door being opened for tech-enabled senior care in-the-home? And how is FAMGA approaching this new market?
What are the challenges facing the adoption of voice technology – and is there a clear winner for the smart home?
Your Speaker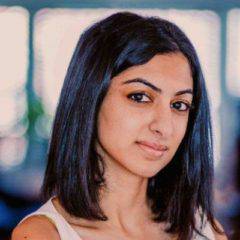 Meghna Rao is an intelligence analyst at CB Insights. Her central focus is the energy industry. Her secondary focus is on Asia, particularly India and Southeast Asia. Before this, Meghna worked at Singapore-based media publication Tech in Asia as a tech journalist. She mainly covered India.
Prior to that, she worked for Seattle-based impact venture capital fund Unitus Seed Fund at their Bangalore office. Meghna graduated from Stony Brook University with a degree in English literature.