Led by Intelligence Analyst, Arieh Levi
Featuring Fortune Reporter, Robert Hackett
In November 2015, with a single bitcoin priced at $400, J.P. Morgan Chase CEO Jamie Dimon said bitcoin would "not survive". Since then, the cryptocurrency hasn't just survived, but thrived, with the price of bitcoin peaking near $5,000 in early September 2017. Additionally, in 2017 YTD hundreds of companies have raised almost $2B in initial coin offerings, promising to fundamentally change the way businesses, consumers, and societies transact via novel decentralized applications.
Still, in mid-September Dimon doubled down on his claim, calling bitcoin a "fraud" and saying that it would "blow up."
So, what's going on here?
We'll take a data-driven dive into bitcoin, cryptocurrencies, ICOs, enterprise blockchains, and a host of other related topics as we explore this fascinating space.
Specifically, we'll aim to:
Understand blockchain's potential and current value proposition
Explore enterprise blockchain development, and parse their respective roadmaps
Dissect state regulatory environments regarding initial coin offerings, cryptocurrency exchanges, and government-sponsored blockchain projects
Explore token valuation methodology for tokens and offer predictions around blockchain startup trends
Your Panelists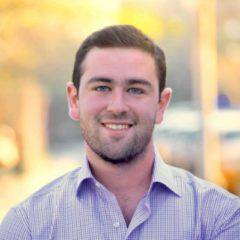 Arieh Levi is an intelligence analyst at CB Insights, where he produces data-driven analysis and research reports on private company financing, exit and performance trends across emerging industries, geographies and investors – specifically, blockchain and fintech.
Prior to joining CB Insights, Arieh held roles in healthcare and financial services. Arieh is a summa cum laude graduate of Yeshiva University.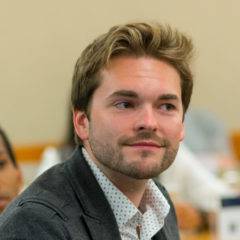 Robert Hackett is a staff writer at Fortune where he covers technology, business, security, and all things crypto-related. He is the creator of Cyber Saturday, the weekend edition of Fortune's daily tech newsletter.  He is a co-host of Fortune Tech Debate, a weekly video series. And he is a founding editor of The Ledger, Fortune's new fin-tech franchise.
Before Fortune, Hackett served at Nautilus Magazine, TED Conferences, and Johnson & Johnson. He studied chemistry and English with minors in history and science & technology studies at Cornell University and journalism at Columbia Journalism School.