Led by Intelligence Analyst Nick Pappageorge
Blockchain technology is allowing for new, completely decentralized ledgers to replace parts of the IT stack, track our physical world, and trace supply chains.
Instead of private databases, the future of enterprise and heavy industry will likely have blockchains managing a unified, public log.
Startups are working (and ICOing) systems that will impact shipping containers, M2M payments, IoT sensors, cybersecurity, and food production. Meanwhile, corporate giants like Walmart, Nestle, UPS, and even oil & gas companies are testing blockchain pilots of their own.
In this briefing we look at:
the hype behind blockchain, and why corporations are investing in blockchain-based solutions
blockchain startups and interesting projects
pilots tested by corporations such as Walmart
potential use cases in heavy industry
Your Panelist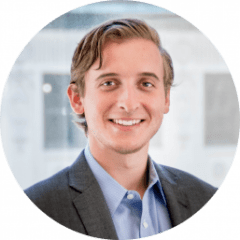 Nick Pappageorge is an intelligence analyst at CB Insights with focus on IoT, wearables, AR/VR, and drones. Prior to analyzing startups and venture capital at CB Insights, Nick worked at 3D printing company Makerbot Industries in a research role, and in Latin America for the Libra Group.
Nick is a graduate of Hamilton College. His research has been cited in Forbes, Fortune, Wired, Quartz, The Wall St Journal, and Mary Meeker's Internet Trends deck, among other publications.