Led by Senior Intelligence Analyst Nikhil Krishnan
Blockchain has risen to prominence in the last year, with more than $18B raised over the past year. Several companies are attempting to apply the technology to the healthcare space, some with stronger use cases than others.
We'll talk about several applications, their feasibility, areas of opportunity, and which companies should be worried.
In this live briefing, we'll look at:
The benefits a blockchain-based system could provide for different use cases
What regulatory changes mean for blockchain-based companies
Which investors, corporations, and startups are working on applications in the space
Promising applications and obstacles projects will face including health records, wellness tokens, and more
Details about consortia that giants like Humana, UnitedHealth, and Quest Diagnostics are doing with blockchain tech
Your Speaker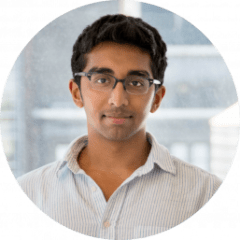 Nikhil Krishnan is a senior analyst at CB Insights, where he produces data-driven analysis and research reports on trends in digital health and healthcare broadly. He sends the weekly Digital Health Insights newsletter to 65K+ members. His research has been featured in The Economist, New York Times, Wall Street Journal, and more.