Led by Lead Intelligence Analyst Deepashri Varadharajan
Healthcare is emerging as a prominent area for artificial intelligence research and applications.
Image recognition is revolutionizing diagnostics. Pharma companies are experimenting with deep learning to design new drugs. In the private market, healthcare AI startups have raised $4.3B across 576 deals since 2013, topping all other industries in AI deal activity.
AI in healthcare is currently geared towards improving patient outcomes, aligning the interests of various stakeholders, and reducing healthcare costs.
In this briefing, we look at trends including:
Rise of AI-as-a-medical-device
How Apple is disrupting clinical trials
China's healthcare AI moves
AI's emerging role in value-based care
Your Speaker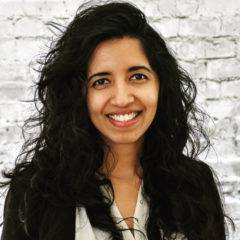 Deepashri Varadharajan received her undergraduate degree in engineering at Vellore Institute of Technology in India. She later studied journalism, and received a degree from the Columbia University Graduate School of Journalism.
Before CB Insights, Deepashri worked for organizations including Al Jazeera America, Deccan Herald, and interned at Siemens India.