Led by Senior Intelligence Analyst Deepashri Varadharajan
In this briefing we look beyond the "machine learning" hype cycle at the latest technological advancements in AI, its geopolitical impacts, and how AI is reshaping industries and the enterprise.
Trends covered in this briefing include:
New blue collar job — robot babysitters
White-collar automation accelerates
6-figure salaries in the AI talent wars
China vs US competition heats up
AI for X is … everywhere
The machine learning hype will die
Amazon, Google, Microsoft dominate enterprise AI
The emergence of 'capsule networks'
AI diagnostics gets the nod from regulators
Your Panelist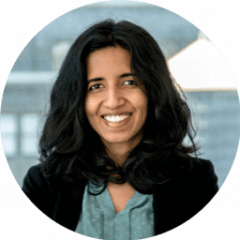 Deepashri Varadharajan received her undergraduate degree in engineering at Vellore Institute of Technology in India. She later studied journalism, and received a degree from the Columbia University Graduate School of Journalism.
Before CB Insights, Deepashri worked for organizations including Al Jazeera America, Deccan Herald, and interned at Siemens India.