Led by Intelligence Analyst Lindsay Davis
While the buzz that Amazon will take the plunge into banking seems to get louder each year, it's important to first understand Amazon's existing strategy in financial services — what Amazon has launched and built, where the company is investing, and what recent products tell us about Amazon's future ambitions.
Based on our findings, it's hard to claim that Amazon is building the next-generation bank. But it's clear that the company remains very focused on building financial services products that support its core strategic goal: increasing participation in the Amazon ecosystem.
As a result, the company has built and launched tools that aim to:
Increase the number of merchants on Amazon, and enable each merchant to sell more
Increase the number of customers on Amazon, and enable each customer to spend more
Continue to reduce any buying/selling friction
In a sense, Amazon is building a bank for itself — and that may be an even more compelling development than the company launching a deposit-holding bank. In this briefing, we drill into:
Amazon's product strategy
Amazon's next financial pillar
Market strategy outside the US
And what Amazon will do next
Your Speaker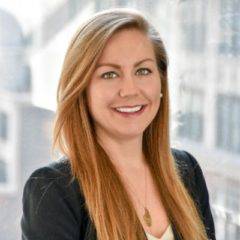 Lindsay Davis is an intelligence analyst at CB Insights where she researches emerging technology trends in fintech, capital markets tech, wealth tech, and regtech. Her research has been cited in Bloomberg, The New York Times, The Financial Times, and Thomson Reuters and presented her analysis at Nikkei's Reg Summit and Money 20/20.
Prior to joining CB Insights, she worked at the Depository Trust and Clearing Corporation (DTCC) as an internal auditor where she most recently lead coverage of the enterprise risk management group including operations, vendor, credit, market, & liquidity risk.
Lindsay is a graduate of the University of Florida and holds a Bachelor's in Economics, a minor in Chinese, and a Master's in International Business from the Warrington School of Business.