We talk AI 100 startups and emerging AI technologies on the horizon.
Artificial intelligence has broken through the hype and is now a viable technology that is transforming businesses in every industry vertical. Knowing what startups and their solutions to watch and consider for 2020 will help your business navigate the changing landscape.
In this webinar, CB Insights' Deepa Varadharajan walks through our 2020 AI 100 list of startups. She highlights some of the companies from the list, their solutions and related trends. You'll learn about startups working on everything from quantum machine learning to deepfakes, and more. 
Your Speaker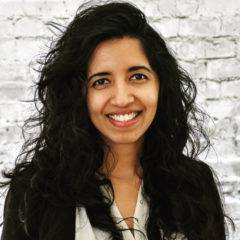 "Deepashri Varadharajan is a lead analyst at CB Insights, researching the intersection of AI and different industries. She is passionate about studying new business models and opportunities that AI is helping shape, and how traditional corporations and governments are adapting to a rapidly changing landscape.
Deepashri received her undergraduate degree in electronics and communications engineering from VIT University in India and an MS from the Columbia University Graduate School of Journalism. Before CB Insights, she worked for media houses including Al Jazeera America."