Led by Lead Intelligence Analyst Deepashri Varadharajan
Commercial applications of AI are rapidly taking off, from AI-assisted diagnostics to checkout-free retail stores to autonomous last-mile delivery tests. Big tech companies like Apple and Google are pushing the boundaries of AI research, and around 2K new AI startups have emerged in the last 3 years.
To help you understand what's next in AI, we look at the industry adoption and market strength of narrow AI trends, categorizing them as necessary, experimental, threatening, or transitory (NExTT).
We dive into the trends disrupting the entire AI value chain, from data and hardware infrastructure to advances in AI software to emerging industrial applications.
Some of the topics we discuss:
AI at the edge and what Nividia, Qualcomm, and others are working on
Disrupting healthcare, from diagnostics to advanced biometrics to next-gen prosthetics
AI applications across retail, agriculture, and telecommunications
Facial recognition in China and the United States
The rise of generative adversarial networks
And much more
Your Speaker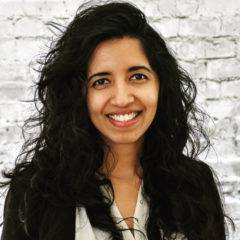 Deepashri Varadharajan is a lead analyst at CB Insights, researching the intersection of AI and different industries. She is passionate about studying new business models and opportunities that AI is helping shape, and how traditional corporations and governments are adapting to a rapidly changing landscape.
Deepashri received her undergraduate degree in electronics and communications engineering from VIT University in India and an MS from the Columbia University Graduate School of Journalism. Before CB Insights, she worked for media houses including Al Jazeera America.