Led by Senior Intelligence Analyst Nikhil Krishnan
The agriculture industry is going through massive shifts. There are new sources of data thanks to sensors, satellites, and cheaper sequencing. We can edit the genes of crops more easily thanks to developments in CRISPR. Robotics are automating processes.
Farms can be created in places they may not have existed before. And new business models have been enabled thanks to mobile and the internet. But startups in the space also have their own challenges, including customer acquisition obstacles, fewer acquirers, and others which we'll talk about in the presentation.
And the deals are getting larger. We saw two $300M acquisitions in the last few months and several deals above $100M. More investors are flocking to the space looking for opportunities.
In this research briefing we'll go over:
The new technologies that are changing the agriculture industry
Funding and exit activity into ag tech companies
Which investors are active in the space
Emerging business models and well-funded companies
Activity of agribusiness corporates
Your Panelist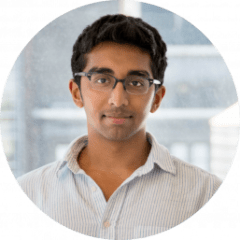 Nikhil Krishnan is a senior intelligence analyst at CB Insights. His research focuses on biotechnology/drug development, digital health, autonomous vehicles, and consumer products. Nikhil worked at several other startups in the past, including Relationship Science, Global Thermostat, and Uber.
Nikhil's research has been featured several times in the Wall Street Journal, Bloomberg, New York Times, and Reuters. Nikhil is a graduate from Columbia University.