Led by Senior Intelligence Analyst Jud Waite
From financial services to energy production to retail, corporate strategy teams are confronting the need to remain agile and relevant, especially with regard to venture-backed technologies.
Corporate venture funds participated in $52.95B investments across 2,740 deals throughout 2018. As corporate funds and initiatives continue to grow, corporate teams are developing strategies that could make or break their bottom line.
In this webinar we dive into the most recent corporate venture capital trends from 2018 and learn how corporations are deploying their capital.
We cover areas such as:
The global, US, Asia, Europe, and the UK corporate venture capital markets
Sector-specific investment trends in internet, mobile, and healthcare
Which corporations are most actively investing
How corporation venture teams are approaching categories like artificial intelligence, cybersecurity, and digital health
Your Speaker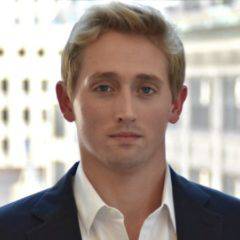 Jud Waite is an intelligence analyst at CB Insights, where he produces data-driven analysis and research reports on private company financings, exits, and performance trends across emerging industries, geographies and investors. His research has been cited in Business Insider, VentureBeat, CNBC, Bloomberg, and the Financial Times.
Prior to joining the research team at CB Insights, Jud was an early member of CB Insights' Customer Success team where he specialized in working with venture investors. Jud is a graduate of Lafayette College.