Are companies more concerned about Brexit or US-China trade tariffs? Here's what the data says.
Uncertainty over the economic repercussions of Brexit and the US-China trade war has many companies scrambling to figure out how to adapt — and how best to reassure their shareholders.
Using CB Insights' earnings calls analysis tool, we looked into the data behind what is top-of-mind for leading executives.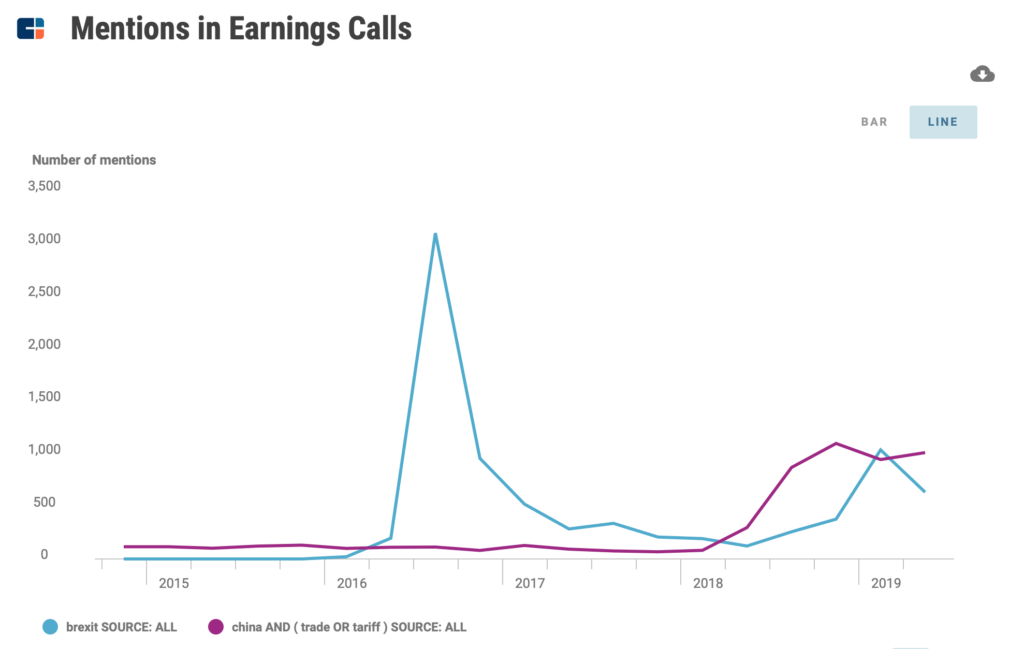 Brexit chatter tracks major events
Discussion of Brexit on earnings calls skyrocketed after the UK's vote to leave the European Union in June 2016 — but mentions had already substantially subsided by the next quarter. This trajectory continued over the next two years, until beginning to rise as the initial EU exit deadline of March 31, 2019 loomed.
This uneven cycle in mentions is likely due in part to a broad continuation of the status quo in trade relations between the EU and the UK, even as political exit negotiations took place in the background. Companies knew change was coming, but weren't sure exactly what that change would be.
The companies that mention Brexit the most on earnings calls come from sectors including finance, auto, and travel — reflecting three key UK industries with close ties to the European market.
"I was in London […] trying to understand what Brexit means. I'm still not much smarter."— Oliver Schmidt, Head of Investor Relations, Allianz
Trade with China is a sustained topic on earnings calls
Talk of China tariffs overtook Brexit in Q2'18 — just as the announcements of hefty tariffs were escalating — and has continued on an upward trend ever since. Since then, the only quarter when Brexit was a bigger feature of earnings calls was Q2'19, in the run-up to the original deadline for Britain to leave.
Businesses have had to respond to a regular stream of new tariff announcements since the US-China trade war, contested between the world's two biggest economies, began in earnest. This fast-moving series of events, along with their near-immediate economic consequences, may have kept trade with China top-of-mind for many companies.
The businesses mentioning China tariffs the most represent industries such as shipping, energy, and agriculture.
"Tariffs imposed on Chinese imports resulted in an adverse impact of approximately 5% on gross profits."– Richard Mushrush, CFO, Telkonet 
"There's still a little bit unknown about what — how this China thing is going to play out. And that's a big important market for us and that's probably what makes me a little more anxious."– Bob Swan, CEO, Intel
What next?
Expect discussion of Brexit to spike again when the extended deadline for leaving the EU by the end of October edges closer. Though many view leaving without a deal as unlikely, the UK's government has said it is actively preparing for such a scenario.
Businesses may especially take note if the UK exits in a "no deal" scenario — where the country leaves the EU without alternative trade arrangements in place — as this would have an overnight effect on many of Europe's supply chains and cross-border trading costs.
"Brexit remains unresolved with skewed risk to the downside. And trade tensions between the US and China are progressively impacting the growth outlook for both markets." – Ewen Stevenson, CFO, HSBC
China tariffs will likely remain a common fixture on earnings calls as long as the trade war continues unabated. However, if the US and China run out of quick ways to apply economic pressure, discussion may subside, as companies bake the costs into their earnings projections and move on to other worries — like, say, a sustained market downturn.
If you aren't already a client, sign up for a free trial to learn more about our platform.