Top brewers are homing in on the once promising craft beer category, as well as diversifying in categories like wine, soft drinks, and even dairy.
Beer is big business, and over the past few years, the world's top brewers have been increasingly willing to enter into multibillion-dollar deals. Most notably, Belgium-based AB InBev spent roughly $106B to acquire SABMiller in late 2016.
The consolidation cemented AB InBev's position as the world's largest brewer, and the company now holds approximately 30% of global beer market share.
This mega-deal between the top two brewers triggered a number of smaller, though still sizable, transactions, as AB InBev had to divest a number of its brands in order to gain regulatory approval to acquire SABMiller.
Molson Coors spent $12B to fully acquire MillerCoors from SABMiller (MillerCoors had initially been a joint venture between the two), while Asahi poured roughly $10B into acquiring European assets from SABMiller and AB InBev.
Together, the world's 6 largest brewers have made 55 acquisitions and 10 investments in the private market since 2013. Many of these deals have focused on product line expansion, mainly targeting craft beer but also adjacent categories such as cider and soft drinks.
Entering new geographies has also been a key driver behind top brewers' activity. Japan-based Asahi, for example, has used acquisitions to expand into Europe to compensate for sluggish growth in its home market, while Kirin has acquired two brewers in Myanmar to gain a foothold in the emerging, recently liberalized economy.
Using the CB Insights Business Social Graph, we visualized where the world's 6 largest brewers by market capitalization — AB InBev, Heineken, Asahi, Kirin, Carlsberg, and Molson Coors — and their venture funds are placing their private market bets. Scroll down to see the graphic.
The graphic below shows private market deals only. Note that AB InBev's acquisitions and investments made through its subsidiaries Ambev and Labatt Brewing Company are not shown. 
Please click to enlarge.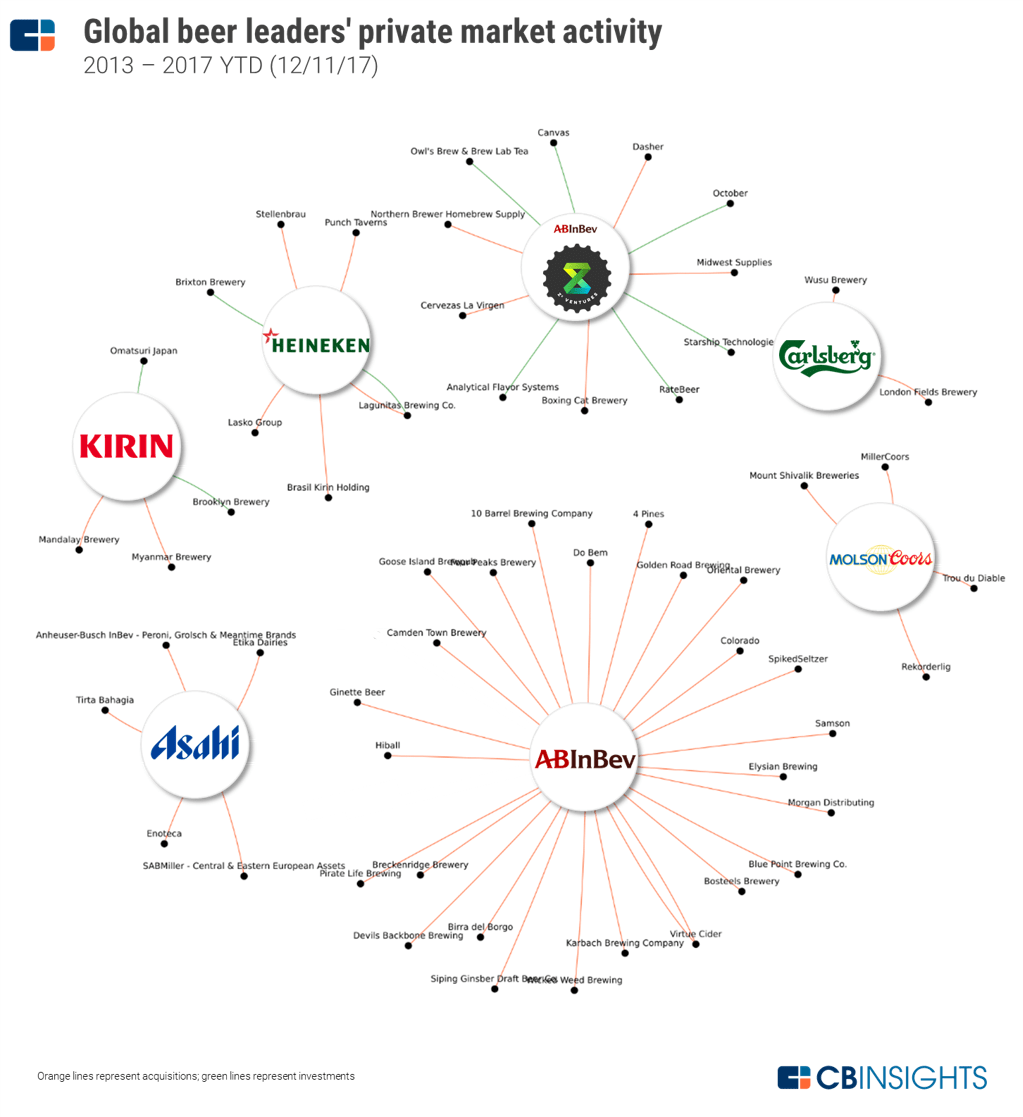 Food & Beverage Startups
Startups working on new foods and beverages have the potential to change how and what we eat. Look for Food & Beverage Startups in the Collections tab.
Track food & beverage startups
Key takeaways
AB InBev has been by far the most active private market investor since 2013, with 43 acquisitions and investments made directly and through its venture fund ZX Ventures.
Heineken ranks second with 7 deals, followed by Asahi with 5, and Kirin and Molson Coors with 4 deals each. Carlsberg is the least active, with only 2 acquisitions since 2013.
AB InBev: Since 2013, AB InBev has made several major public market acquisitions aimed at entering new geographies. In Mexico, AB InBev acquired lead Mexican brewer Grupo Modelo for $20B in Q2'13, while the above-mentioned $106B SABMiller acquisition furthered the company's presence in Africa.
In the private market, AB InBev has mostly focused on craft brewers, with several acquisitions in this category, including US-based Blue Point Brewing, UK-based Camden Town Brewery, and Italy-based Birra del Borgo.
The beverage giant has also moved into adjacent product lines and distribution technologies through ZX Ventures. The fund recently invested in Canvas, a US-based startup selling plant-based milk made with spent grain (a waste byproduct of beer brewing). Interestingly, in Q1'17 the fund also invested in drone delivery startup Starship Technologies.
Heineken: Amsterdam-based Heineken has made 5 out of its 7 deals in 2017. Many industry observers have suggested its increase in activity this year is a reaction to the AB InBev-SABMiller deal.
In Q1'17, Heineken acquired Kirin's Brazilian operations at an estimated enterprise value of over $1B, strengthening its position in AB InBev's key South America territory. The Dutch brewer has also invested in the craft beer segment, acquiring South-Africa-based Stellenbrau and US-based Lagunitas and investing in UK-based Brixton Brewery.
Asahi: Asahi has made acquisitions outside of beer, buying up a wine seller (Enoteca), a dairy company (Etika Dairies), and a bottled water business (Tirta Bahagia), all in Asia. Asahi has also diversified geographically, acquiring SABMiller's European beer brands.
Molson Coors: The North American brewer is another key beneficiary of the merger between AB InBev and SABMiller. Molson Coors became the sole shareholder of US-based MillerCoors, acquiring the majority stake previously owned by SABMiller for $12B.
Other acquisitions include Rekorderlig, a UK-based cider company, Trou du Diable, a Canadian craft beer brand, and Mount Shivalik Breweries, an Indian strong beer company.
Kirin: This second giant Japanese brewer has acquired two Myanmar-based breweries: Myanmar Brewery and Mandalay Brewery. Kirin has also invested in craft beer, with a minority stake in US-based Brooklyn Brewery, as well as in event planning, with festival management startup Omatsuri Japan.
Carlsberg: Carlsberg has acquired Wusu Brewery, a Chinese brewer, as well as London Fields Brewery, a UK-based craft beer producer. The company also increased its stake in China-based listed company Chongqing Brewery to 60% in 2013.
If you aren't already a client, sign up for a free trial to learn more about our platform.