The brain is the epicenter of all our vital functions, from helping us see to controlling our movements. We map out the current state of brain research and technology.
The brain is an enigmatic organ, and despite progress in brain research over the years, many of the details of how it works remain a mystery.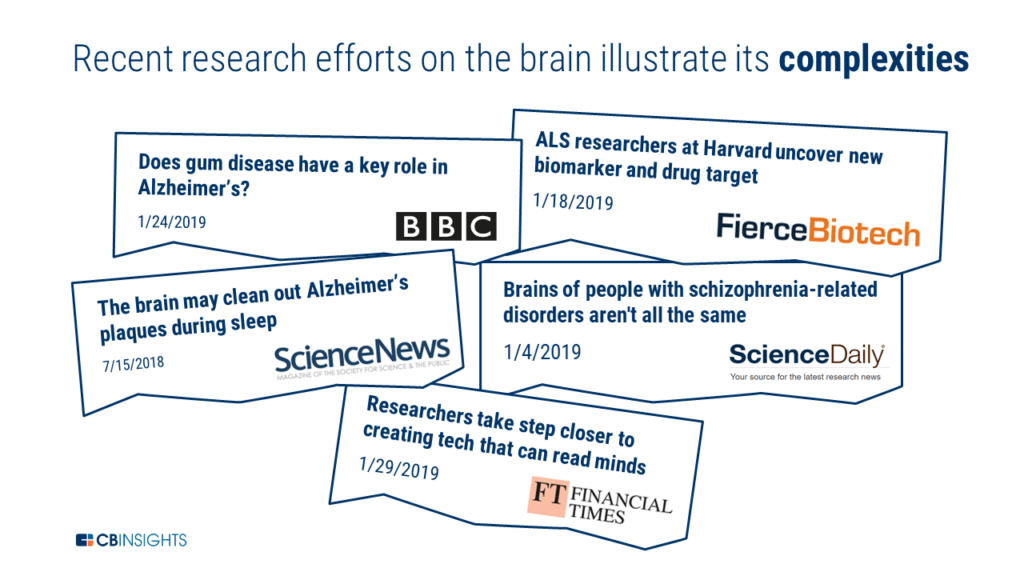 For example, the underlying causes of Alzheimer's, a disease which is estimated to currently affect 5.7 million Americans, still haven't been confirmed. Even brain diseases that are better understood often lack cures, with patients relying on therapies to manage their symptoms.
But for all the mystery of the brain, researchers are still determined to unravel it, triggering a wave of innovation as technology allows us to understand our brains better and find solutions to improve our health.
Alongside ongoing drug discovery efforts targeting brain disorders, a host of novel technologies have emerged, including cutting-edge tech like implantable brain devices and artificially-grown mini brains.
In this brief, we dive into the current landscape of startups and innovations that are shaping this area, highlighting key technologies and research initiatives.
For more in our Body Series, read about the disruption of eye healthcare and how technology is transforming women's health.  
Table of contents
Track all the neuroscience startups in this report and many more on our platform
From pharmaceuticals to neurotech, there's a rise in startups finding novel solutions to brain-related conditions. Look for the Neuroscience Startups in the Collections tab.
Track Neuroscience Startups
The state of brain research
The brain controls all of the structures that allow us to function — physically, mentally, and cognitively.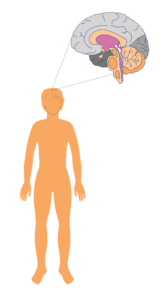 It also affects nearly all aspects of our health, from helping regulate our heartbeats to facilitating our motor functions to ensuring we have balance when we walk.
Its connection to other parts of the body is a big reason the brain is such a crucial organ to understand.
For example, the brain interacts with the gastrointestinal tract through the gut-brain axis, a key nerve pathway that enables communication between them. And the set of nerves housed within the brain, known as the 12 cranial nerves, help relay information to different parts of the body.
As such, an abnormality in the brain can result in much broader health consequences.
Startups targeting this space are beginning to emerge, with goals of not only better understanding the brain's role in the prevention and treatment of diseases but also leveraging brain activity to augment our everyday lives.
From drug companies to startups developing digital therapies, we highlight key investment trends, key players, and innovations below.
Financing trends
In 2018, neuroscience startups saw an uptick in both funding and the number of deals they received.
This area has traditionally lagged in gaining investor interest, likely due to many aspects of various neurological conditions still remaining a mystery. This has hindered drug therapeutics companies from being able to reach key milestones, creating a cycle that in turn dampens investment.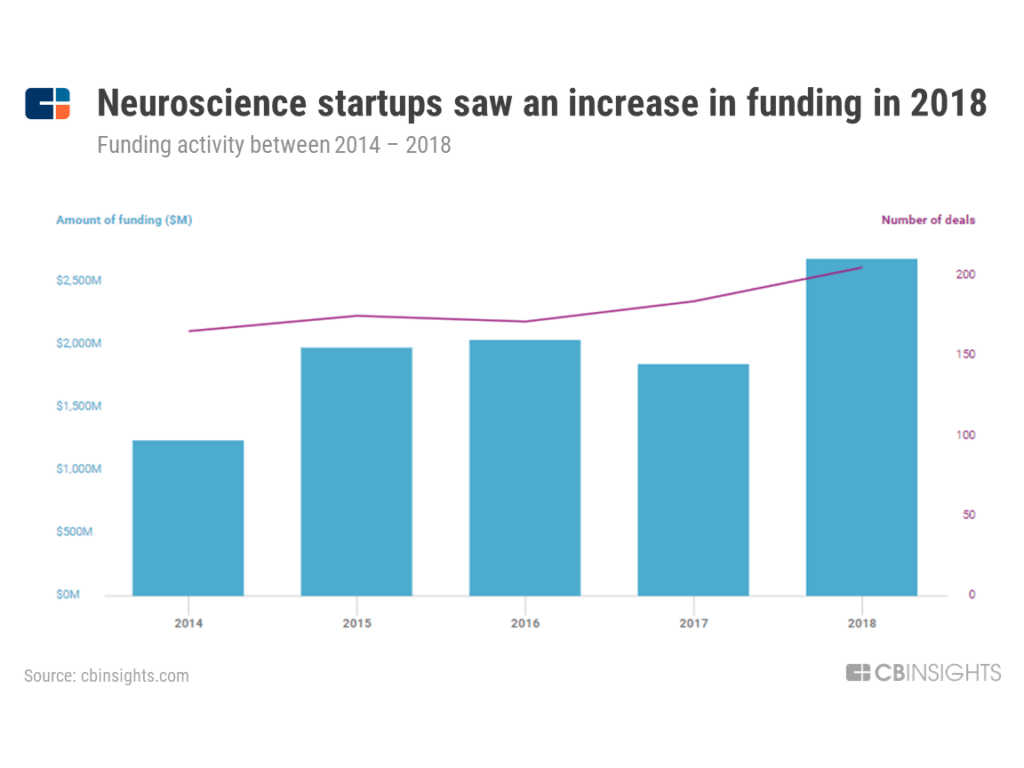 However, 2018's spike in activity may have been buoyed by the startups pursuing neurotechnology, an area where brain biology and tech merge to create products such as brain-machine interfaces and implantable devices. 
One example of this is neurotech company Dreem, which is developing a sensor-embedded headband designed for improving sleep. The France-based company raised a $35M Series C round in June 2018 with participating investors including BPI France and Johnson & Johnson Innovation. 
But while overall funding in neurotech has increased somewhat, trends in deal share have remained largely unchanged.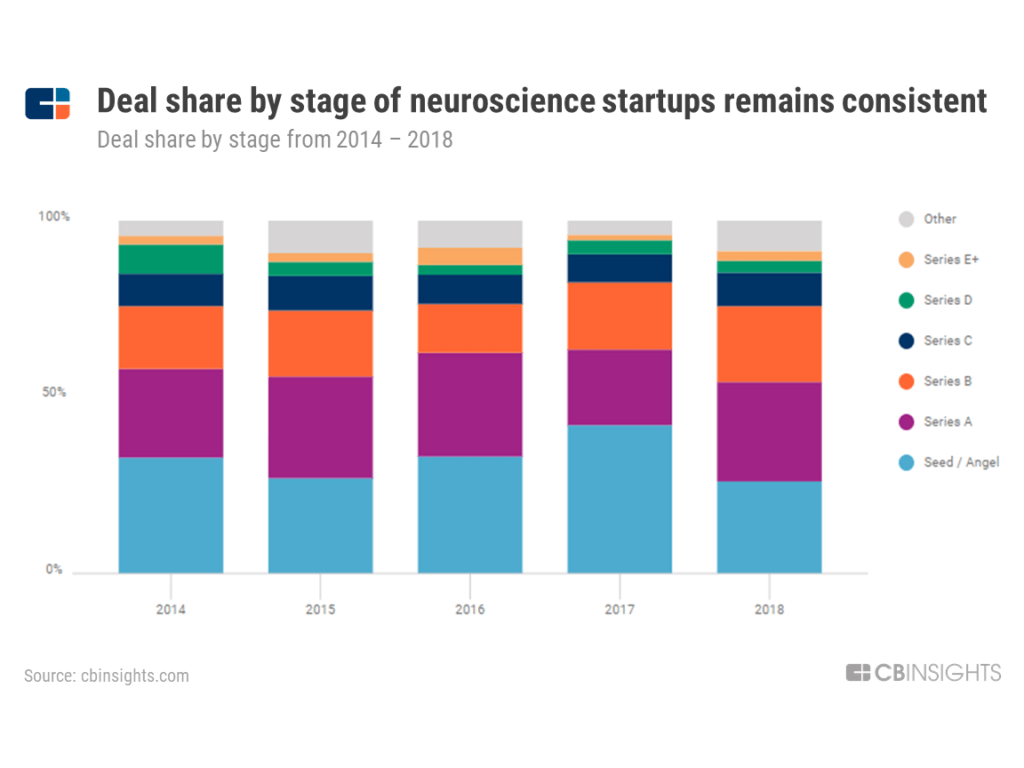 Deal breakdown by stage has remained consistent throughout the last 5 years in this space, and it's apparent that this market hasn't yet matured.
Early-stage deals (seed/angel and Series A) represented over 50% of deal share, while late-stage deals (Series D and later) consistently accounted for less than 11%.