As regulations tighten, the European bank is investing in IoT and alt data startups for energy auditing services. 
Leading European bank BNP Paribas is doubling down on sustainability, amid increased regulatory pressure on European banks when it comes to ESG (environmental, social, and governance) risk reporting. New and evolving regulations are requiring lending institutions to report on new metrics, from financed greenhouse gas emissions to exposure to climate-related risk.
Sustainability has been top of mind for BNP Paribas executives: the bank made several announcements in recent earnings calls related to energy transition and sustainable financing, ultimately mentioning ESG and sustainability-related terms on earnings calls nearly 50 times in Q2'22 alone.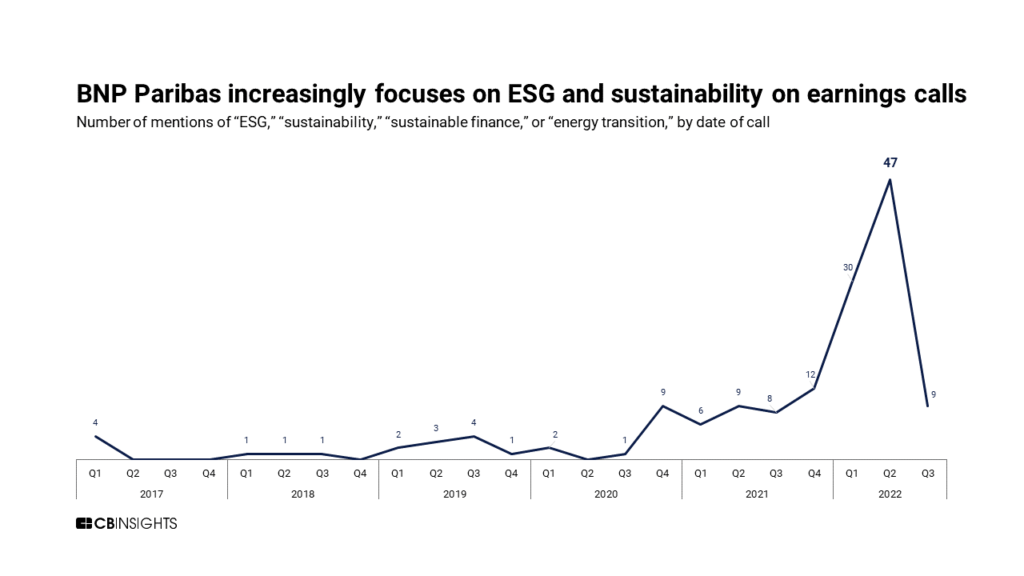 Recent sustainability efforts include setting up a 250-member energy transition group to advise BNP Paribas clients on how to lower their carbon footprints; focusing on biodiversity in line with TNFD (a voluntary reporting framework for assessing biodiversity loss and related financial risks); and establishing a cloud-based ESG analytics platform.
To meet regulatory requirements and to expand its client advisory services, BNP Paribas is leveraging tech developed by alt data and AI startups. Below, we highlight 3 technology solutions the bank is tapping into through investments and partnerships.
What is BNP Paribas doing in sustainable financing and ESG analytics?