BluePallet plans to use the funds to expand across Asia. Here are the top-line bullets you need to know.
BluePallet, a B2B chemical marketplace that connects industrial buyers and manufacturers, raised $5M in a seed round from Vinmar Ventures, among others.
How's the company performing?
Texas-based BluePallet

recently became the first industrial commerce firm to start operations on Alibaba.com.

BluePallet's products include TradeHub, a marketplace that allows users to search and list products; TradePass, a business verification technology that reviews thousands of risk data points continually; and TradeCart, a checkout system that integrates payments, logistics, and authentication processes.

The company has partnered with NACD and gained access to its 250 member firms and 750K customers.

BluePallet states that it can handle transactions worth up to $1B on its platform.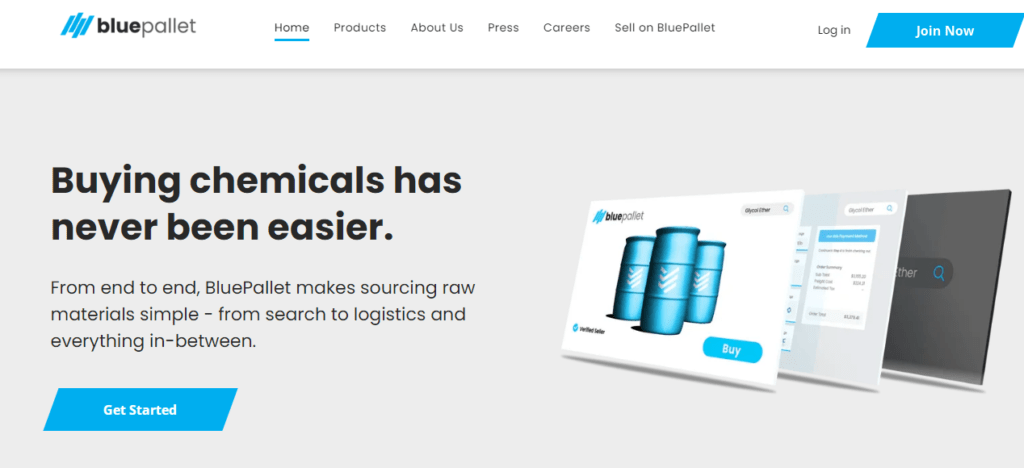 Source: BluePallet
Why does the market matter?
The global chemical distribution market is expected to grow at a CAGR of 5.4% and reach a value of $376B by 2028, according to Grand View Research.

Changing customer preferences, the impact of Covid-19, supply chain disruptions, growth of the contactless environment, and the need for innovation to maintain sustainability have contributed to the digitization surge of the chemical industry.