The funding will help Blue White Robotics further its mission to address food scarcity and labor shortages. Here are the top-line bullets you need to know.
Blue White Robotics, an autonomous farming solutions provider, has raised $37M in a Series B. The round drew participation from Insight Partners, Entree Capital, Peregrine Ventures, and Clal Insurance, among others.
How's the company performing?
Israel-based Blue White Robotics provides a robot-as-a-service (RaaS) platform that retrofits autonomous algorithms onto existing farming infrastructure to enable farms to run independently. The platform also collects and distributes data to help increase yields and reduce inputs.
The company covers all aspects of the farming experience, including sprays, harvesting, disking, and seeding.
Blue White Robotics' customer base includes Intel, Sun Pacific, Fresno State, and the Ministry of Agriculture & Rural Development.
The company has a team of more than 75 employees spread across 3 continents.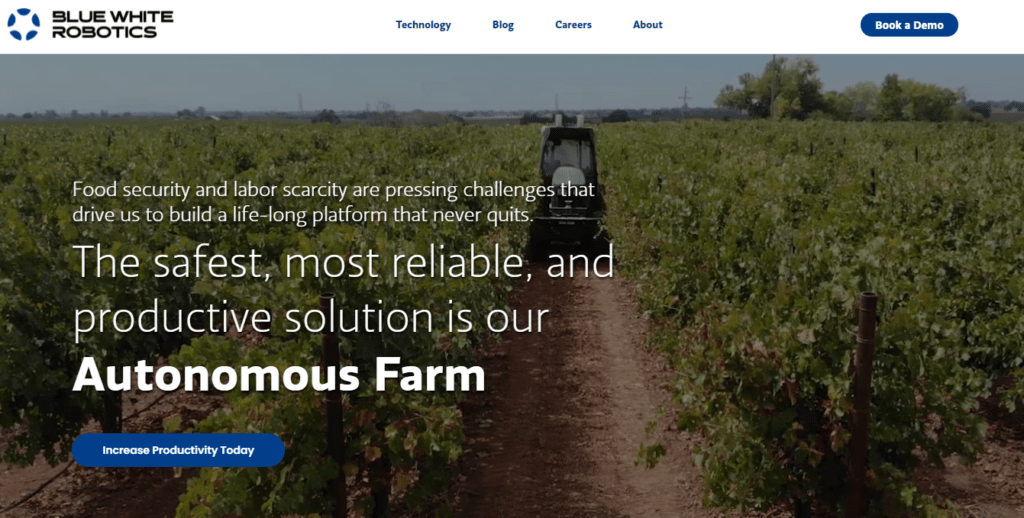 Source: Blue White Robotics
Why does the market matter?
The global agritech market is projected to grow at a CAGR of 11.3% and reach a value of $41.17B by 2027, according to The Insight Partners.
Increasing population counts, technological advancement, and climate change are some of the factors fueling the growth of the agritech industry.
The pandemic has emphasized the need to adopt technology across agricultural sectors to ensure food security and increase yield.