Newly-public rival HelloFresh faces many of the same obstacles as Blue Apron, but has recently seen positive sales growth in the US.
Germany-based HelloFresh just priced its IPO at €10.25 ($11.95) per share, giving it a valuation of just under €1.7B ($1.96B). This is well ahead of the current market value of public meal kit delivery competitor Blue Apron (now below $800M on the afternoon of 11/2/2017), but still a down exit for HelloFresh.
While Blue Apron went public at a value of $1.89B in June 2017, the company's stock price has consistently declined over the past several months. Although HelloFresh has seen recent growth in its US division and may not suffer the same fate as Blue Apron, the company will still have to contend with a low-margin, hyper-competitive food delivery market that is marked by low-retention and high logistical costs.
We used CB Insights' Enhanced Valuation capability to track the historical rise (and fall) of HelloFresh against Blue Apron.
Valuation history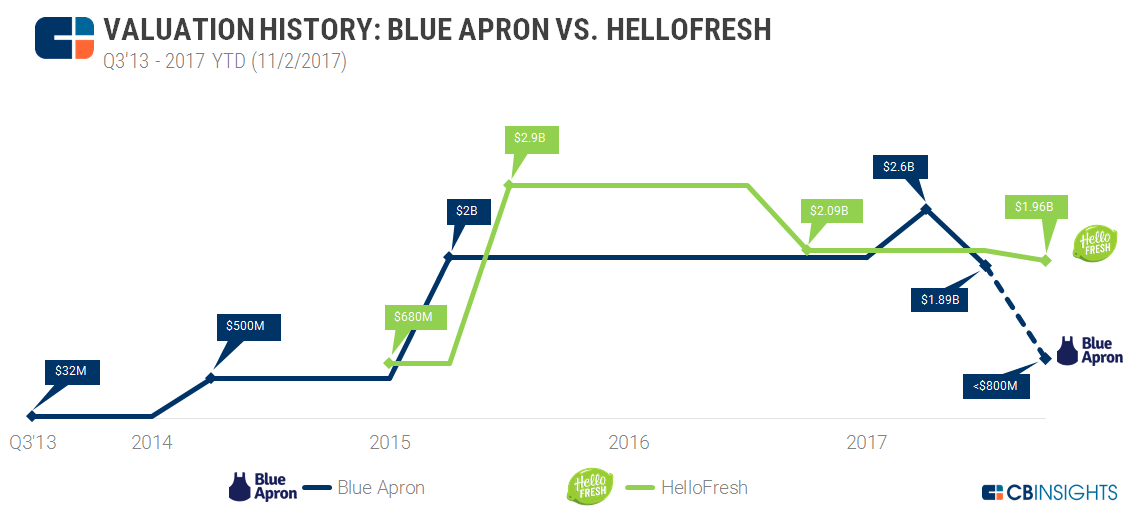 While both companies saw down exits compared to their last private market valuations, Blue Apron's stock price dropped by more than 50% after going public. Blue Apron's tenure as a public company has been a rocky road marked by employee layoffs and decreased investor confidence after Amazon's acquisition of Whole Foods.
Moreover, Blue Apron's market value fell further after the release of its Q3'17 earnings report on 11/2/2017. Although the company's net revenue increased between 2016 and 2017, the company's losses increased significantly driven by increased cost of goods sold. The company stated this was primarily due to the launch of a new "operational infrastructure" and to its new Linden, New Jersey facility.
HelloFresh also saw losses this year, but the company actually reported a significant increase in US sales ahead of its IPO. According to the company's prospectus, sales in the US increased to €263.4M ($306.3M) in the first half of 2017, a 98% increase from the same period in 2016. The increase in US revenue is a positive sign for HelloFresh as it looks to increase its US market share, though many challenges remain on the road ahead to profitability.
Beyond sales and income metrics, Blue Apron reported a 6% decline in its customer base since 2016 after the company decreased its marketing spending. Food delivery companies have long been known to spend big on marketing as they seek to retain a high-churn customer base. Meal kit delivery companies had an average customer retention rate of only 13% year-over-year, according to a study by consumer data firm Second Measure.
Blue Apron and HelloFresh will both have to contend with this reality going forward if they are to remain successful in face of high competition as well as a Whole Foods-armored Amazon.
If you aren't already a client, sign up for a free trial to learn more about our platform.