Investors poured more money into blockchain companies in H1'21 than they did over the course of any full year in history. We discuss key implications, the sector's market drivers, and where investment is going.
It's been a record year so far for blockchain tech, as it has reached new equity funding and media coverage milestones.
Blockchain companies have already raised over $7B in venture capital and private equity funding in H1'21 — an amount higher than that raised over the course of any full year in history. Even legacy financial institutions are placing bets in the space.
download our best of blockchain research
Get exclusive access to our top blockchain reports, including top companies, industries impacted by the tech, and deep dives on NFTs, Ethereum, and so much more.
Demand for cryptocurrencies, from both consumers and institutions, is driving big deals for companies focused on crypto wallets, exchanges, and enterprise applications.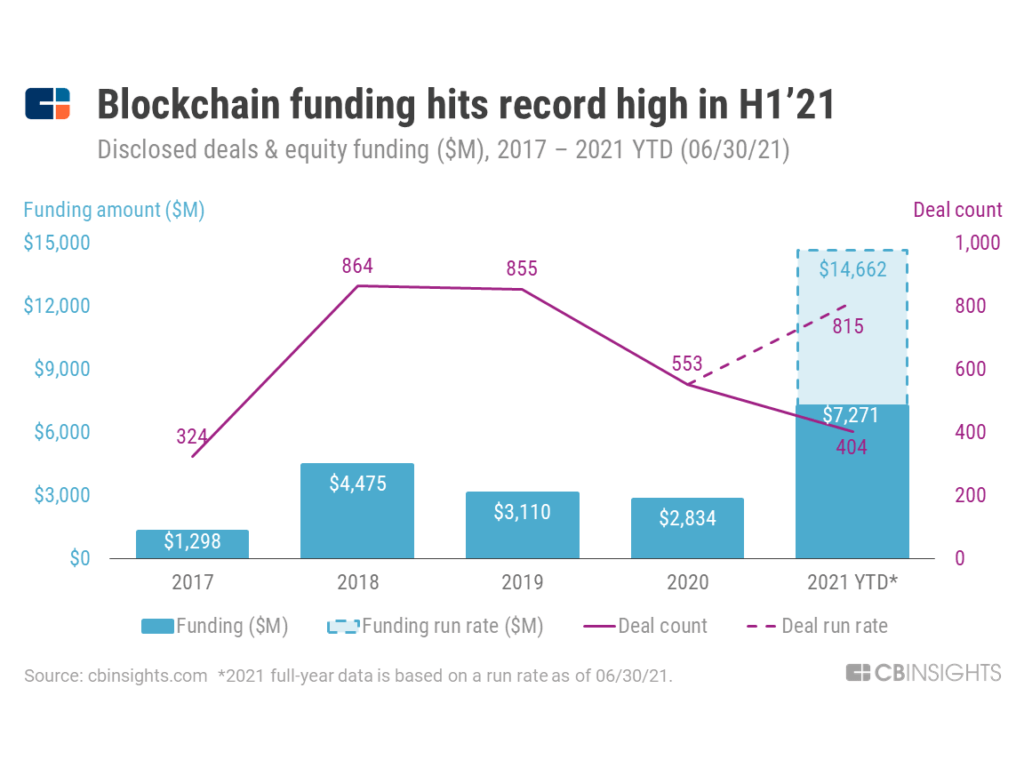 At the current rate, blockchain funding is anticipated to reach over $14.6B by year end — shattering the previous record ($4.5B) set in 2018.
In this brief, we'll look at:
Topline findings and implications

Market drivers behind the surge

Categories receiving the most funding
To dig into all of the underlying data in this brief, sign up for a free trial to CB Insights here.
Blockchain
Companies are using blockchain technology to transform digital transactions across industries. Look for Blockchain in the Collections tab.
Track Blockchain Companies
Findings & implications
Here are the top findings and implications related to this record year for blockchain funding:
Watch for more fintech companies and incumbent financial institutions to start offering crypto trading, wallet, and custody services. Rising demand indicators from consumers (i.e., trade volumes) and institutions (i.e., announcements for future crypto plans) will drive more companies to enter the space.
Expect more enterprise blockchain solutions to emerge that are focused on infrastructure for developers and businesses. These include blockchain protocols, smart contracts, and APIs for financial services, payments, supply chains, and more.
Anticipate strong funding growth for blockchain applications outside of crypto and financial services. These include gaming platforms and token-based economies, data management and storage for media and entertainment, and marketplaces for digital collectibles and non-fungible tokens (NFTs).
Market drivers
Blockchain's record funding year is being driven by the rising consumer and institutional demand for cryptocurrencies. Both groups are slowly starting to move the needle to help crypto and, therefore, blockchain become more mainstream.
Key drivers of blockchain funding include:
Consumer demand for crypto
Online exchanges like Binance, Coinbase, and Robinhood are breaking down barriers to entry, enabling consumers to start trading cryptocurrencies. Robinhood's IPO filing stated that 17% of its Q1'21 total revenue came from crypto transactions — a figure over 4x that of the previous quarter.
Crypto trade volumes reached record highs at different points this year, and this was fueled by the continued boom in online brokerage activity.
Cryptocurrencies like bitcoin, ether, and dogecoin have all risen in value over the past 18 months, although prices have been extremely volatile more recently.
Institutional demand for crypto
Earnings call mentions of either "crypto" or "bitcoin" skyrocketed in Q2'21, surpassing 1,000 mentions in a quarter for the first time.
Major US custodian banks — including BNY Mellon, Citi, Goldman Sachs, and JPMorgan — recently announced plans to institute crypto custody services.
Mastercard, Visa, and Paypal announced future plans to accept crypto payments.