On a quarterly basis, non-ICO blockchain deals hit their lowest point since Q4'13, settling at 16 financing rounds. However, nearly 60 ICOs closed in the same quarter for more than $750M.
The second quarter of 2017 was a wild one for blockchain companies and investors. While cryptocurrencies and initial coin offerings made headlines, "traditional" investment (i.e. non-ICO) in blockchain companies and consortia continued to grow, with VCs and corporate players deploying $230M in the quarter.
As a refresher, blockchains are cryptographically secured, distributed ledgers, first developed as the underlying technology of the popular cryptocurrency, bitcoin. Our blockchain definition includes cryptocurrency focused companies as well as blockchain-focused companies applying the technology across sectors and verticals. Initial coin offerings — or, ICOs — are token sales offered by blockchain companies looking to exchange network access or equity for financing. Tokens are subsequently traded on cryptocurrency exchanges, and rise or fall in value as a function of the company's popularity, growth potential, and/ or general speculation, similar to conventional securities and liquid markets.
Below, we dive into the CB Insights platform to look at Q2'17 trends.
DEALS AND DOLLARS
On a quarterly basis, blockchain deals hit their lowest point since Q4'13, dropping by nearly half quarter-over-quarter, to 16 financing rounds. However, total funding dollars set a new record at $232M.
The largest deal of the quarter went to the banking consortium R3, in a $107M Series A that saw participation from more than 40 investors hailing primarily from financial services. UK-based wallet and payments platform Blockchain raised a $40M Series B in another noteworthy financing round, with Lightspeed Venture Partners, Virgin Group, and Google Ventures investing, among others.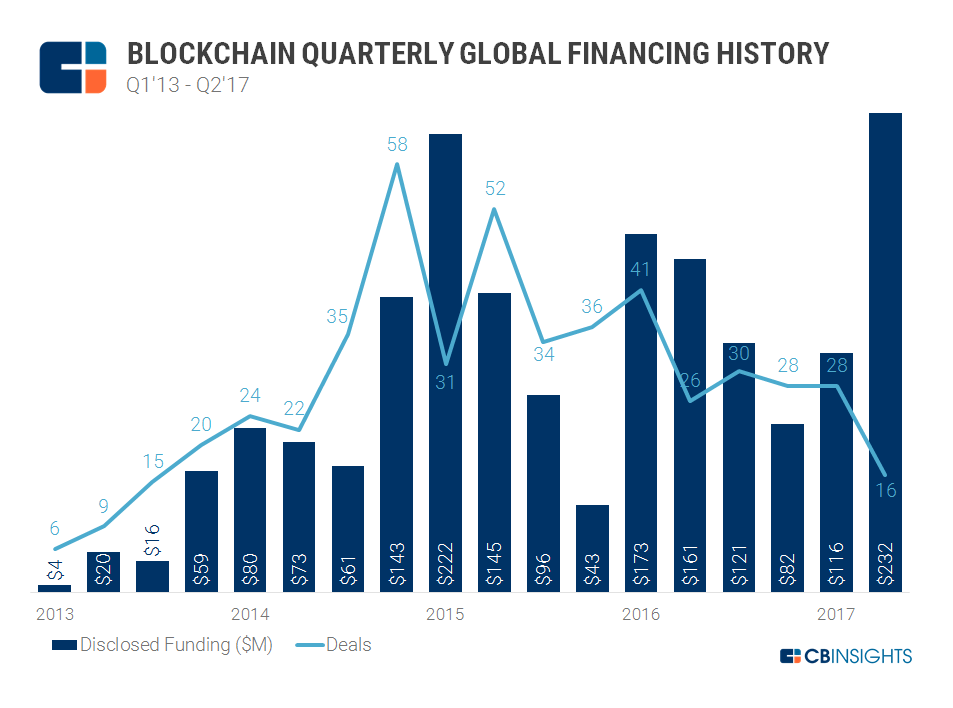 ICO FUNDING TOPS $1B 
The nascent financing method of ICOs generated massive investor interest, with nearly 60 companies raising an estimated $750M via ICOs in Q2'17 alone, more than triple total "traditional" dollars over the same period. Year-to-date, ICOs have raised more than $1B, with core development and blockchain governance platform Tezos claiming the largest closed ICO round (in Q3'17), at around $230M. Still, regulatory questions around ICOs linger, as a rush of speculation to the sector has resulted in an uptick in fraudulent activity and hacker activity. Also looking to capitalize on the hype, a number of cryptocurrency hedge funds have opened shop.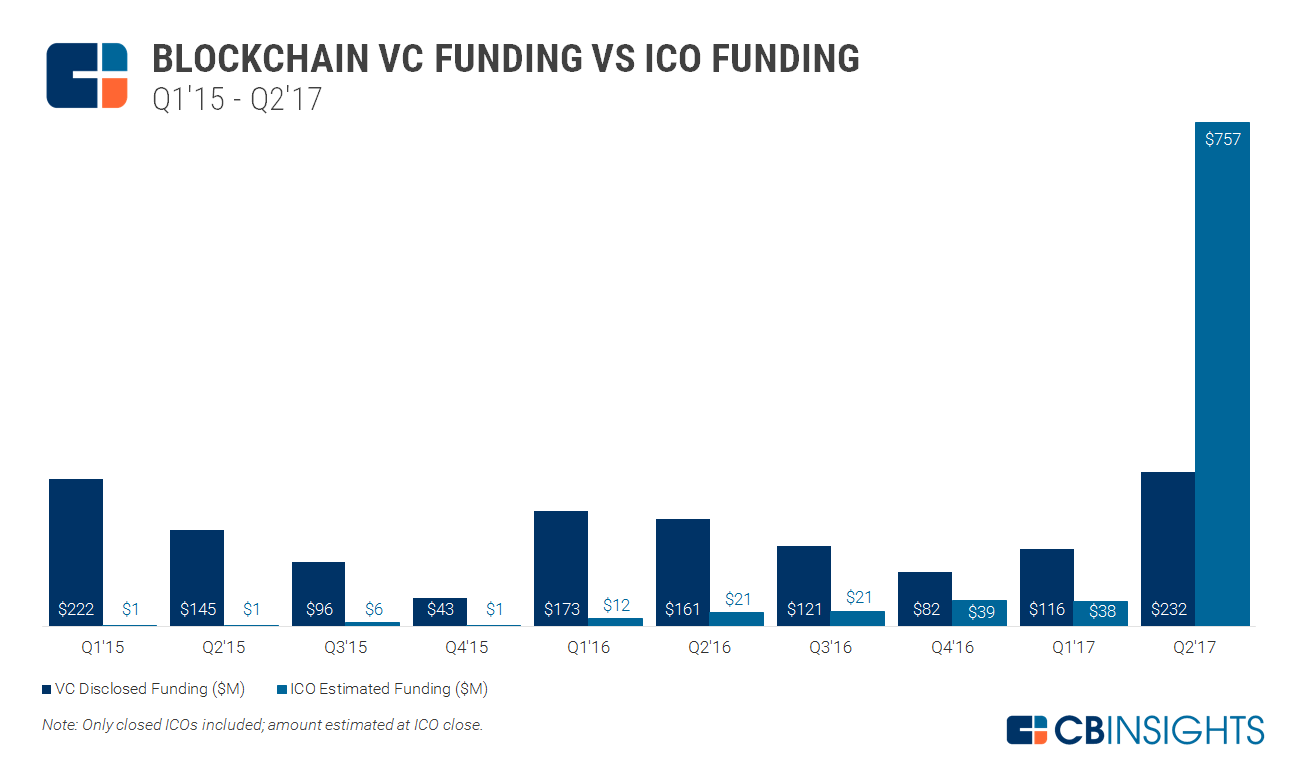 If you aren't already a client, sign up for a free trial to learn more about our platform.