We examine where 23 smart money VCs have made investments since Bitcoin's peak in December 2017.
2018 wasn't a great year for blockchain companies.
In the run-up in December 2017, Bitcoin hit a peak of nearly $20,000. Coinciding with Bitcoin fever, an unprecedented ICO boom meant blockchain startups had tremendous access to capital. Even traditional VCs were swooping into token sales and adding to the fervor.
Then, suddenly, the party ended. The price of Bitcoin and Ethereum fell back to Earth in a matter of months. Many projects went sideways or shuttered.
But even in the so-called "crypto winter," smart money VCs have continued to pour money into the space.
When the price of Bitcoin was hovering at roughly one-fifth of its peak, top VCs participated in rounds tallying $465M across 11 deals in Q4'18.
Overall, 2018 was still a booming year for smart money into blockchain startups, with the 37 deals representing a 270% increase over the 10 deals seen in 2017.
However, Q1'19 represented the lowest number of smart money investments and funding totals in the last 5 quarters.
For more on our 23 smart money VCs, please see the explanation and full smart money list at the bottom of this post.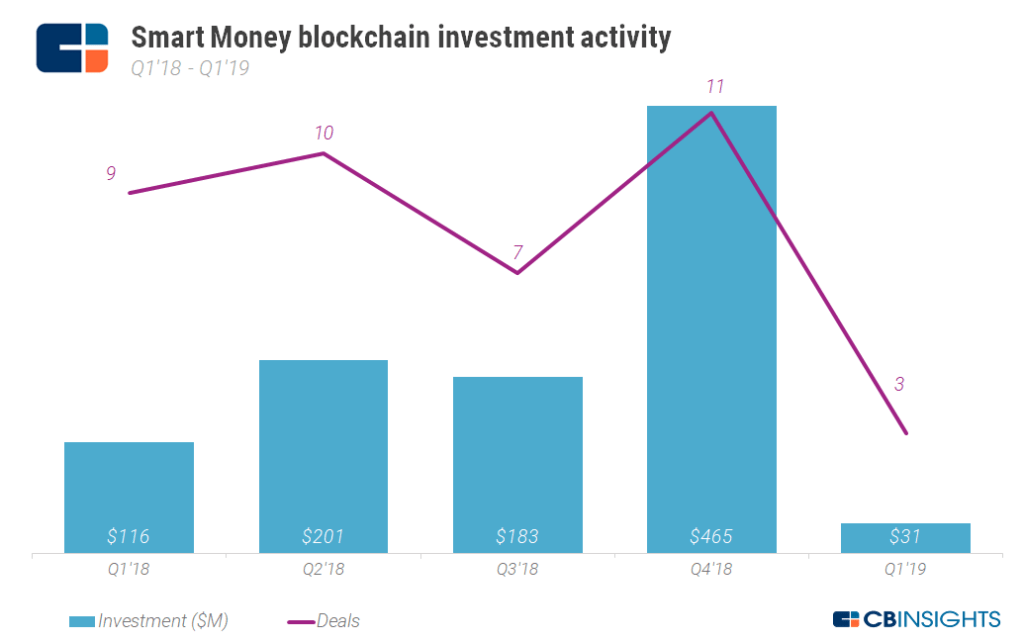 Note: blockchain deals included here are traditional VC only, and may omit purchased stakes in token sales.
We define blockchain companies as those that provide cryptographically secured networks and distributed ledgers, as well as products or services related to the trading, storing, or usage of blockchain assets.
To visualize smart money investment, we plotted the deals on a timeline with bubbles corresponding to VC round size. Coinbase's $300M Series E is noticably the largest.
Other notable deals include Circle's $110M Series E (General Catalyst), Dfinity's $102M mega-round (Andreessen Horowitz), and Algorand's $62M Series A (USV).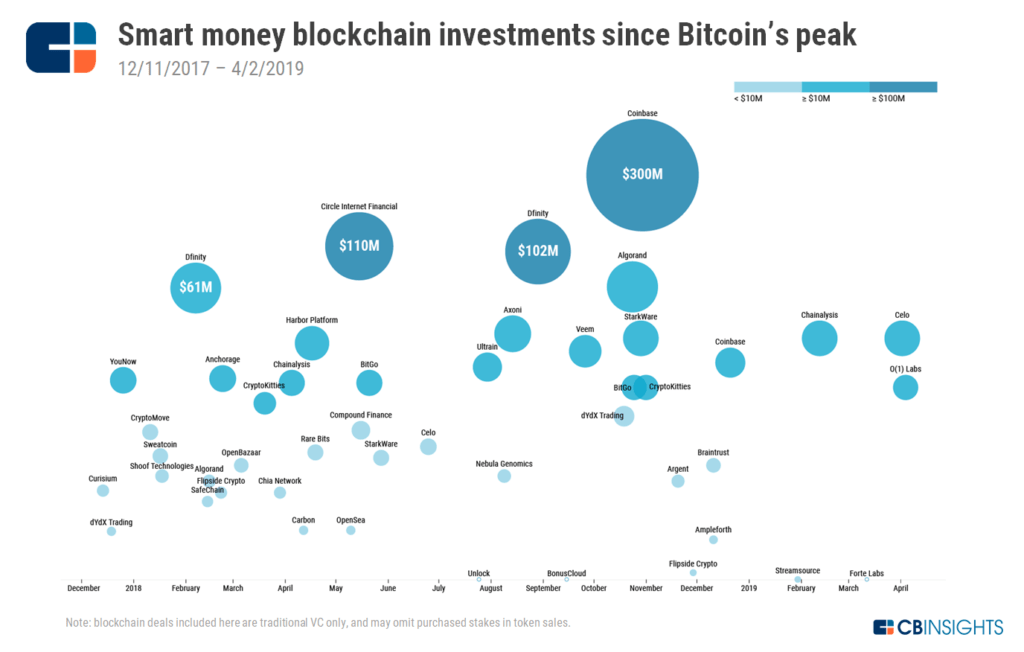 CB Insights clients can run a search of all smart money deals in blockchain here.
Smart money deals took a noticeable pause between May and July 2018, when crypto enthusiasm first began cooling.
This blip was short-lived, and deals rebounded strongly, culminating with the Coinbase mega-round in late October. Then, beginning in December and continuing into 2019, deal volume plummeted.
Investment trends
Some larger trends that emerge from the timeline include:
Ethereum-killers. Broadly speaking, early 2018 saw smart money VCs betting on "Ethereum-killers," or new smart contract platforms that would compete with the main value proposition of Ethereum. Andreessen Horowitz, for example, bet on Dfinity to create a scalable, high-throughput "decentralized cloud" for smart contracts. Eschewing an ICO, Dfinity received a $61M round from Andreessen and Polychain.
Payments layer. An ongoing theme is funding to projects that address Bitcoin's weak adoption as a day-to-day currency, which was part of its original vision. To that end, companies like Algorand, which got follow-on from USV in a $62M Series A, are building a high-speed blockchain-based payments protocol. Chia, which raised a $3.4M seed round from Andreessen, is a new "green" cryptocurrency that uses a more energy-efficient consensus mechanism than Bitcoin's Proof of Work.
Privacy. The General Catalyst-backed O(1) Labs is using new cryptography approaches to enhance privacy on blockchains. Elsewhere, companies like Starkware, which counts Sequoia and Floodgate as investors, are aiming to improve the scalability of major cryptocurrencies. Both companies employ cryptographic techniques from zero-knowledge proofs.
Securities & derivatives. Several smart money bets involve new asset classes. Harbor is making a platform for securities such as real estate to be issued and traded on blockchains. Similarly, dYdX is building protocols for derivatives and margin trading without a central authority. Both companies are backed by Andreessen Horowitz.
Custody. Services for holding cryptocurrencies with institutional-level security is a relatively new trend. Two smart money deals here were to the Redpoint-backed BitGo and Anchorage, which has backing from a16z, Founders Fund, and Khosla Ventures.
Who's driving sustained interest?
Andreessen Horowitz is the most active investor in blockchain in the most recent period since the peak, with at least 12 deals. (We previously analyzed a16z's blockchain co-investments with USV.)
Tied for second are Union Square Ventures and General Catalyst, with 5 blockchain bets in the past year.
The next most active smart money blockchain investors are Accel, Spark Capital, and True Ventures, which each made 3 bets since the peak.
Meanwhile, 5 of the 23 smart money names have made no blockchain bets since late 2017.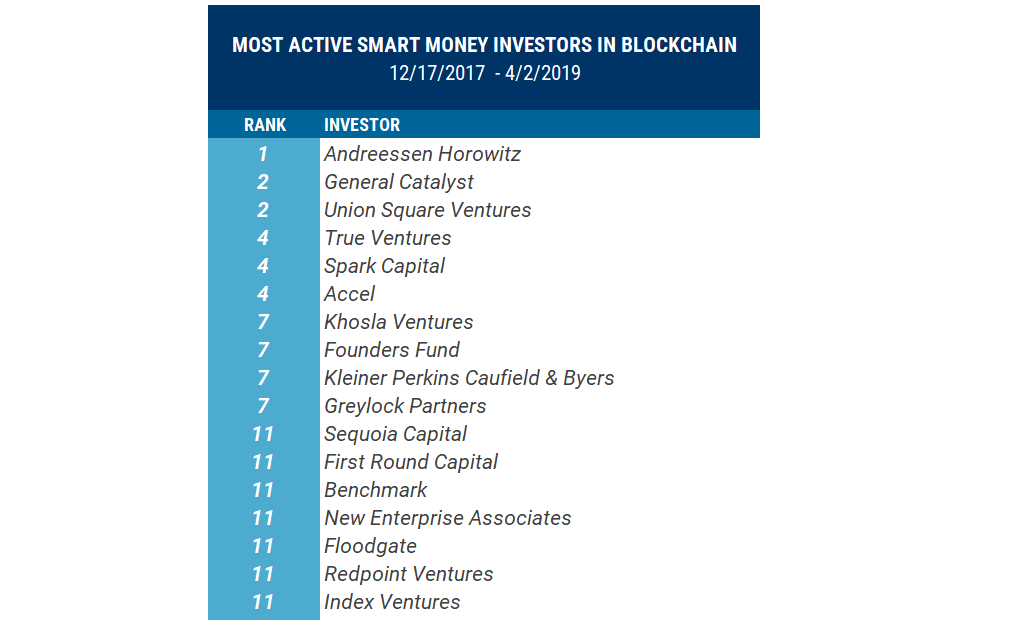 SMART MONEY VC LIST
To analyze smart money trends, we looked at the activity of 23 top VC firms, selected according to portfolio valuations and investment outcomes. Here's our full list of 23 smart money investors:
Sequoia Capital
Benchmark Capital
Accel Partners
Greylock Partners
Andreessen Horowitz
Union Square Ventures
First Round Capital
Bessemer Venture Partners
Kleiner Perkins Caufield & Byers
New Enterprise Associates
Founders Fund
Lightspeed Venture Partners
Foundry Group
Index Ventures
Khosla Ventures
Emergence Capital Partners
True Ventures
Floodgate Fund
General Catalyst Partners
CRV
Spark Capital
Battery Ventures
Redpoint Ventures
If you aren't already a client, sign up for a free trial to learn more about our platform.