Raising money by issuing securities is a complex process, but these companies are betting that distributed ledger tech can simplify primary markets while keeping transactions secure. This research was done in partnership with Blockdata.
Primary markets represent the first stage of the capital markets cycle, where securities are created and issued for the first time, such as during an IPO, when issuing equity, or when raising money through bonds.
Globally, enormous amounts of money flow through primary markets — over $7T worth of newly created bonds were sold last year, according to Dealogic. But issuing securities can be a daunting process. In the US, for example, lots of different players need to be involved, including a licensed issuer, whitelisted investors, numerous legal departments, and the Securities and Exchange Commission (SEC), among others.
Distributed ledger technology (DLT) like blockchain could help streamline the creation of securities by offering a shared source of truth to all participants, removing the need for extra layers of oversight. For instance, this could be achieved by issuing securities on a blockchain network — where all participants can see and verify transactions — and by implementing "smart contracts," legal agreements that are coded into transactions and can be executed automatically.
Below, we look at the increasing number of private companies and corporates launching DLT initiatives for primary markets, as well as what this means for the future of the space.
The below graph tracks the number of corporates & projects using DLT in primary markets since 2011. Organizations are listed above the year that they entered the space. Please click to enlarge.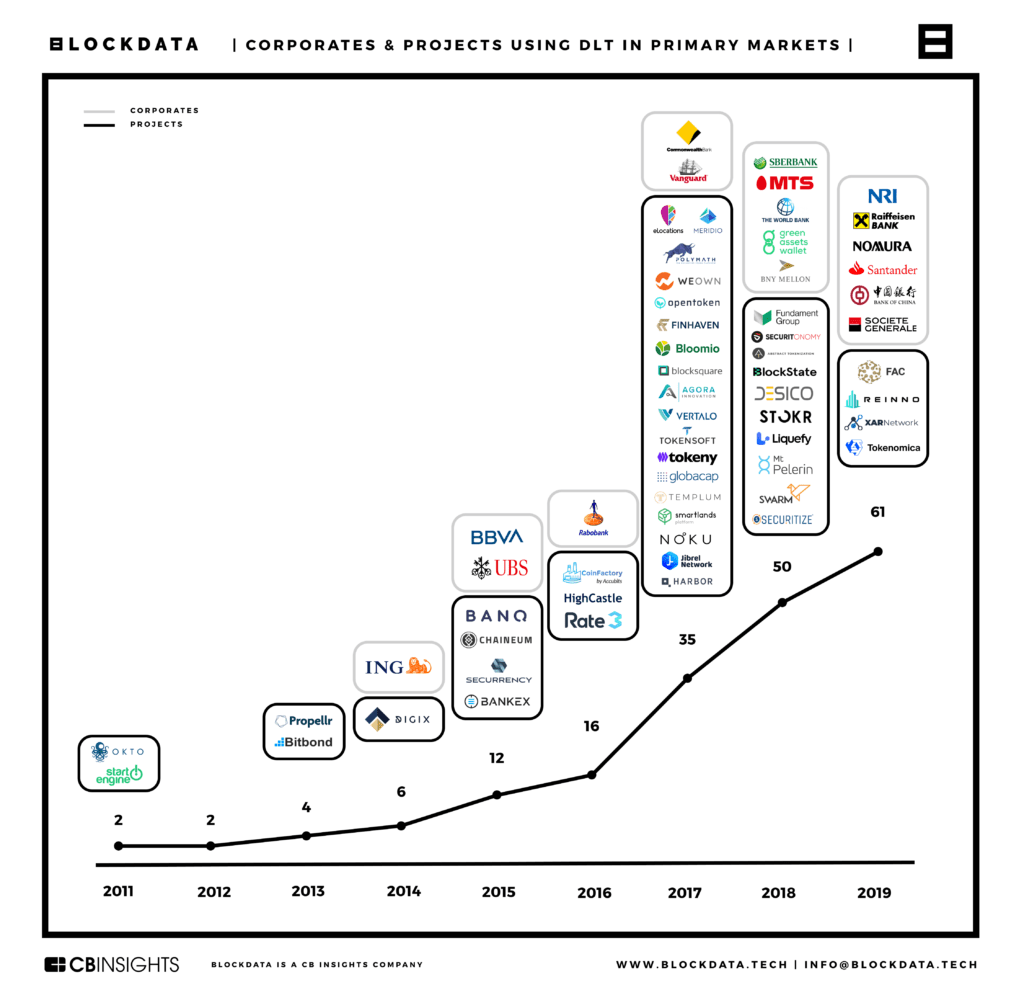 Key takeaways
Since 2017, an influx of banks has helped almost double the number of primary markets DLT players
Since the last peak of blockchain hype in 2017 — when the price of Bitcoin surged to a level that's only just been reached again — the number of players applying the tech to primary markets has nearly doubled.
This increase has been partly driven by a surge of banks entering the space. In 2019, for instance, early movers like ING and UBS were joined by Societe Generale, Raiffeisen Bank, the Bank of China, and more.
Regulators want to establish a framework for using DLT in primary markets
The use of DLT like blockchain in primary markets has moved far beyond "initial coin offerings," which have been dogged by a reputation for risk and lawlessness.
Now, financial institutions including Santander, the World Bank, and BBVA have all issued bonds worth millions of dollars using blockchain tech. This swell of activity from major financial players has caught the attention of regulatory bodies like the SEC and the European Union, which have each signaled intentions to create regulatory frameworks for applying DLT to primary markets.
More platforms to trade DLT-based securities are emerging
Platforms that focus on helping investors buy DLT-based assets are being created by both small, private companies and industry incumbents. Switzerland-based stock exchange operator Six Group, for instance, has been testing digital security issuance since 2019. Meanwhile, Polymath is launching its own blockchain network specifically for securities transactions, with the goal of making it easier to integrate blockchain-based provisions for common concerns like compliance, governance, and confidentiality.
If you aren't already a client, sign up for a free trial to learn more about our platform.