Also covered are clean labels for beauty products and cloud service acquisitions.
Today, we're talking about the most active investors in blockchain, the Otto Mafia, digital fitness, and more, including:
Peloton's true competitors

Autonomous trucking heats up (aka the Otto Mafia)

Alex Jones and Twitter

Blockchain deal roundup: 111 deals in the last 30 days

Same-day cookie delivery market size

Beauty products get natural labels
Cloud service acquisitions by Microsoft, Google, and Amazon
Peloton's competitors are not who you think
Last week, on-demand cycling startup Peloton announced a casual $550M Series F from investors like Fidelity, KPCB, NBCUniversal, Tiger Global Managment, Wellington, and Balyasny. The startup is part of the massive — and — growing digital fitness market (see market size below).
The round values the company at $4.2B, up from $1.3B in May 2017. Peloton has now raised over $1B in funding. The company will use the capital to expand internationally to the UK and Canada, as well as to launch a new product: a $4K treadmill called the "Peloton Tread" that integrates on-demand workouts onto the treadmill screen, much like with the Peloton Bike, according to Fortune.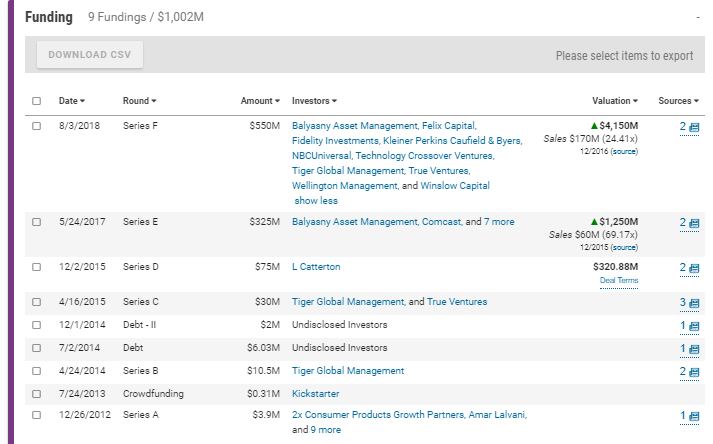 The company's price/sales ratio remains a lofty 24.4x, but this is down significantly from the 69.2x multiple at the time of its last raise. The company expects to generate $700M in revenue this year, which would bring the forward multiple down to an even more reasonable 5.9x. Given its revenue growth and subscription business model, it doesn't look insanely valued (relative to other unicorns).
With Peloton's success, there are now a host of players trying to figure out a similar fitness-machine-meets-subscription-content play. Scooter Braun (who manages performers like Justin Bieber and Ariana Grande) announced a partnership with Rumble Boxing last week for a new JV called At-Home 360, to create fitness equipment that will stream Rumble digital training content.
Understandably, the competition for Peloton tends to focus on two types of players: