Overstock, Nasdaq, and AMD were three public companies that frequently brought up blockchain technology on earnings calls over the last five years. But what, exactly, were they talking about?
Everyone's talking about blockchain technology — from financial services firms like Nasdaq, to payment processors like MasterCard, to shippers like FedEx. Some companies are even pivoting away from their core products to adopt new blockchain strategies, seeing notable stock price jumps in the process.
What's interesting, though, is a number of these companies were already talking about the technology in 2015, well ahead of the current media frenzy.
In a CB Insights earnings transcripts search for words associated with blockchain technology ("blockchain," "bitcoin," and "cryptocurrency"), we saw an expected spike in 2017, but a couple earlier blips that surfaced were surprising.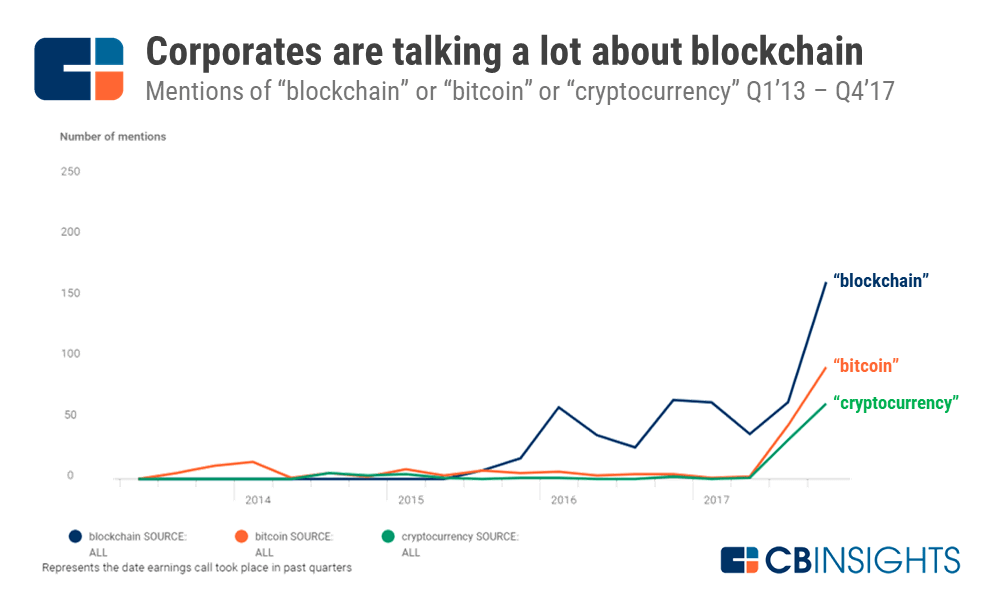 MasterCard CEO Ajay Banga highlighted the company's interest in the technology on a Q4'15 earnings call: "We've been experimenting in this space for a while. We've got patents in the space. We've got experiments and lab designs in the space. We've got investments with venture capital firms in the space."
Meanwhile, MasterCard competitor Visa had been talking about bitcoin as far back as Q1'14:
"There's certainly some interesting things about Bitcoin and other things like it, but there's also a great deal of complexity. People talk about things like frictionless and things like that, and when you actually dig through it, it's really not the case." — CEO Charles W. Scharf.
Who's talking about blockchain technology the most?
Diving a bit deeper, we see a couple companies have consistently talked about blockchain technology more than their peers.
Specifically, Overstock (182 mentions), Nasdaq (57 mentions), Broadridge Financial Solutions (51 mentions), IBM (48 mentions), and Luxoft (25 mentions) are among companies that have talked about it the most on earnings calls since 2013.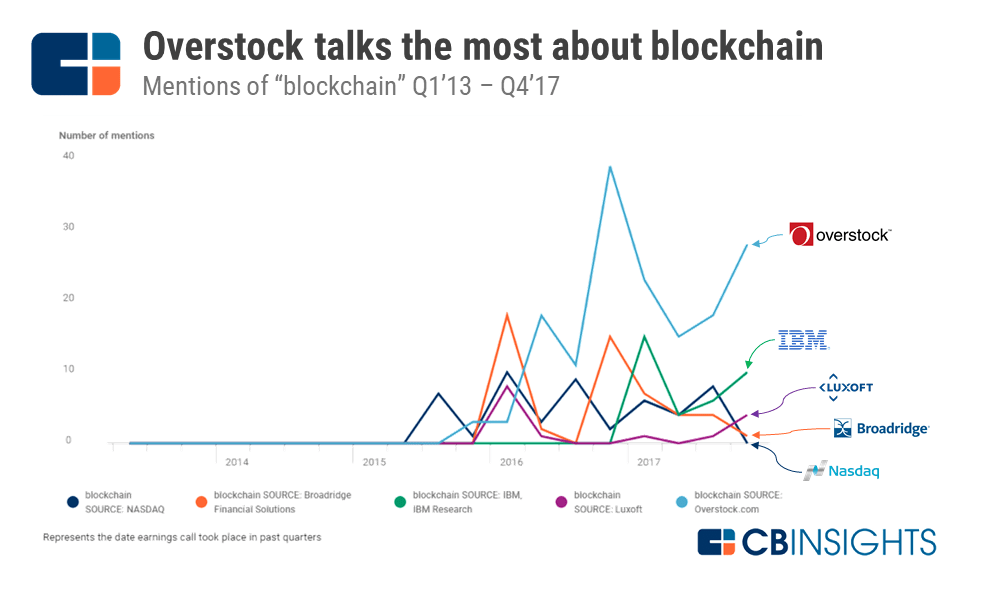 As evidenced in the graphic above, Overstock saw a spike in "blockchain" mentions on the company's Q4'16 earnings call. Most of these mentions were around a newly proposed "blockchain-based shares trading platform" called tZERO, as well as the firm's blockchain-focused venture arm, Medici Ventures.
While Overstock's core business remains an e-commerce marketplace (primarily for home furnishings), the company's CEO Patrick Byrne has placed increasingly bigger bets on blockchain technology. The company announced that it would accept bitcoin payments in September 2014, and other cryptocurrencies (like ethereum and litecoin) in August 2017. This made Overstock one of the first major retailers to accept cryptocurrency as payment.
On the company's Q4'16 earnings call, Byrne went so far as to describe Overstock as a "holding company":
"Think of [Overstock] as a holding company with on one side an […] internet retail company that is spinning off $75 million a year. That's on one side. On the other side is this Medici Ventures, and Medici Ventures has a number of investments in blockchain and fintech."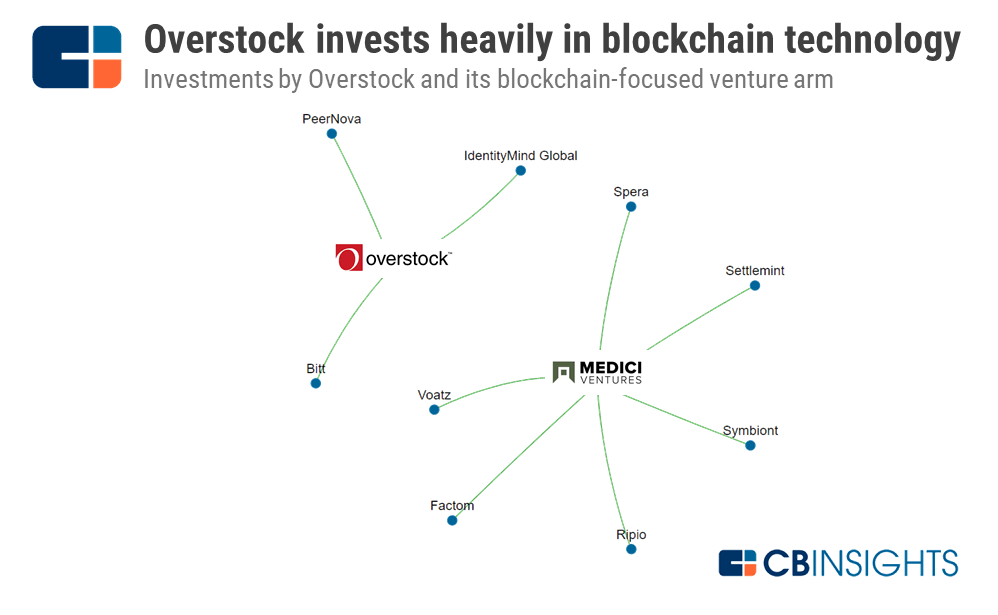 According to news reports, though, Medici Ventures largely missed out on gains that other cryptocurrency investors found in 2017; Overstock's 10-K filing outlines how the fund deployed lots of capital to invest in "blockchain technology" companies, but didn't invest directly in high-flying cryptocurrencies like bitcoin or ethereum.
Byrne confirmed this in the company's Q4'17 earnings call:
"We don't have much Bitcoin. As we disclosed, we sold a whole bunch of it to the fall. And yes, we've been accumulating several hundred thousand dollars again of it probably I don't know but nothing massive."
One quarter earlier (in Q3'17), Byrne detailed his thesis more clearly:
"I said the main event of Bitcoin isn't Bitcoin folks, it is a single blockchain that we're going to be able to do this and that the other thing."
Betting on a single blockchain for various use cases, Overstock's tZERO is in the middle of raising an approximately $250M ICO, which is currently under review by the SEC.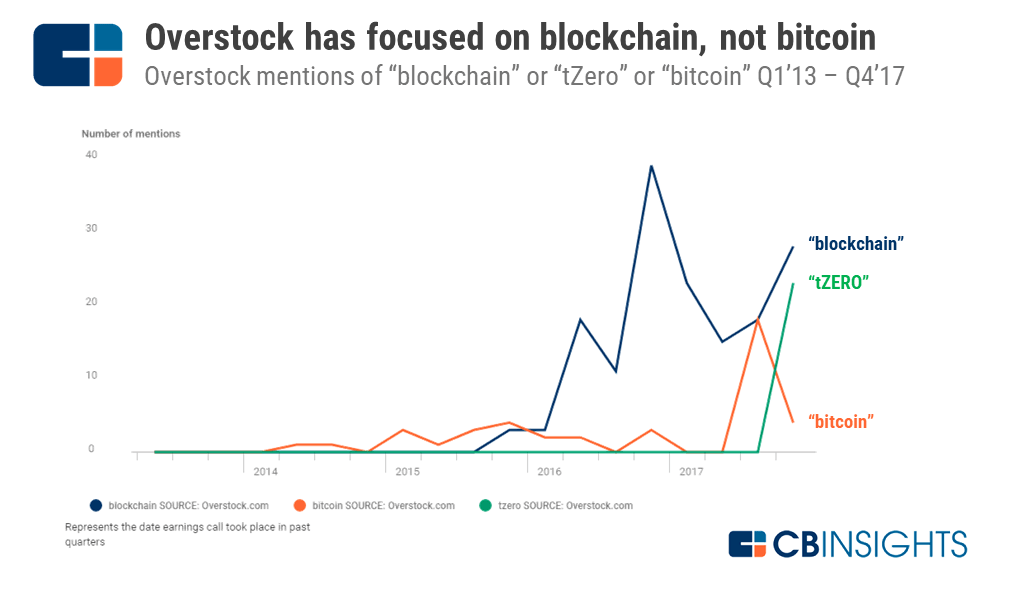 Nasdaq
Another company that's talked a lot about blockchain is Nasdaq. The technology was successfully tested within the company's Nasdaq Private Markets (NPM) product, but earnings call transcripts suggest that the technology has seen limited real deployment.
In Q2'15, the stock exchange said that it was "exploring the use of blockchain technology in Nasdaq Private Markets [and] targeting initial release of this technology in the fourth quarter of 2015." Mentions of NPM (Nasdaq Private Markets) and blockchain went hand in hand for a number of quarters as the technology was beta-tested.
By Q1'16, the technology was labeled a success in that quarter's earnings call:
"We continue to enhance this platform in new and innovative ways to reduce the administrative complexities and costs private companies face today. This success follows last quarter's successful execution of the first blockchain-enabled transaction in the private space."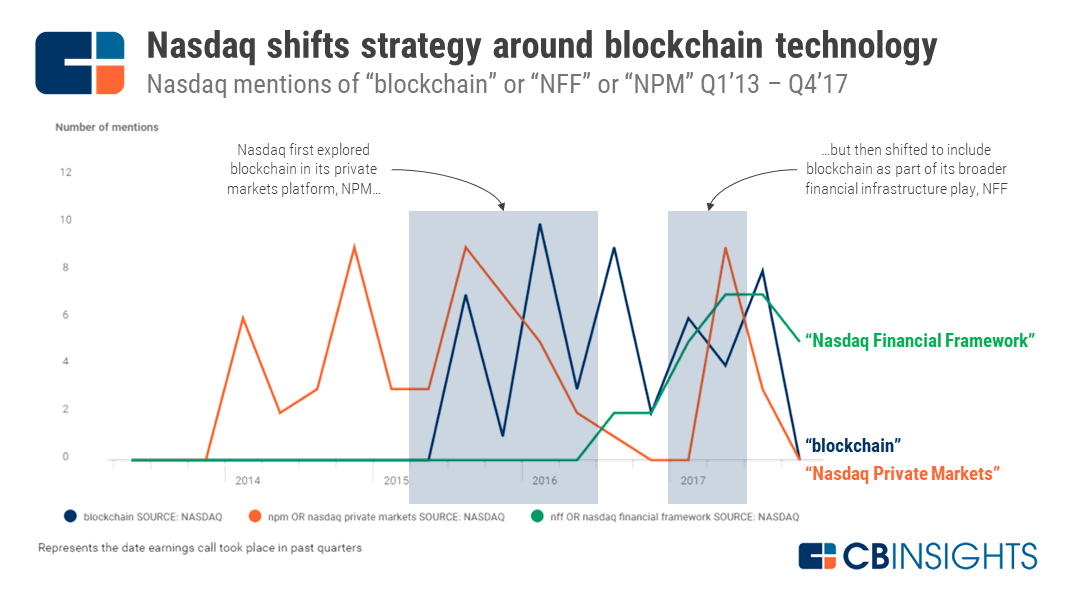 However, in following quarters, Nasdaq started to mention blockchain less often alongside NPM, and more often alongside its new product, Nasdaq Financial Framework (NFF).
Launched in 2016, the NFF works with clients to integrate business processes — like clearance and settlement — with emerging technologies, and is part of a broader Nasdaq shift toward fintech.
By 2017 — in Nasdaq's 10-K — blockchain technology was not mentioned at all in relation to NPM, perhaps implying limited traction and deployment, or a complete strategic shift toward its NFF product.
AMD and Nvidia
Chip manufacturers AMD and Nvidia saw lots of demand from cryptocurrency miners for graphics cards in Q3'17 and Q4'17.
Notably, though, both companies had already seen some demand in 2014 — enough to warrant a mention on their respective earnings calls, but not enough to take cryptocurrency mining seriously as a real revenue driver.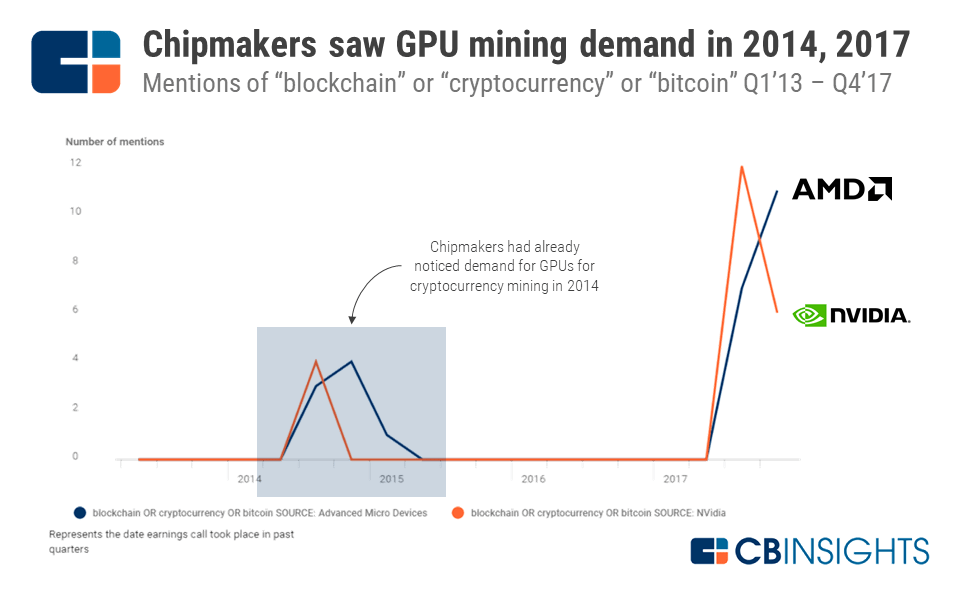 As Nvidia discussed on a Q2'14 (fiscal: Q2'15) earnings call in reference to increased demand for AMD's GPUs:
"As a component, if you will, as a commodity component, we're not the most competitive in [bitcoin mining]. And maybe that was a blessing, maybe it wasn't, but I think in the final analysis I don't think we were particularly the best choice for somebody who would like to mine bitcoin."
By Q3'17 (fiscal: Q3'18), though, the company had changed its tune, offering a rationale for increased demand for its GPUs in cryptocurrency mining:
"Bitcoin is incredibly easy to design in its specialized chip form. But then what happens is a couple of different players starts to monopolize the marketplace. As a result, it chases everybody out of the mining market and it encourages a new currency to evolve, to emerge. […] And so that's the cycles of these digital currencies, and that's the reason why I say that digital currency crypto usage of GPUs, crypto usage of GPUs will be small but not zero for some time. And it's small because when it gets big, somebody will be able to build custom ASIC. But if somebody builds a custom ASIC, there will be a new emerging cryptocurrency. So ebbs and flows."
If you aren't already a client, sign up for a free trial to learn more about our platform.