Despite a drop in total funding dollars, investment activity in the fourth quarter of 2019 points towards pockets of opportunities for blockchain technology in enterprise applications.
Blockchain companies have lost a step in the private markets.
Total equity funding to the space, which is one measure of investor enthusiasm, fell over 30% in 2019. Mentions of the technology in public company earnings transcripts also dropped off.

One of the reasons for this slip is that many products are still trying to find product market fit.
Entrepreneurs have pitched applications for blockchain technology ranging from supply chain tracking to financial asset settlement, but the only one that has found adoption at any significant scale so far is cryptocurrency creation and trading. Bitcoin still dominates in that area, representing over 65% of the cryptocurrency market's total value.
Still, investor activity shows there are pockets of potential in the blockchain sector worth tracking. Using CB Insights data, we analyze investment trends across the space from Q4 2019.
Fourth quarter funding down sharply from a year ago
Overall, dollar funding in 2019 was down 28% from 2018's peak of $4.3B, while deal activity remained relatively flat.
Companies like Bitmain (cryptocurrency mining hardware) and Coinbase (cryptocurrency exchange) were the top two fundraisers in 2018, demonstrating investors' focus on public cryptocurrencies. The companies raised $400M and $321M, respectively, both contributing to 2018's spike.
In Q4'19, companies in the blockchain space raised $785M across 164 deals, representing a 36% decline from Q4'18. Though lower than 2018 numbers by a stretch, the quarter still outperformed Q1 and Q2 in 2019, with investor interest pointing specifically towards enterprise applications.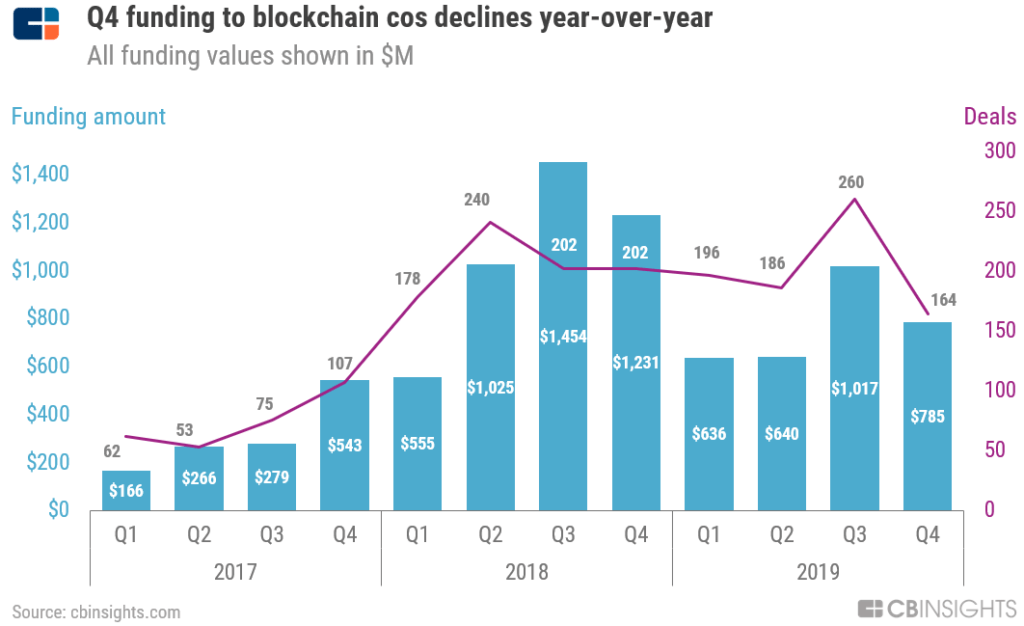 Enterprise payments network Ripple raised the highest amount of funding in the quarter — a $200M Series C round from SBI Group, Tetragon Financial Group, and Route 66 Ventures, which valued the company at $10B. Ripple stated the financing would go towards additional hiring, adding overseas offices, and improving balance sheet flexibility.
The company has continued to market its RippleNet payments platform as a disruptive technology to the cross-border payments market and the correspondent banking system that banks use to transfer funds.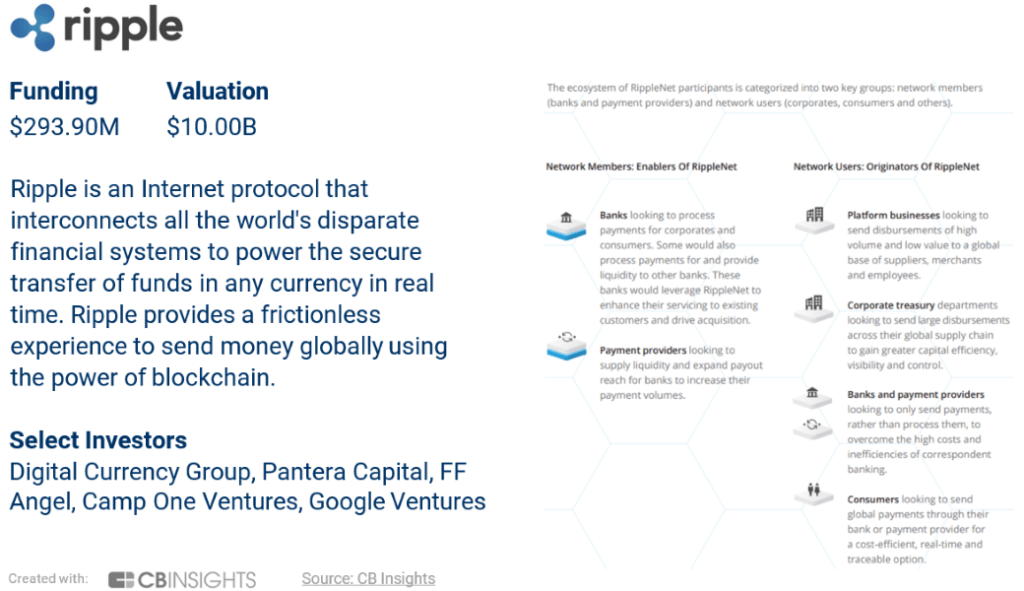 Largest funding rounds point to enterprise applications Focus
Following Ripple's mega-round, 3 of the next 4 largest blockchain deals of the quarter went to companies looking to streamline business processes (the exception being Layer1).
Figure Technologies raised $103M to continue growing its blockchain-based platform Provenance, through which the company provides home equity loans with approval times as fast as 5 minutes.
Digital Asset raised $35M to fund developer community initiatives supporting its Digital Asset Modeling Language (DAML) used for faster financial asset settlement and to expand the technology's applications.
Lastly, PeerNova raised $31M for market expansion and product development. The company's technology helps financial institutions manage their data workflows more efficiently.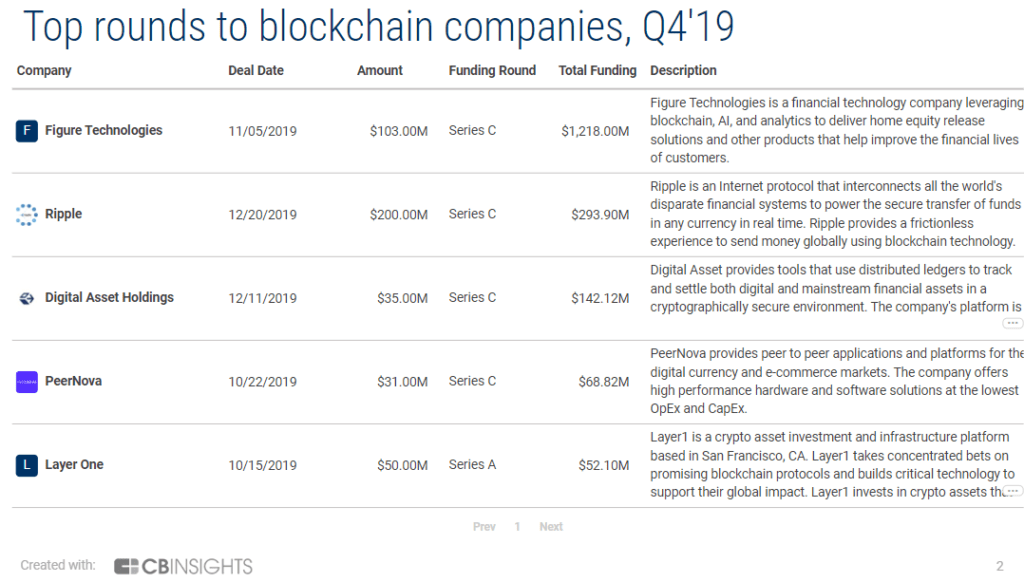 Unlike the other companies, Layer1 is looking to build and fund blockchain protocols and infrastructure. The company raised $50M in Q4'19 specifically to build a solar and wind powered Bitcoin mining facility in West Texas.
If you aren't already a client, sign up for a free trial to learn more about our platform.