Initial coin offerings (ICOs) raised $1.6B in January 2018 alone. Our ICO market map highlights 110+ companies that have completed ICOs across categories ranging from core infrastructure and supply chain to gambling and identity.
When we published an earlier ICO market map in September 2017, completed ICOs ("initial coin offerings") had raised $1.6B+ in the previous nine months. If that seems like a lot, consider that just a few months later, ICOs raised $1.6B in a single month — January 2018.
Since then, both the number of completed ICOs and the total amount raised have dropped. In March, 113 ICOs closed for about $500M, down from 121 and $1.2B in February. 
Put another way, ICOs in February raised an average of about $10M, while in March they raised an average of $4.5M.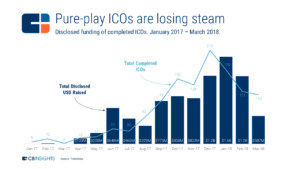 ICO refresher
Initial coin offerings (ICOs) are sales of tokens by blockchain companies looking to raise funds. According to proponents, tokens aren't equity. Instead, tokens afford access to, or utility within, a given decentralized ecosystem.