The line between ICOs and equity financing is blurring, as traditional equity investors use non-traditional methods to invest in blockchain companies.
Bypassing the skepticism and more onerous process of traditional VC financing, blockchain teams raised more than $18B over the past year through initial coin offerings (ICOs), often with little more than a white paper.
Some high-profile ICOs have raised hundreds of millions — even billions — of dollars before proof of a viable product. Filecoin, a blockchain data storage startup, raised $257M, while EOS, which is building a "world computer," raised over $4B in its year-long ICO.
Tokens look like an entirely new financing mechanism, and VCs have found themselves with a bad case of FOMO. To participate in the new "token economy," VCs are using novel financing methods to invest — often before there's ever a token sale.
Below, we dig into how traditional equity is investing in token-based companies and changing the capital-raising landscape for blockchain teams.
Track the blockchain companies in this brief and many more on our platform
Startups working with blockchain and cryptocurrencies have the potential to create "trustless" networks and fundamentally change the way markets transact. Look for Blockchain in the Collections tab.
Track Blockchain Startups
Traditional investors get in before ICOs with private token sales
Traditional investors are acquiring tokens outright via pre-sales, SAFT contracts, and regulatory compliant offerings — something that seemed out of the question just months ago. In other cases, traditional investors are taking equity stakes in blockchain companies before an impending ICO.
Pre-sale rounds are held before larger, public ICOs and don't follow a uniform structure. In some cases, pre-sales offer discounted tokens to early investors (accredited and unaccredited). In others, teams sell small equity stakes in exchange for runway before an ICO.
ICOs are expensive, and often incur legal, marketing, and advisory expenses. Venture-funded pre-sales could cover expenses before an ICO infuses cash into the company.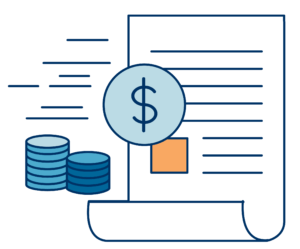 In other cases, accredited investors buy tokens via cryptocurrency purchase agreements. A common version of this is the SAFT (Safe Agreement for Future Tokens).
A SAFT acts as a forward contract for tokens, with the contract converting upon deployment of a functioning network. Thus, startups aren't selling equity stakes, but the rights to some of the tokens it will use as part of its network. A conversion might happen years after the initial sale.
The rise of pre-sales and SAFTs reflects venture funds' desire to cash in on the token economy. Notably, the median time between first funding and IPO for VC-backed tech companies that went public in 2017 was about 9 years. In comparison, tokens trade on exchanges (often before the network launches) and provide near-immediate liquidity. With a SAFT, a token conversion could happen within one or two years, also providing quick liquidity to venture investors.
Many venture firms have mandates that require them to invest in specific asset classes — namely, private companies. SAFTs and certain pre-sales might be a way to invest in tokens while still conforming to this asset class requirement, whereas buying tokens via an exchange or directly via an ICO likely would not meet those requirements.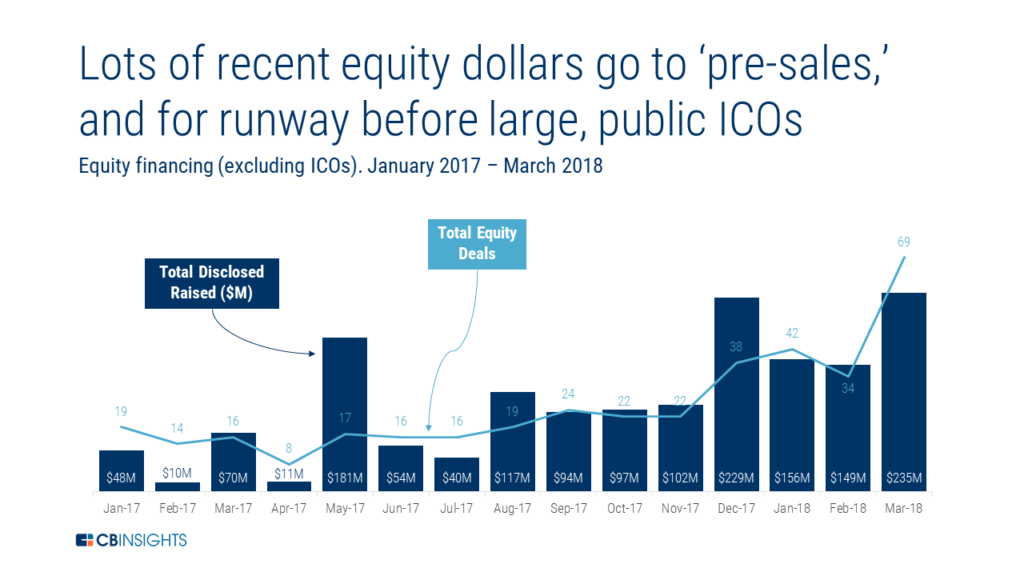 Data indicates a shift toward pre-sales, with venture rounds trending up and pure play ICOs trending down.
In February, ICOs raised almost 60% of their capital in private rounds and pre-sales, according to TokenData. Some of that data is captured below, with "other" VC equity deals up considerably as a share of blockchain deals. These include some private rounds and pre-sales.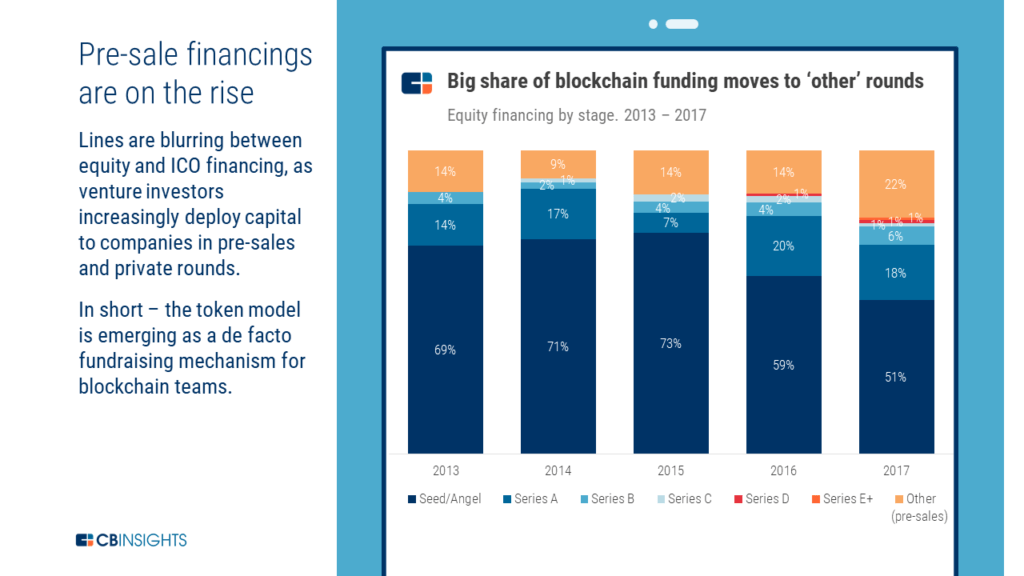 with more pre-sale capital, blockchain companies rely less on icos
Since then, pure play ICO deals have trended down. In April 2018, 129 ICOs closed for about $600M, down from 215 and $1.2B in December 2017.
In terms of dollars raised, we see a similar downward trend (excluding Telegram's private sale and the year-long EOS ICO). As a caveat, these numbers are somewhat lagging indicators — we only count completed ICOs, not those that are still ongoing.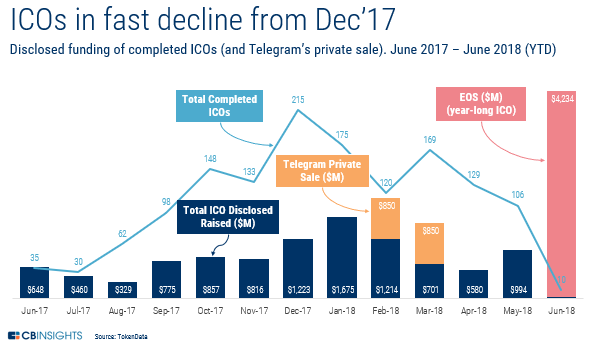 In one notable example of the trend toward pre-sales, Telegram held such a large pre-sale that it no longer has plans for a public sale. The encrypted messaging service raised $1.7B from 175 private investors in two separate private rounds, selling "purchase agreements for cryptocurrency" (not equity).
Another blockchain team, Basis (fka Basecoin), raised $125M from 225 investors via a SAFT sale that took place starting at the end of Q1'18. Basis is building a "stablecoin" that is intended to be less volatile than other cryptocurrencies.
With all this, pre-sales are a mixed bag. On the one hand, they're still relatively risky, and regulators still haven't fully weighed in on them. On the other, they shift risk onto accredited and venture investors, a good thing for consumers and regulators.
As regulators continue to crack down on public ICOs, we expect this shift toward pre-sales and private sales to continue.
If you aren't already a client, sign up for a free trial to learn more about our platform.