Public companies often see their stock prices soar dramatically when they announce new blockchain-focused initiatives. But when the hype dies down, how successful are they at sustaining investor interest?
When it comes to blockchain technology, there's a lot of hype.
Now some public companies are pivoting away from their core products — be that cameras, diagnostic machinery, or even iced tea — to adopt new blockchain strategies.
Others, like Overstock, Nasdaq, and AMD, are increasingly chatting up blockchain on earnings calls.
Below, we round up 9 public companies that saw notable stock price jumps after their blockchain announcements — and take a look at whether or not these companies were able to sustain the hype after the initial bump.
While the blockchain-related announcements range from the credible to the laughable to the possibly criminal, the analysis overall demonstrates the market's bullish attitude toward blockchain and crypto.
Note: Except where noted, the charts below illustrate one month before to one month after the date of each company's blockchain initiative announcement. "48-hour stock change" and "peak post-announcement price" are  based on high/low stock prices for each company the business day of and the business day following its announcement.
Companies are arranged in descending order of market cap (as of 03/16/18). 
---
Longfin corp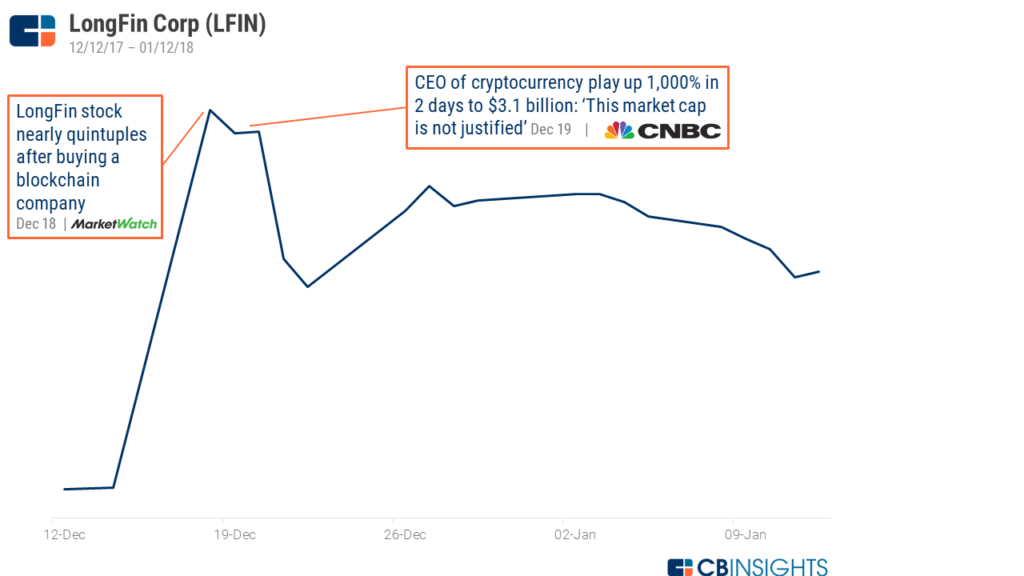 Note: Longfin Corp began trading on NASDAQ on 12/12/17. 
48-hr stock change: 1,717%
Industry: Fintech
Exchange: NASDAQ
Price:
Peak post-announcement price: $142.82
Closing price 03/23/18: $71.10
Just three days after beginning to trade publicly on NASDAQ, LongFin, which specializes in structured commodities trading and real estate financing, announced that it would aquire blockchain company Ziddu.
Ziddu focuses on blockchain-backed solutions that offer microfinance lending against collateralized commodities in the form of Ziddu Coins — in other words, blockchain-based technology that could hypothetically make it easier for LongFin to collect collateral from borrowers.
The December 15 announcement sparked an enormous jump in LongFin's stock, which went from trading at a little over $5 to closing in the $68 — $72 range in the days following the announcement. (As with a couple other companies on this list, the coinciding meteoric rise in Bitcoin price likely helped buoy investor interest in all things crypto at the time.)
Interestingly, unlike other execs on this list, LongFin Chairman & CEO Venkat Meenavalli was quick to dampen enthusiasm. "This market cap is not justified," he said on CNBC's Fast Money three days after the announcement. "I valued my IPO pricing at $5."
While in the month following the acquisition of Ziddu, LongFin's stock fell from its peak, it continues to trade well above its initial price. In the second week of January the stock closed around $50 on average, and through February it traded more in the mid- to high- $30 range — a fall from its peak, but still well above $5.
In the past couple weeks, the volatile stock has spiked once more, closing at more than $70 on 3/23.
---
Overstock.com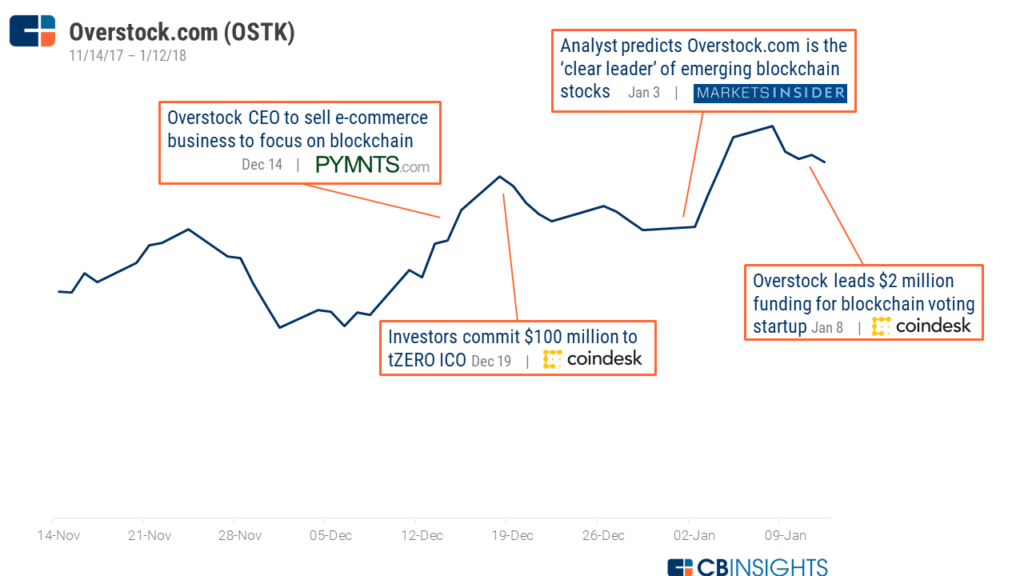 48-hr stock change: 22%
Industry: E-commerce
Exchange: NASDAQ
Price:
Peak post-announcement price: $70.00
Closing price 03/23/18: $45.20
Online retailer Overstock.com, which traditionally sells home goods, clothing, and beauty products, announced December 14 that it would look to sell or reorganize its retail business in order to focus on blockchain. Specifically, the company said it would launch a digital coin trading platform via its subsidiary tZero, and would raise money for it via an ICO.
Immediately following the mid-December announcement, the company's stock saw an uptick of 22%. Unlike some other companies on this list, which saw a quick price spike followed by an equally quick decrease, Overstock's stock continued trending upward in the month following its announcement.
This could be due in part to Overstock's sustained interest in cryptocurrency, which pre-dates the December announcement: Overstock began accepting Bitcoin as early as September 2014, and in August 2017, the company announced that it would allow customers to make purchases on its platform using major cryptocurrencies like  Ethereum, Litecoin, Dash, and Monero — subsequently positioning Overstock as one of the first major retailers to accept cryptocurrency payments.
Overstock further extended its blockchain focus just a few weeks after the tZero ICO announcement, via subsidiary Medici Ventures, which led a seed funding round to blockchain-enabled mobile voting platform Voatz, another indication of the company's interest in fostering diverse use cases of blockchain technology. Medici Ventures has backed a number of other blockchain-focused startups, including Settlemint, Factom, Ripio, and earlier this month, both Bitt and Bitsy.
To date, Overstock has largely followed through on its announced initiative. The first leg of the ICO sale began December 18 (after being delayed by a day), with a goal to raise $250M. On February 22, Overstock extended the ICO period an additional month, and as of now the sale is still ongoing.
On March 1, tZero disclosed that the SEC was conducting an investigation into its ICO, causing a dip in Overstock's share price in recent weeks. Nevertheless, as of March 18, the company said its blockchain enterprises were "progressing nicely," with a "strong head start in a number of products under development," according to FT.
---
Kodak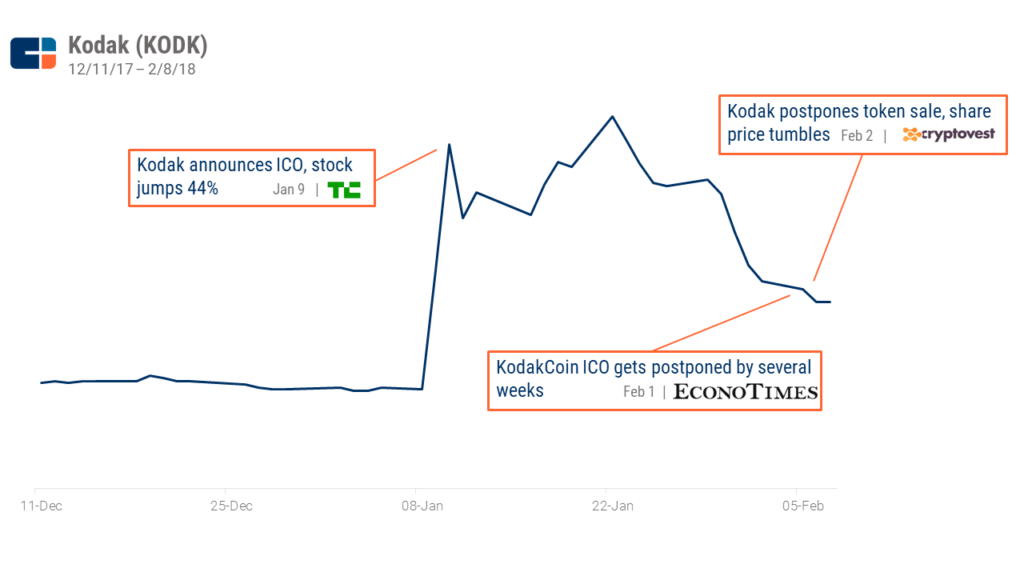 48-hr price change: 335%
Industry: Cameras
Exchange: NYSE
Price:
Peak post-announcement price: $13.28
Closing price 03/23/18: $5.00
On January 9th, 129-year-old camera company Kodak announced a forthcoming ICO and a partnership with Wenn Digital focused on creating a "photo-centric cryptocurrency" to give photographers and agencies more control in managing image rights — making photography just one of the latest in a long line of non-banking industries being transformed by blockchain technology.
The company, which emerged from bankruptcy in 2013 and has struggled against digital technology trends, saw its stock jumped dramatically in response, ballooning as much as 335% to hit a high of $13.28 the day after the announcement (up from its price of $3.10 at open on Jan 9).
However, the uptick was short lived. On Jan 31st, the originally scheduled date for its ICO, Kodak announced that it would be postponing its coin offering, claiming it would need more time to verify the "accredited investors" status of the 40,000+ people who applied to invest in the ICO. (Participation in many ICOs is limited to "accredited investors" that meet certian financial requirements set by the SEC.)
Cue a quick reverse in Kodak's stock price, which has declined since mid-January, tumbling to just $5 — $5.30 in the past few weeks — though still above its pre-crypto announcement price.
---
riot blockchain (fka bioptix inc.)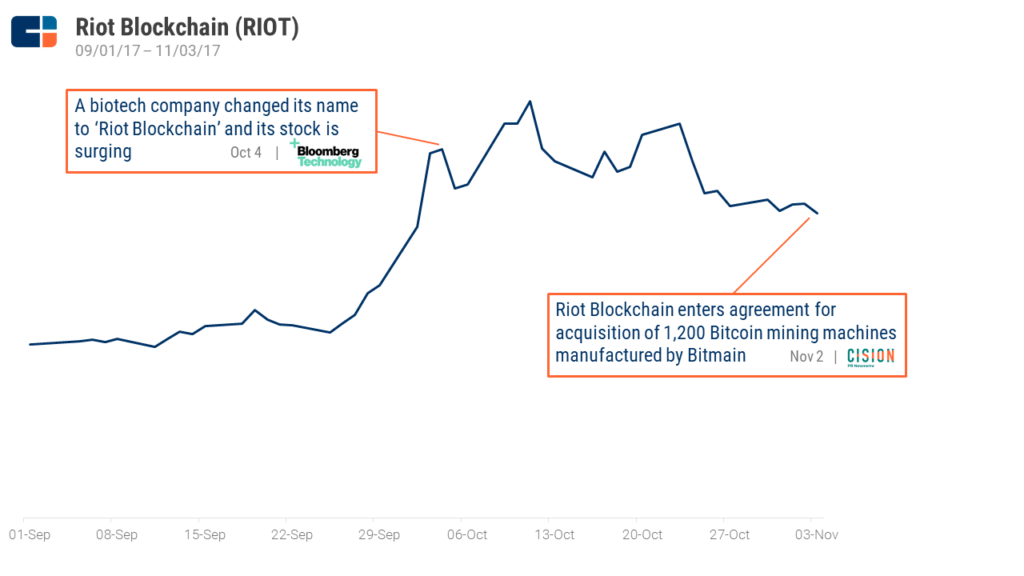 48-hr price change: 1%
Industry: Biotech
Exchange: NASDAQ
Price:
Peak post-announcement price: $8.06
Closing price 03/23/18: $7.50
On November 4, Bioptix Inc., which makes diagnostic machinery for the biotech industry, announced that it would be rebranding and diving into the cryptocurrency space by renaming itself Riot Blockchain Inc.
"We looked at the [blockchain] sector and said, 'How can we participate in this, and how can our shareholders participate in this very exciting industry that's like the beginning of the internet?'" — Michael Beeghley, Riot Blockchain CEO
Notably, the penny stock began climbing before the official October 4th announcement, nearly doubling in price in the week leading up to it. While it continued to rise after the announcement, the most dramatic growth happened beforehand.
This early run-up in price is likely why Riot's 48-hour stock price change is so small compared to other companies in this list — while the 48-hr change is only roughly 1%, over the week of 9/26 — 10/5 there was a 96% jump.
Four weeks later (11/2), Riot blockchain entered an agreement to acquire 1,200 bitcoin mining machines, and the company's apparent sustained commitment to its new blockchain strategy may have helped sustain its stock price — and even push it further up.
In late December, Riot Blockchain's stock rose dramatically once more to hit a new high, likely buoyed by the corresponding spike in bitcoin price. However, in the recent months the stock has declined once more, in particular dropping in mid-February after CNBC broadcast a report suggesting the rebranding was a self-serving move on behalf of a company executive who sold RIOT stock as the share price peaked.
While still trading at higher levels than before its pivot to blockchain, Riot's stock is currently sitting below its peak.
---
NXT-ID INC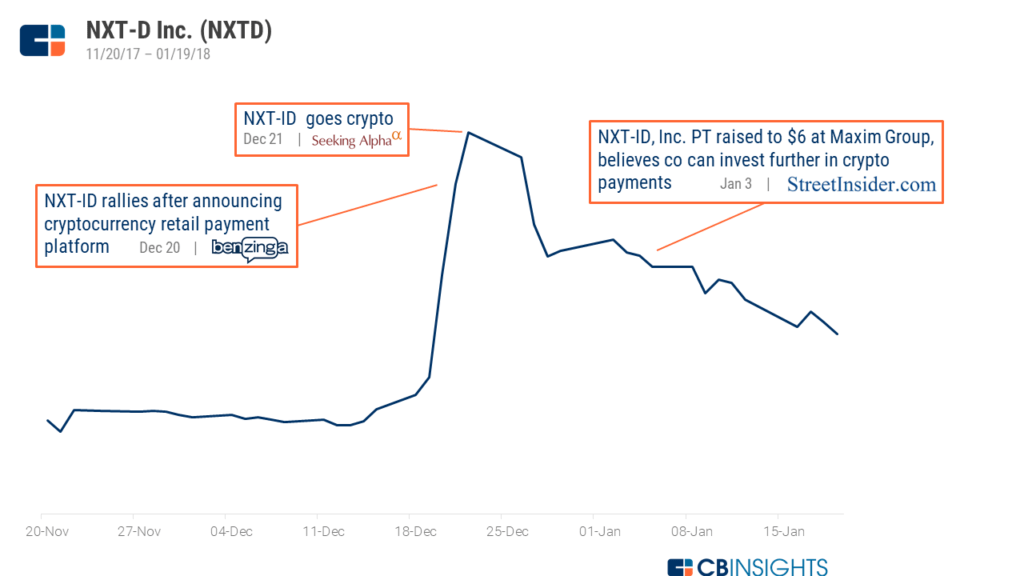 48-hr stock change: 242%
Industry: IoT
Exchange: NASDAQ
Price:
Peak post-announcement price: $8.59
Closing price 03/23/18: $2.15
On December 20, mobile security company NXT-ID Inc announced that its subsidiary FitPay, which adds contactless payment capabilities to wearable and IoT devices, would enter a partnership with financial services company Cascade Financial Technology Corp. Together, the companies would develop a platform allowing cryptocurrency holders to make purchases at millions of retail locations worldwide using cryptocurrency.
"[Our initiative] will give cryptocurrency holders the opportunity to effortlessly use their value to make purchases every day, just as they would use a credit or debit card." — Michael Orlando, NXT-ID COO & FitPay President
In response, the company's stock jumped 242% over two days, as investors jumped on top of the latest blockchain opportunity.
The timing of the announcement coincided with an unprecedented peak in Bitcoin price (with some estimates valuing the cryptocurrency at $20,000+). While FitPay was not specifically focused on Bitcoin, the hype then surrounding the cryptocurrency likely helped buoy investor interest in the company's new blockchain strategy.
However, the spike was short-lived: after a week or so of unprecedented highs, the stock began to trend downward once more, though it remained higher than pre-announcement rates.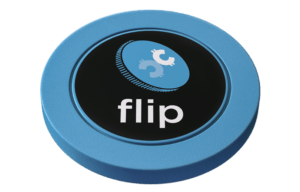 One month after the announcement, it was closing at prices roughly 30% higher than in the days before the announcement. The stock has since continued to hover around that point.
Notably, unlike some companies on this list, which walked back their initial blockchain initiatives, NXT-ID seems to be moving forward as planned: on February 8 the company announced Flip, its new contactless payment device for cryptocurrency. The small device, which looks like a large coin, can currently be pre-ordered for $14.50.
---
long blockchain (fka Long Island Iced Tea)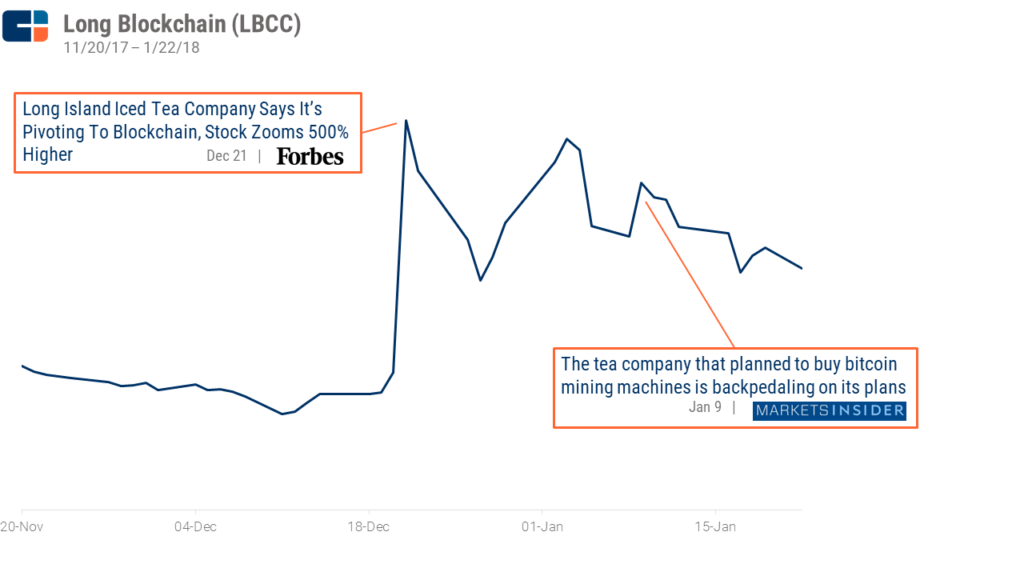 48-hr price change: 344%
Industry: Beverages
Exchange: NASDAQ
Price:
Peak post-announcement price: $9.49
Closing price 03/23/18: $2.75
In the past few months, the Long Island Iced Tea Corporation has become the go-to example of unusual companies pivoting to blockchain.
The company's stock jumped as much as 344% in the days (12/20 — 12/21) after the company changed its name to Long Island Blockchain and announced it would shift its primary focus from iced tea to blockchain mining.
To this end, the company announced it would be issuing additional stock to fund the purchase of 1,000 mining rigs.
"Blockchain technology is fundamentally changing the way people and businsses transact, and the company will strive to be at the forefront of this dynamic industry," the company announced on its new website.
On January 9, the company walked back its initial statement, saying that while it still intended to sell more stock to raise money for bitcoin mining rigs, it would not (as previously announced) raise capital through a new stock issuance in order to purchase those rigs.
The company's stock price has been volatile but trending downward since its initial blockchain announcement, though it continues to trade at a slightly higher price than before the announcement.
---
Delta Technology Holdings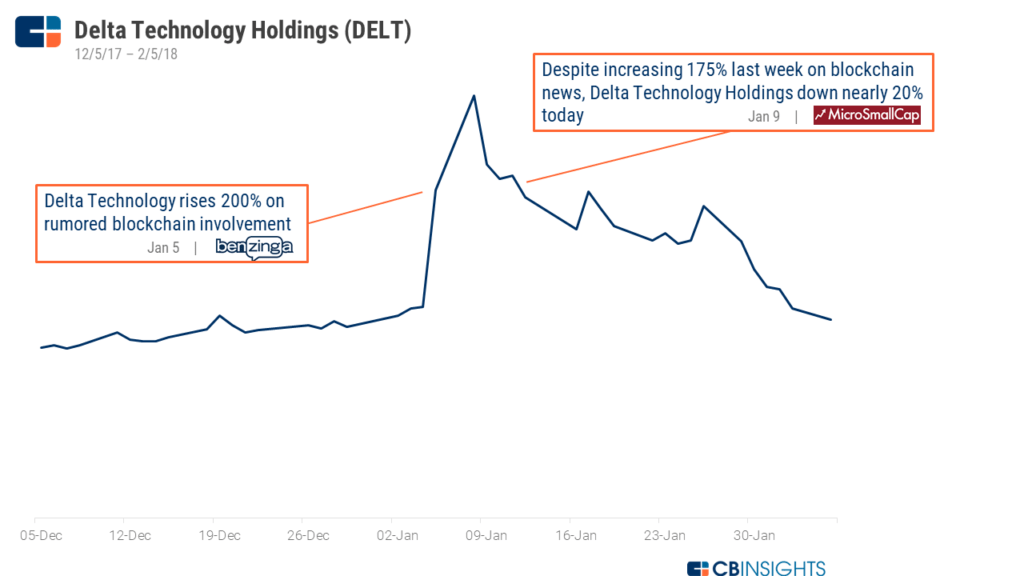 48-hr stock change: 289%
Industry: Chemical manufacturing
Exchange: NASDAQ
Price:
Peak post-announcement price: $4.70
Closing price 03/23/18: $1.18
On January 5, China-based chemical manufacturing company Delta Technology's stock jumped nearly 300% following rumors that it was creating a blockchain framework for the IoT industry. The firm was allegedly partnering with Chinese giants like Alibaba Group, ZTE, and Huawei to offer a framework specifically focused on the chemical industry.
Investors rallied at the news, and at its peak, the stock, which had been closing at an average of $1 in the month prior, reached almost $5.
However, the jump was short-lived. Within three days the stock was below $2, and it continued to fall in the month following the sudden spike. Since then, in the face of a lack of further reporting on the blockchain initiative, the price has continued to slump towards pre-announcement levels. (Easy come, easy go.)
---
Chanticleer holdings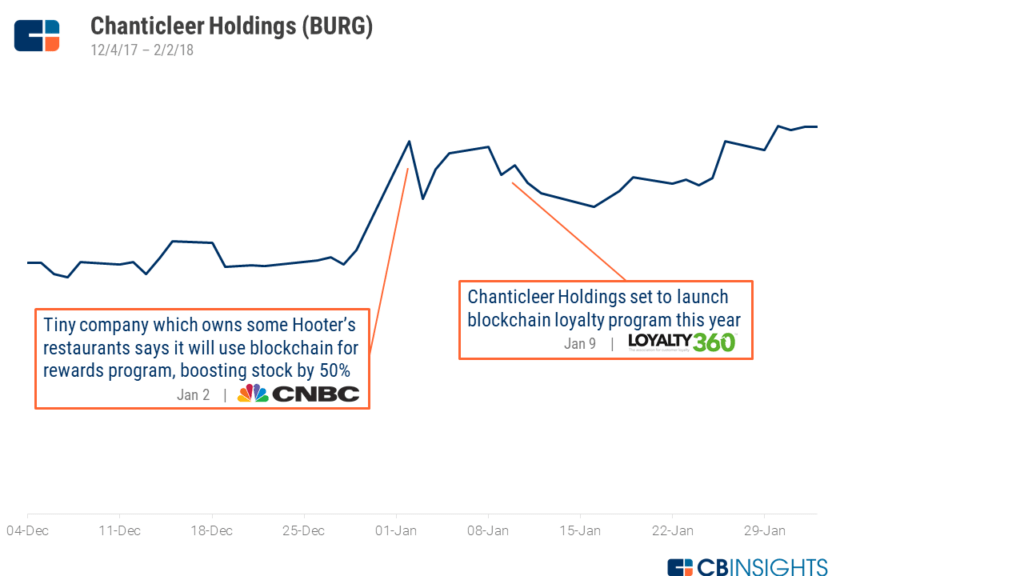 48-hr stock change: 46%
Industry: Restaurants
Exchange: NASDAQ
Price:
Peak post-announcement price: $5.14
Closing price 03/23/18: $3.71
Chanticleer Holdings, which owns restaurants including certain Hooters, Little Big Burger, and Just Fresh locations, announced January 2 that it would roll out a blockchain-based rewards program for customers.
"Eating a burger is now a way to mine for cryptocoins! Every meal enjoyed at any Chanticleer Holdings brand will accrue currency for the consumer that can be used for future meals or traded with other consumers." — Dennis Becker, Mobivity CEO
In response, the company's share price rose nearly 50% on the same day, going from trading around $2.50 in the month prior to closing in around $3.40 in the month following the announcement.
The company plans to roll out the blockchain loyalty rewards program in mid-2018 with its technology vendor Mobivity. Mobivity's cryptocurrency, Mobivity Merit, will be usable at any of the restaurants under the Chanticleer brand umbrella.
The announcement signals another use for cryptocurrency more companies may explore — boosting customer loyalty.
---
Mining power group inc. (FKA Intercontinental technology, fka rich cigars)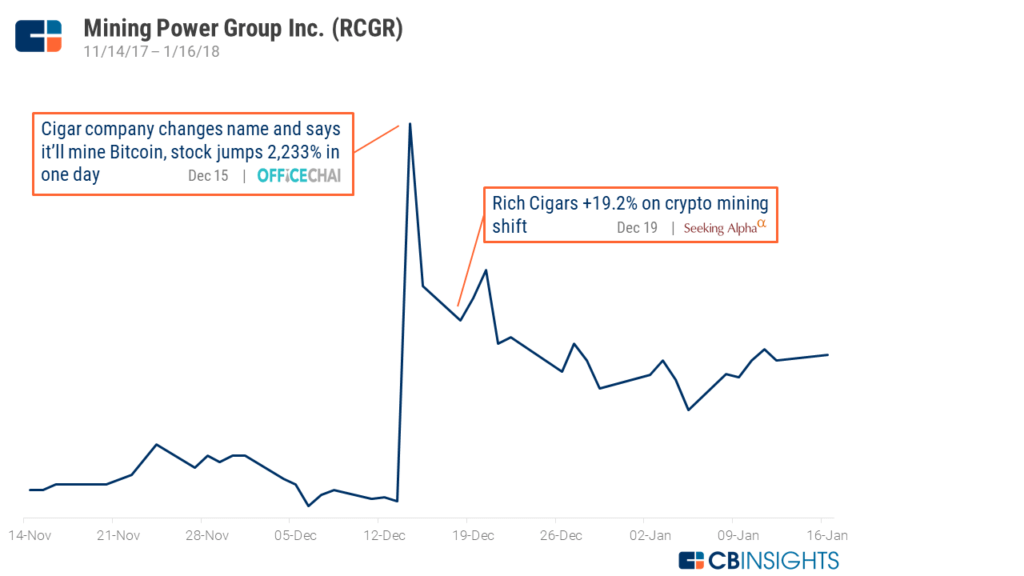 48-hr stock change: 1,630%
Industry: Cigars
Exchange: OTC Markets
Price:
Peak post-announcement price: $1.05
Closing price 03/23/18: $0.20
On December 14, cigar manufacturer and distributor Rich Cigars filed to change its name to Intercontinental Technology, Inc. The name change was meant to reflect a shift in the company's overall stragey — namely, a move into the crypto mining space, a gradual phasing out of the company's traditional cigar business, and relocation from Delaware to Colorado.
Compared to other companies on this list, Rich Cigars' pivot was relatively low-proile, generating media buzz primarily as just another example on the growing list of "blockchain pivots."
Strangely, just two months after filing for a first name change, the company announced a second name change in February — becoming "Mining Power Group, Inc." — as well as another relocation, this time to Florida.
After the initial blockchain-correlated stock spike in December, the company's stock slumped once more — as did media chatter about the initiative. While the penny stock has waxed and waned a bit since then, its ups and downs seem in keeping with the stock's usual volatility over the last year.
---
cONCLUDING THOUGHTS
A diverse set of companies has found a way to incorporate blockchain tech or cryptocurrency into their names, strategies, or portfolio investments, many doing so in late December (Long Blockchain, Intercontinental Technology, NXT-ID), right around the time Bitcoin's price was on a steep rise.
Without question, blockchain strategies varied across companies, from core business overhauls to refocus on Bitcoin mining, to cryptocurrency-backed customer awards programs.
Despite the diversity of these initiatives, all attracted an initial flurry of investor interest that drove stock prices up, even briefly — suggesting that when it comes to blockchain technology, investors are not so discerning about how the technology is being applied. They are more interested in jumping quickly on the trend.
And, as much as investors eventually softened their enthusiasm for these blockchain pivots and stock prices leveled out a bit, many are still trading above their pre-announcement price.
For now, riding the blockchain hype still seems to be paying off.
If you aren't already a client, sign up for a free trial to learn more about our platform.