Walmart, Kroger and others are looking to blockchain to help prevent the 48M annual food-borne illnesses in the US.
Blockchain tech has primarily been associated with financial services — but increasingly it's making an impact across industries, and the food supply chain is no exception.
In August 2017, ten of the world's biggest CPG and food companies partnered with IBM to integrate blockchain into their supply chains. This cohort — Walmart, Nestle, Unilever, McCormick, Tyson, Kroger, McLane, Driscoll's, Dole, and Golden State Foods — represents more than half a trillion dollars in aggregate annual global sales.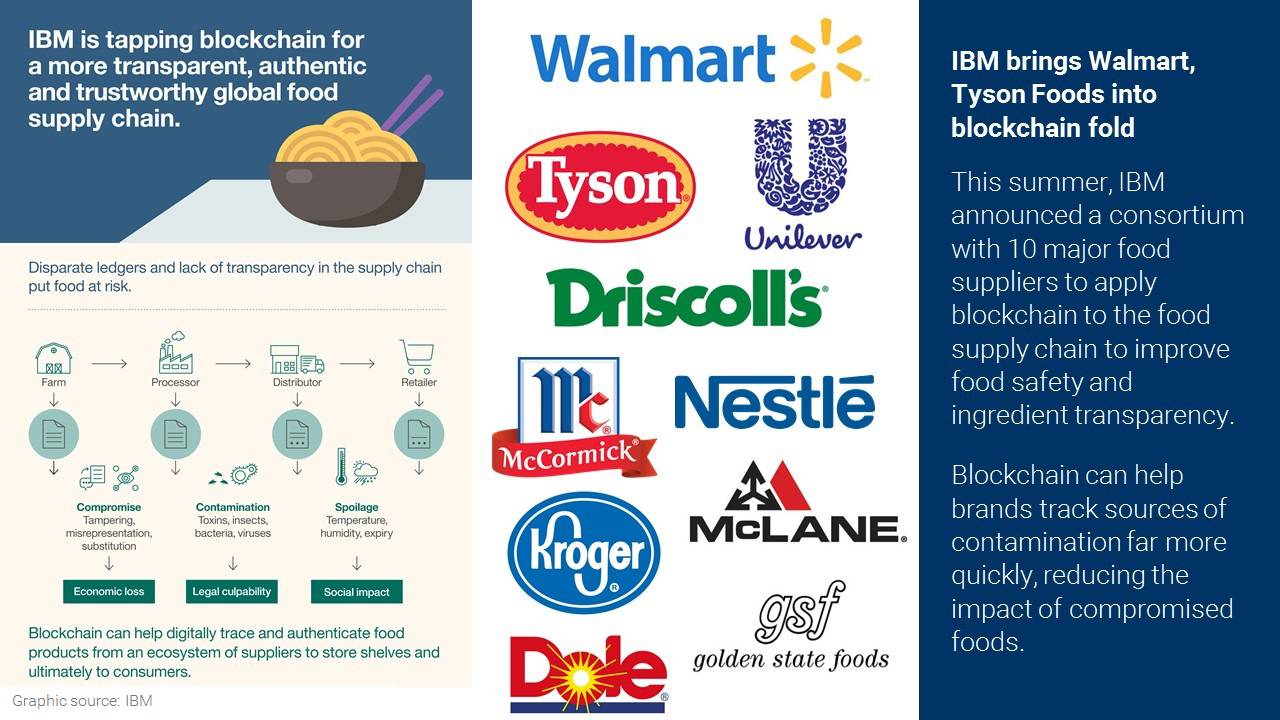 Through the partnership, IBM's blockchain platform will help food companies increase supply chain visibility and traceability.
What's the problem?
The global food chain is complex, bringing together farmers, warehousing, shipping companies, distributors, and grocers. Involving so many different parties also means involving many different types of record keeping methods, from Excel sheets to emails to paper printouts.

Not only is this system inefficient, it's also imprecise. When you buy a vegetable at your local grocery store, the brand listed on the sticker may have no idea which farm the vegetable came from. Therefore, brands may not be sure how to react when something goes wrong.
And with food, things can go seriously wrong.
According to the CDC, foodborne contamination causes 48M Americans to fall ill, 128,000 hospitalizations, and 3,000 deaths every year. Produce causes nearly half of the illnesses (due to norovirus) while poultry causes the most deaths (mainly due to listeria and salmonella).
When contamination breaks out in the face of unclear record-keeping, companies can take days or even weeks to trace the source of an infection and recall appropriate products.
For example, in 2006 three people died and nearly 200 fell ill after eating spinach contaminated with E. Coli. Because the FDA could not be sure which bags of spinach contained the infection, it ultimately recommended that Americans avoid eating any fresh spinach. The spinach industry faced $74M in losses.
Why blockchain?
Blockchain acts as a public, decentralized ledger. (For a deeper dive into blockchain technology, check out our CB Insights blockchain explainer here). This ledger provides a single, unified source of data, creating a clearer audit trail and consistency across parties.
Using blockchain, food companies can much more quickly trace outbreaks back to specific sources. This could help increase consumer safety while limiting financial losses, as only the products directly impacted would need to be recalled.
Food companies can attach connected IoT tags to shipments, with each shipment assigned a unique identification number. These IDs will be tied to products' origins, processing data, storage temperatures, expiration dates, and other information. At each stage in the supply chain, employees can simply "check in" the product using its ID number, and the blockchain will securely track the product over time across checkpoints.
Employees can also enter an ID number to see real-time data on a product and its history — a significant improvement over calling up different parties, sending over documents between multiple people, etc.
Walmart, one of the US's largest food retailers, has been somewhat of a pioneer in using blockchain to support food safety. The retailer began to pilot blockchain with IBM in fall 2016, beginning with shipments of pork in China, which can be a fraught landscape in terms of safety for food businesses. Yum Brands, for example, ended up selling off its Chinese business in 2015 after KFC faced a series of food scandals.
Walmart deemed its pork trial a success. In its 2017 investor meeting, Walmart's VP of Food Safety Frank Yiannas noted that with blockchain, he could pull a product's tracking information in under three seconds, while traditionally it had taken nearly a week.
Following this success, the company expanded the trial, adding tracking of Mexican mangoes, and then tracking turkey in partnership with meat supplier Cargill. Now, as a member of IBM's consortium, Walmart will likely continue to expand its blockchain usage.
---
Track all the food startups in this brief and many more on our platform
Startups are working on new food and beverage products that will transform what we eat and drink. Sign up for a free trial and look for Food & Beverage Startups in the Collections tab.
Food & Beverage Startups
1,200+ items
---
Blockchain startups target food producers
While IBM may have the widest reach, early-stage startups have also emerged on the scene, offering blockchain technology specifically for the food industry. These startups cater to food providers by promising them new ways to promote their products. They include:
Provenance, which serves over 200 food businesses with product traceability software. Provenance works with grocers bring shoppers produce data and with seafood companies to highlight fair treatment of their workers, and more. On December 12, 2017, it announced a new partnership with Unilever, Sainsbury's and others to track social sustainability and financial efficiency across supply chains.
Arc-Net teamed up with PwC Netherlands in August 2017 to target food fraud (the intentional substitution, addition, tampering, or misrepresentation of food, ingredients, or packaging), an issue PwC says costs the global economy over $40B per year.
Other startups focus on supporting small farmers by improving product traceability. These are relatively small so far, and include:
Brazil-based Bart.Digital, which provides secure financial documentation for small farmers.
Colorado-based Bext360, which specifically targets fair-trade coffee.
The business social graph below highlights blockchain startups focused specifically on food and agriculture, as well as their investors.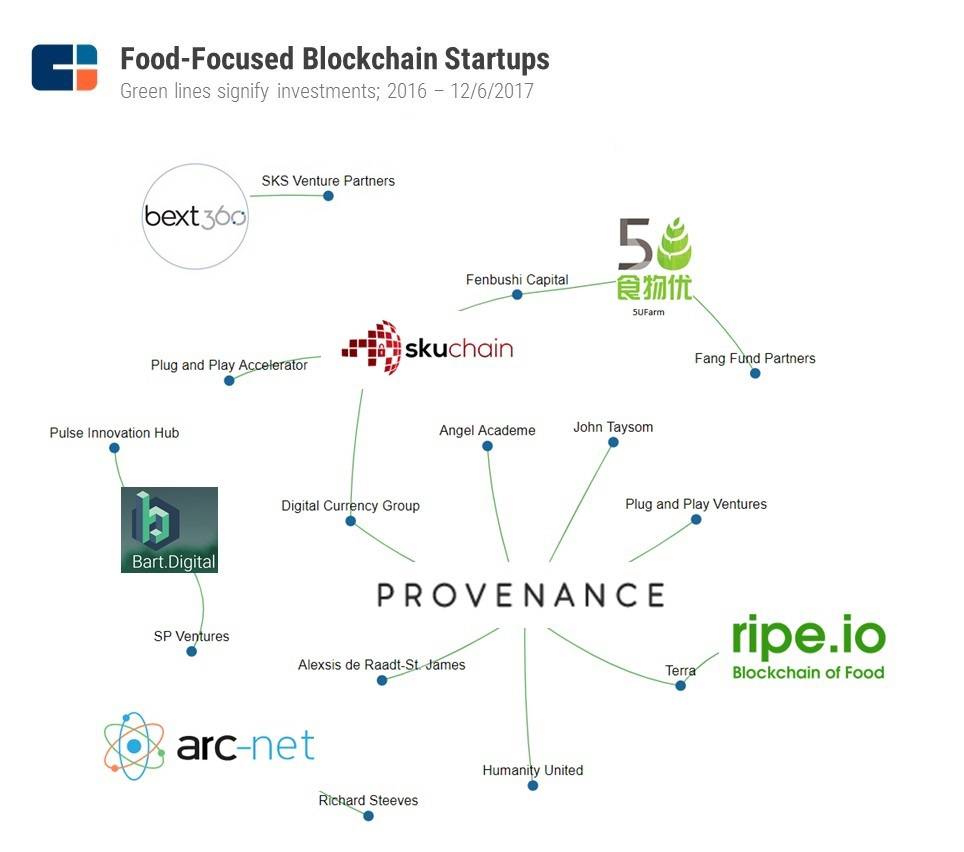 These startups face a two-tiered challenge.
First, they must convince large global food companies to adapt new technology and alter their entrenched supply chain processes.
Second, they face growing blockchain competition from major tech leaders (like IBM), which are starting to provide their own blockchain tools to food businesses who may already be their clients in other areas.
At the same time, because blockchain is a relatively new technology, companies may find a rising tide lifting all boats as startups and technology incumbents alike increase awareness of blockchain applications throughout the food sector.
If blockchain platforms continue to catch on, food businesses and logistics companies may be able to save time and money by simplifying supply chain recordkeeping, while also improving the quality of those records. They may also be in a position to attract consumers by emphasizing transparency and to strengthen relationships between food suppliers and food sellers across the globe.
If you aren't already a client, sign up for a free trial to learn more about our platform.