Startups and corporates are exploring the potential of blockchain technology to increase safety and transparency in our food.
Last week, officials finally identified the source of a contaminated romaine outbreak from last April. Traced to E. coli-contaminated water near Yuma, Arizona, the incident affected several farms.
The outbreak reportedly lasted over three months, and highlights (once again) the importance of transparency in the greater food supply chain — especially when it comes to quickly identifying sources of food contamination.
The space continues to see high levels of traction, with media mentions of the joint terms "blockchain," "supply chain," and "food" rising steadily since 2017.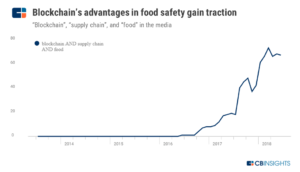 Below, we take a look at the startups and corporates leveraging blockchain technology to improve food safety and supply chain visibility.
(For more on this topic, check out our previous look at blockchain in food safety here.)