Major finance players are using distributed ledger technology to reshape the capital markets infrastructure that powers the trade of stocks, bonds, and other securities. We look at where corporates are deploying the tech. This research was done in partnership with Blockdata.
Distributed ledger technology (DLT) — which uses tech like blockchain to verify transactions without the need for a centralized authority — is gaining traction as a way to revamp capital markets infrastructure by making it more streamlined, improving transparency, and reducing associated fees.
With regulators starting to embrace the tech, a growing number of startups are eyeing an opportunity to disrupt the massive market. But financial incumbents are also making waves.
Corporates like SIX Group, Singapore Stock Exchange, and Deutsche Boerse are all working on DLT-based solutions to enhance their capital markets infrastructure, particularly for facilitating secondary markets for securities. Meanwhile, major banks such as BBVA and Commonwealth Bank of Australia have already launched "tokenized" bond initiatives where DLT is used to prove ownership of assets.
These major players are far from alone.
Using the Blockdata and CB Insights market intelligence platforms, we identify 60+ corporates and supporting services pioneering the use of DLT for capital markets infrastructure.
Please click to enlarge.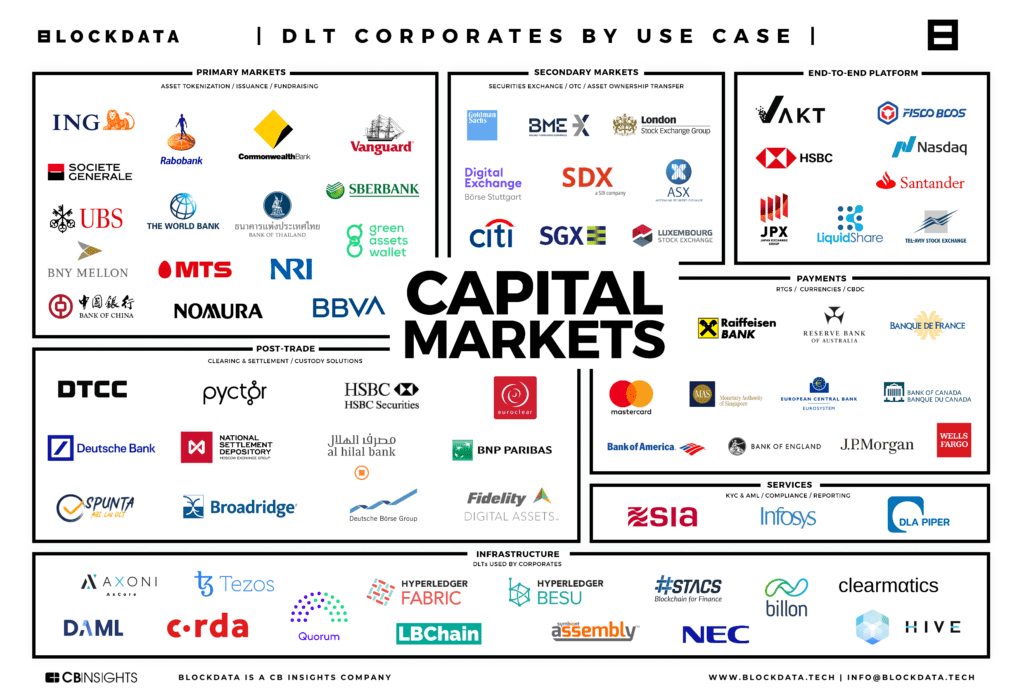 Our market map consists of public companies, government entities, and private companies providing supporting services and infrastructure. It focuses primarily on the corporate entities that are driving the development and integration of DLT technology. It is not exhaustive of corporates adopting DLT. Categories are not mutually exclusive, and companies are mapped according to their primary DLT use case.
Category Breakdown
Primary markets: Companies in this category focus on the tokenization of real assets — which refers to tracing ownership using DLT tech like blockchain. Services like asset tokenization, token issuance, and fundraising fall under this category. Corporates working in the space include BBVA, Societe Generale, and Commonwealth Bank.
Secondary markets: This category includes blockchain-based securities exchanges that allow investors to trade tokenized securities. A number of traditional exchanges, including the London Stock Exchange and the Luxembourg Stock Exchange, are beginning to build their own DLT-based offerings.
End-to-end: End-to-end platforms offer services across an asset's lifecycle, including asset tokenization and issuance, custody, and other services. Corporates targeting this category with DLT include Nasdaq, HSBC, and Santander.
Payments: This category includes companies working on tech like payment currencies, stablecoins (cryptocurrency pegged to the value of a non-volatile asset like the dollar), and real-time gross settlement (RTGS) systems that can enable transactions within a DLT-based capital markets framework.
Big payments companies like Mastercard are working on DLT in this area. This category also includes CBDCs (central bank digital currencies), which are expected to provide crucial payments infrastructure for corporates working in the space.
Post-trade: Companies in this category are offering DLT-based services like settlement and clearing after a trade is complete. Major corporate initiatives include DTCC and Spunta.
Services: These companies focus on using DLT — which provides a way to verify and track transactions — to offer services like know-your-customer (KYC) & anti-money laundering (AML), reporting, and compliance. Corporates like Infosys and Sia are operating here.
Infrastructure: This category includes organizations working on frameworks and base DLT layers that enable a broad range of capital markets solutions. They are used extensively by both corporates and startups to build solutions. NEC is an example of a corporate building tech in this area.
If you aren't already a client, sign up for a free trial to learn more about our platform.