Market Map
Blockchain tech has never been hotter. From crypto to DeFi to NFTs, here is how top-funded private companies are leveraging blockchain technology.
Blockchain companies raised more venture capital and private equity funding in H1'21 than any full year in history. The space is rapidly evolving as startups tackle a wide range of challenges in financial services and other industries.
For example, online exchanges are making cryptocurrency trading and investing more accessible to consumers. Meanwhile, non-fungible tokens (NFTs) are making strides toward becoming mainstream.
download our best of blockchain research
Get exclusive access to our top blockchain reports, including top companies, industries impacted by the tech, and deep dives on NFTs, Ethereum, and so much more.
But blockchain's potential extends well beyond crypto and NFTs. Decentralized finance (DeFi), or the availability of financial products on a public blockchain without intermediaries, could disrupt the global financial system.
Using CB Insights data, we identified 80+ of the most well-funded private blockchain companies shaping the future of the space. 
Please click to enlarge.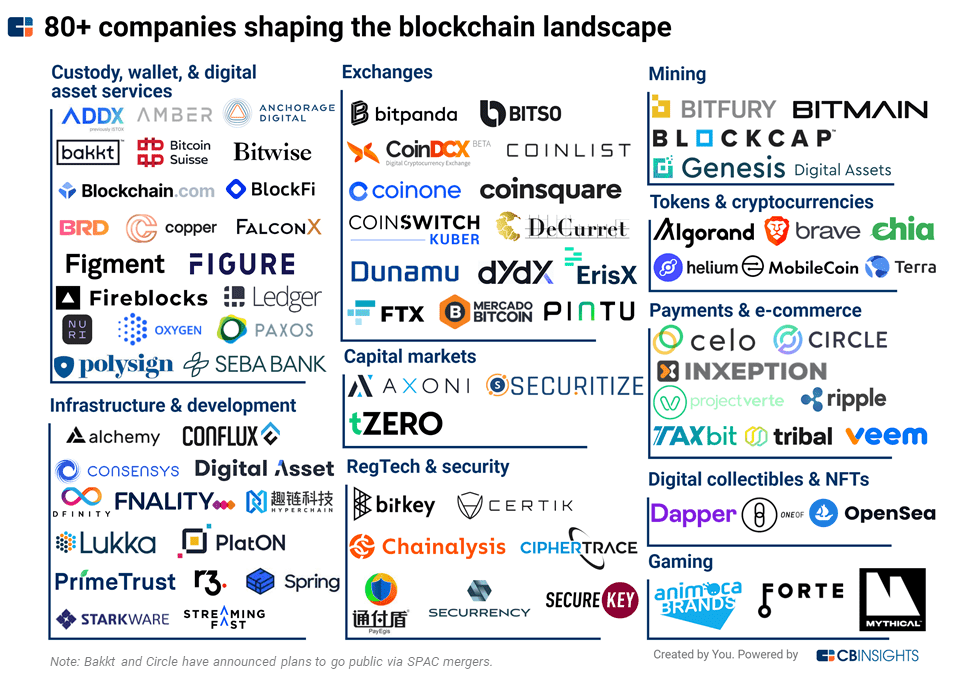 This market map consists of private, active companies only and is not intended to be exhaustive of the space. Categories are not mutually exclusive and companies are mapped according to primary use case. Each of these companies raised funding since 2018 and has at least $40M in total funding. To explore more companies in this market map in more detail, clients can check out our Blockchain Collection.
Category Breakdown
Custody, wallet, & digital asset services: These companies provide crypto asset storage, security, management, and investment products for institutions and consumers. For example, Paxos (over $500M in total funding) offers a crypto asset custodial service, brokerage, exchange, and equities settlement for institutions. BlockFi provides crypto trusts, financing solutions, and global digital markets for institutions, as well as crypto accounts and loans for consumers.
As of August 2021, 5 different companies in this category raised funding rounds of at least $300M this year: Paxos, BlockFi, Blockchain.com, Fireblocks, and Ledger. The biggest deal was Ledger's $380M Series C in June, backed in part by Digital Currency Group — the top blockchain investor by deal count since 2017. Ledger builds hardware wallets for consumers, hardware security solutions for enterprises, and hardware oracles for IoT devices.
Infrastructure & development: Companies in this category provide blockchain protocols, developer platforms, APIs, and software to serve enterprises and developers. 
For example, US-based Digital Asset offers Daml — an application platform for organizations to build full-stack, distributed applications for distributed ledger technology (DLT), blockchain, or internal databases. The startup raised a $120M Series D in April 2021 backed by 7RIDGE and Eldridge. China-based Hyperchain also raised funding in April to reach unicorn status. The company offers enterprise blockchain application development, technology services, and consulting.
Exchanges: These companies provide platforms for buying, selling, and trading cryptocurrencies. Examples from across the globe include Hong-Kong based FTX, Austria-based Bitpanda, and Mexico-based Bitso. FTX leads the category in funding thanks to a $900M Series B-II in July 2021 backed by over 60 investors, including 4 CB Insights Smart Money Investors: Insight Partners, Lightspeed Venture Partners, New Enterprise Associates, and Sequoia Capital.
Capital markets: These companies leverage blockchain technology for securities issuance, trading, clearance, and settlement. For example, Axoni's distributed ledger technology provides multi-party data infrastructure, application development, and automation tools for global capital markets.
RegTech & security: This category includes companies that analyze a blockchain to monitor and detect suspicious transactions or activity. Chainalysis and CipherTrace provide cryptocurrency anti-money laundering, anti-fraud, KYC, and other compliance solutions for crypto businesses, financial institutions, and government agencies. Chainalysis just raised a $100M Series E in June 2021 and CipherTrace raised a $27M Series B in May 2021.
Cybersecurity startups also fall under this category. For example, SecureKey Technology's Verified.me uses a permissioned blockchain for identity and authentication. 
Mining: This category includes companies offering crypto mining hardware and software (e.g., Bitmain Technologies) as well as large-scale miners. Genesis Digital Assets, a US-based bitcoin miner, raised $125M in funding in July 2021.
Tokens & cryptocurrencies: These companies provide digital tokens, currencies, and stablecoins powered by blockchain networks. For example, Chia Network offers a digital currency based on a proof-of-space consensus algorithm and Terra develops stablecoins pegged to fiat currencies. 
Helium Systems developed the People's Network and the HNT cryptocurrency. The People's Network is a decentralized, peer-to-peer wireless network for low-power IoT devices, and HNT is earned when hotspots provide and validate wireless coverage and transfer device data over the network.
Payments & e-commerce: Companies in this category provide payments infrastructure, platforms, and networks built on blockchain technology. For example, Circle (over $700M in total funding) — which recently announced plans to go public via SPAC merger with Concord Acquisition Corp. — offers digital treasury and payments infrastructure for businesses using USD Coin.
Other examples are Ripple and Veem, which both offer global payment networks powered by blockchain to streamline settlement times, remove intermediaries, and reduce fees.
Digital collectibles & NFTs: These companies provide marketplaces for buying, selling, and creating digital collectibles and NFTs. Dapper Labs, OpenSea and OneOf all raised new funding rounds in 2021. The biggest deal was Dapper Labs' $305M Series E in March. The company offers several digital collectibles marketplaces, including Dapper, NBA Top Shot, and CryptoKitties. 
Gaming: Animoca Brands, Forte Labs, and Mythical Games are blockchain gaming developers. Andreeson Horowitz contributed to Forte Labs' $185M Series B in May 2021. The startup provides a blockchain platform for game developers to create new revenue streams, NFTs, and tokenized economies.
If you aren't already a client, sign up for a free trial to learn more about our platform.