Startups offering distributed ledger technology are gaining attention as major players eye an opportunity to revamp the financial infrastructure that powers the global economy. This research was done in partnership with Blockdata.
Capital markets infrastructure powers the trade of stocks, bonds, and other securities, handling $3000T+ in transactions each year. This massive market, which includes a broad range of financial "plumbing" services, could be poised for a blockchain shake-up.
Currently, complex processes are needed to ensure regulatory compliance and enable secure, trustworthy trades. This approach relies on layers of middlemen, contributing to inefficiencies and even creating opportunities for foul play like money laundering and corruption.
But a growing number of companies want to employ distributed ledger technology (DLT) — which uses tech like blockchain to offer a simpler, streamlined way to verify transactions — to upend this status quo. Pioneers in this space aim to create streamlined and more transparent capital markets infrastructure by developing services like asset tokenization (using DLT to prove ownership of securities), settlement services, compliance solutions, and more.
Financial regulators have also signaled that they would accommodate a larger role for DLT, potentially paving the way for broader adoption. A number of official bodies representing major economies, including the EU and China, have launched pilot schemes to assess the use of DLT in capital markets.
Using the Blockdata and CB Insights market intelligence platforms, we identify the companies applying DLT to capital markets.
Please click to enlarge.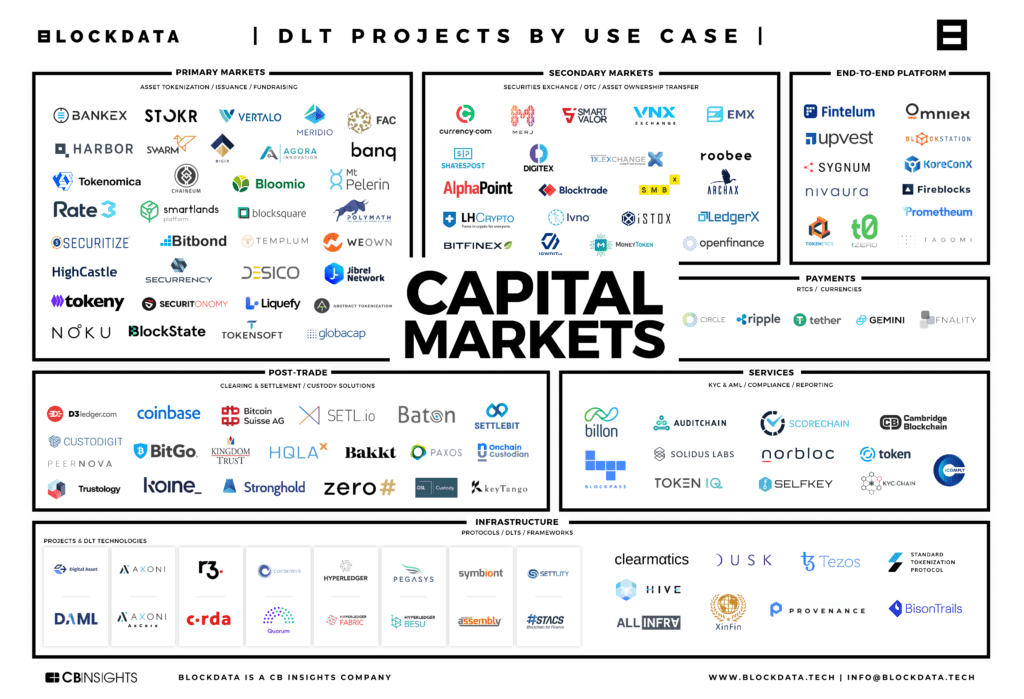 The market map above consists of primarily private, active companies and is not meant to be exhaustive of the space. Our analysis also includes acquired companies if they continue to provide stand-alone third-party services. Categories are not mutually exclusive, and companies are mapped according to their primary use case.
Category Breakdown
Primary markets: Companies in this category focus on the tokenization of real assets — which refers to tracing ownership using DLT tech like blockchain. Some players in this space also look to facilitate fundraising via tokenized assets. Notable projects include Securitize, Mt. Pelerin, and Polymath, among others.
Secondary markets: This category includes blockchain-based securities exchanges that allow investors to trade tokenized securities. These companies are facing rising competition from traditional exchanges, which are beginning to build their own DLT-based offerings. Some popular cryptocurrency exchanges, including Bitfinex, have also begun to expand into the securities domain.
End-to-end platforms: End-to-end platforms offer services across an asset's lifecycle, including asset tokenization and issuance, custody, and other services. For example, tZero provides a platform for asset tokenization and issuance, as well as a secondary market for trading securities. Other notable projects in this space include Nivaura.
Payments: DLT companies in this category are working on tech like payment currencies, stablecoins (cryptocurrency pegged to the value of a non-volatile asset like the dollar), and real-time gross settlement (RTGS) systems that can enable transactions within a DLT-based capital markets framework. Examples include Circle's USDC, Ripple's XRP, and Gemini's GUSD.
Post-trade: This category consists of companies offering DLT-based services like settlement and clearing after a trade is complete. One such company is Paxos, which offers custody, payment, and clearing & settlement services.
Services: These companies focus on using DLT — which provides a way to verify and track transactions — to offer services like know-your-customer (KYC) & anti-money laundering (AML), reporting, and compliance. Examples include Solidus Labs and Billon.
Infrastructure: These companies provide frameworks and base DLT layers that enable a range of capital markets solutions. While a number of companies in this space are offering DLTs specifically designed for post-trade solutions (e.g. Axoni), some offerings, such as from Hyperledger, can also be used outside of capital markets.
If you aren't already a client, sign up for a free trial to learn more about our platform.