In December 2020, CB Insights announced the inaugural Blockchain 50 — a list of the 50 most promising companies within the blockchain ecosystem globally. We take a look at where these companies are now.
In 2020, 50 private blockchain companies from 14 countries made it to the CB Insights Blockchain 50. They were selected from a pool of 2,700 companies based on factors including business models, market potential and momentum, competitive landscape, team strength, investor profiles, data submitted by the companies, and proprietary Mosaic scores.
download our best of blockchain research
Get exclusive access to our top blockchain reports, including top companies, industries impacted by the tech, and deep dives on NFTs, Ethereum, and so much more.
Since announcing the list in December 2020, the Blockchain 50 winners have kept busy. Here's what they've achieved (as of October 2021):
2 of the winners have gone public

4 have been acquired

9 are unicorns (private companies valued at $1B+), with an aggregate valuation of $35.4B

23 (or 46%) have raised additional equity funding, totaling $3.3B across 29 deals

4 winners have acquired a total of 9 companies between them

The winners have announced over 100 partnerships
Dig into all of the details below.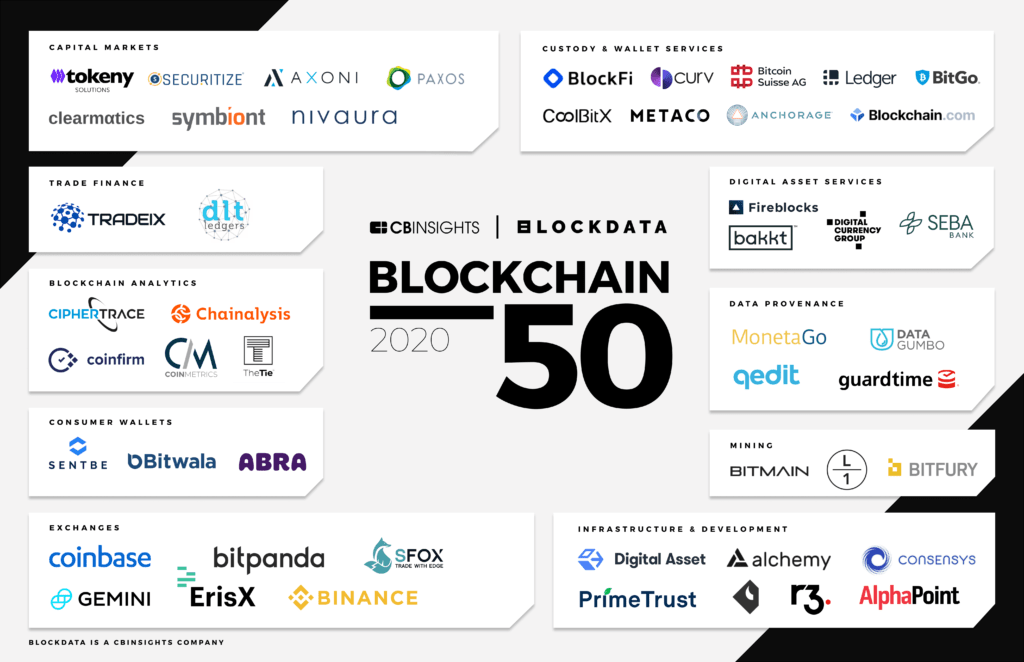 EXITS: 1 IPO, 1 SPAC, 4 M&A
Since the release of the Blockchain 50 in December 2020, two winners have gone public.
Bakkt announced a SPAC merger in January 2021 at a $2.1B valuation. The digital asset management platform completed the transaction and went public in October 2021.
Crypto exchange and wallet Coinbase made its public debut in April 2021 at a $65.3B valuation, making it one of the best VC-backed exits of all time. (We break down the huge profits that investors made off Coinbase's IPO here.)

Four of the Blockchain 50 winners have been acquired since December 2020. Several were snapped up by major financial services players, which are using M&A to move into the crypto space. 
In March 2021, PayPal acquired Curv for $200M, integrating the digital asset security company into its recently launched, blockchain-focused business unit. PayPal and PayPal-owned Venmo have been steadily adding crypto-related features to their platforms since late 2020.
Meanwhile, Mastercard acquired CipherTrace, which provides blockchain security and fraud analytics, in September 2021 for an undisclosed sum. This complements the payments giant's other recent moves in the space, including several partnerships with blockchain companies like BitPay and CoinJar.
Blockchain infrastructure developer Bison Trails was acquired by fellow Blockchain 50 winner Coinbase in January 2021, and BitGo was swept up by Galaxy Digital for $1.2B in May.

ACQUISITIONS: BLOCKCHAIN 50 WINNERS TARGET OTHER STARTUPS
Several Blockchain 50 winners have looked to acquire other startups to expand their product offerings and target new markets.
Among the 2020 winners, Coinbase has been the most acquisitive, with 4 acquisitions since publishing the list. Behind it is Gemini, with 3 acquisitions, and Bitmain Technologies and Chainalysis, each with 1.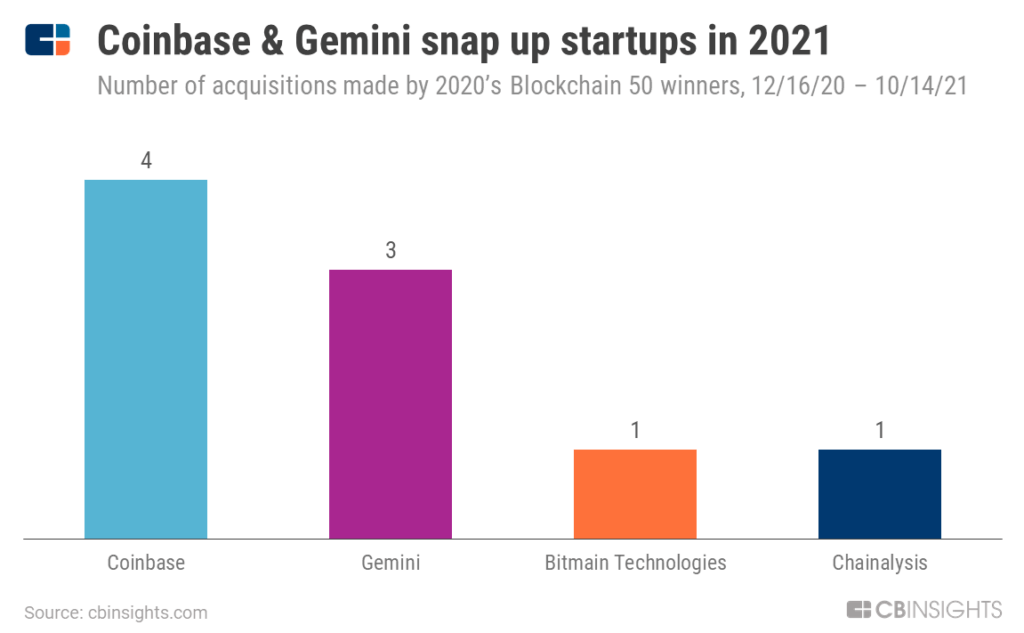 FUNDING: WINNERS RAISE AN ADDITIONAL $3.3B AT A RECORD PACE
Since December 2020, 23 winners have raised a combined $3.3B across 29 deals. In 2021, annual funding to the group has already cruised past previous years' totals and is on pace to reach nearly $4B.
With funding up but deals steady, average and median deal sizes have jumped this year. The Blockchain 50 cohort has seen 13 mega-rounds (deals worth $100M+) in 2021, including Ledger's $380M Series C (at a $1.5B valuation), BlockFi's $350M Series D ($3B valuation), and Fireblocks' $310M Series D ($2B valuation). 
Including these 3 winners, the cohort now counts 9 unicorns (private companies worth $1B+), worth $35.4B in aggregate.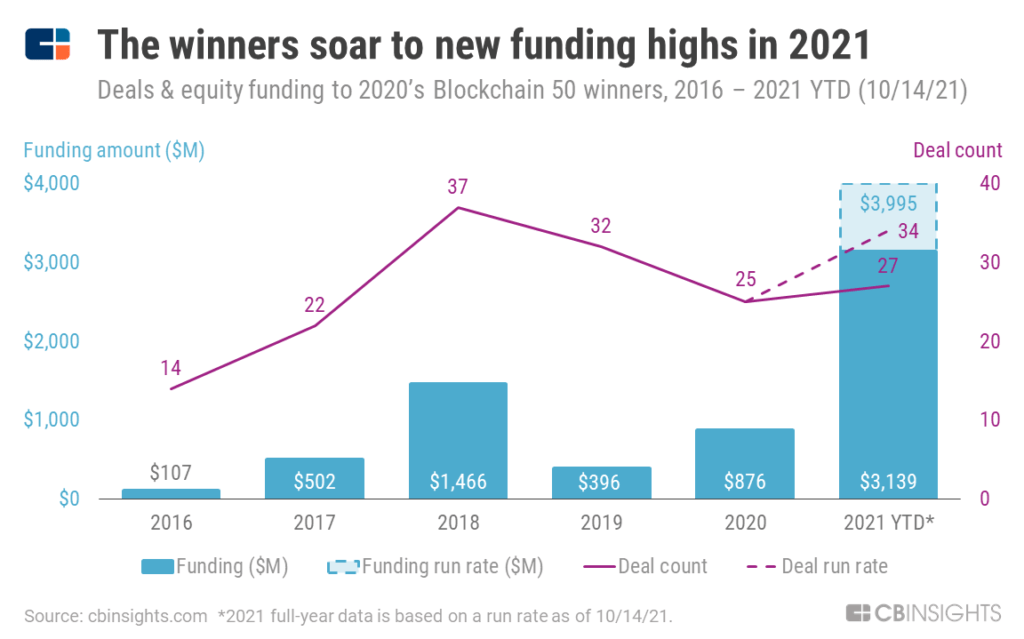 NOTABLE PARTNERSHIPS: 100+ NEW PARTNERSHIPS ACROSS SECTORS
Since December 2020, the Blockchain 50 winners have formed or expanded over 100 partnerships as they look to scale blockchain-based ecosystems and boost industry adoption.
Many of these partnerships are in financial services — such as asset management & trading, accounting, and payments — which has historically played a central role in blockchain and crypto applications. We detail several of these below.
In February 2021,

Coin Metrics

and

BitGo

(both Blockchain 50 winners) teamed up with accounting giant KPMG to offer a suite of services for public blockchain risk management.

BlockFi and Visa released a crypto rewards credit card in July 2021. Users can earn bitcoin back on spending and can use the card anywhere that Visa is accepted.

Metaco

partnered with IBM Cloud in March 2021 to develop custody solutions for asset managers and other financial institutions entering the digital asset space. 
But the Blockchain 50 winners aren't only making moves in fin services. 
Below are some of the wide-ranging partnerships they've formed across other sectors since December 2020.
If you aren't already a client, sign up for a free trial to learn more about our platform.