From opening your smartphone to unlocking your car to paying for groceries, biometrics is becoming a go-to method for identification.  
Using biometrics — technology that measures a person's physical characteristics, such as fingerprints or voice patterns — to identify and authenticate individuals is becoming more mainstream.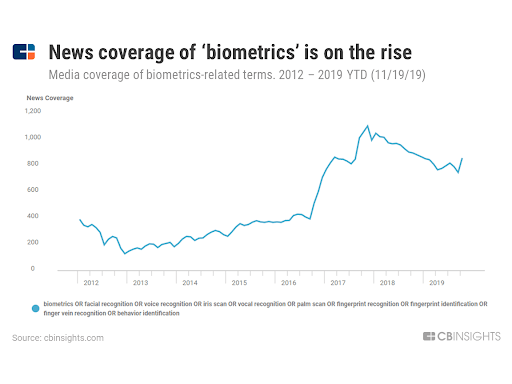 Beyond its attempt to make everything from payments to vehicles more secure, biometrics is also enabling a wide range of industries to become more scalable and efficient. The biometric technology industry is projected to be worth as much as $59B by 2025, per CB Insights' Industry Analyst Consensus. 
However, some consider the technology to be a breach of privacy, and the consequences of incorrect identification — especially in sectors like law enforcement or banking — could be severe. 
Below, we take a look at what biometrics is, its advantages and challenges, and the impact it could have on a variety of industries. 
TABLE OF CONTENTS
What is biometrics?

Where biometric technology is used 

Automotive 

Financial services

Healthcare

Food & beverage

Hospitality 

Retail 

Border control

Law enforcement

Education

Biometrics challenges

Conclusion
What is biometrics?
Biometrics involves the measurement and analysis of a person's physical or behavioral characteristics. Because biometric data — such as a person's fingerprint or voice — is unique to each individual, it's useful for authentication and access control. 
While biometric technology is still quite new and has a number of challenges to overcome, it's a growing market, and some of its advantages are encouraging increased adoption. For example, biometrics is often more secure than many other authentication options, more convenient for customers, and more cost-effective for businesses. 
Biometric technology encompasses a variety of techniques that can be used to identify an individual, including:
Fingerprints: A fingerprint scanner can obtain around 30 specific points, or minutiae, in a single scan. No two individuals can have more than 8 minutiae in common with one another, making fingerprints a very reliable biometric.
Facial features: A facial recognition system analyzes an individual's facial features or patterns to authenticate their identity. This form of biometrics does not require any contact with the person. Eye scanning is another method of facial recognition. Eye scanners can identify an individual through iris recognition or through retina recognition, which looks for patterns of veins in the back of the eye.
Voice patterns: Speaker verification uses a person's voice to confirm their identity. It's most often used for telephone-based secure systems, such as telephone banking.
Palms: Palm scanners may obtain verification by using geometric features such as finger length and hand width, or they may scan for unique vein patterns in the palm.
DNA: Encountered most often in forensics and healthcare, DNA testing is a useful tool to accurately identify a person by analyzing segments of their DNA.
Behavioral characteristics: Behavioral biometrics measure unique patterns of the way an individual behaves rather than analyzing their physical characteristics. Behavioral biometrics include how a person walks, types, and gestures. 
Where biometric technology is used
Beyond using your fingerprint or face to unlock your mobile phone, biometrics technology is being deployed across a host of industries — with some areas seeing more advanced adoption than others.
Automotive
Biometrics is increasingly used in the development of automotive technologies, mainly for security and driver safety. 
The global market for automotive biometric identification is expected to reach $303M by 2024, with a compound annual growth rate of nearly 17%, according to CB Insights' Industry Analyst Consensus. 
Devices such as iris or fingerprint scanners may become the standard security feature that locks, unlocks, and starts a vehicle. Though many of the potential in-vehicle uses of biometrics are only in development, Hyundai already offers integrated fingerprint scanning for unlocking and turning on the car in two of its Chinese car models.
Other companies are developing in-vehicle biometrics for automotive security. For example, Porsche has partnered with edge computing software developer FogHorn to develop a multi-factor authentication prototype that uses real-time facial recognition plus additional authentication via smartphone, which allows drivers to enter into their cars without key fobs.  
Further, many startups and automotive suppliers are leveraging biometric technology such as facial recognition and eye tracking to prevent driver distraction and fatigue. For example, Affectiva has developed a driver monitoring software that uses physical markers to determine if drivers are alert and paying attention to the road. 
Financial Services & Banking
As financial services become more digital, banks and fintechs are adopting stricter identification protocols to combat fraud, increase transaction security, and enhance customer experience.
Banking fraud is rampant: in 2018, about 60% of banks saw the total value and volume of customer fraud increase from 2017, according to a survey conducted by KPMG. The main types of growing fraud included online fraud, identity theft, and data theft. 
As a result, biometric tech has become a strategic part of financial service security platforms, whether it be for credit cards, ATMs, or online portals. The trend is also driven by customer preference — more than 90% of consumers would rather use biometric methods than passwords, according to Mastercard.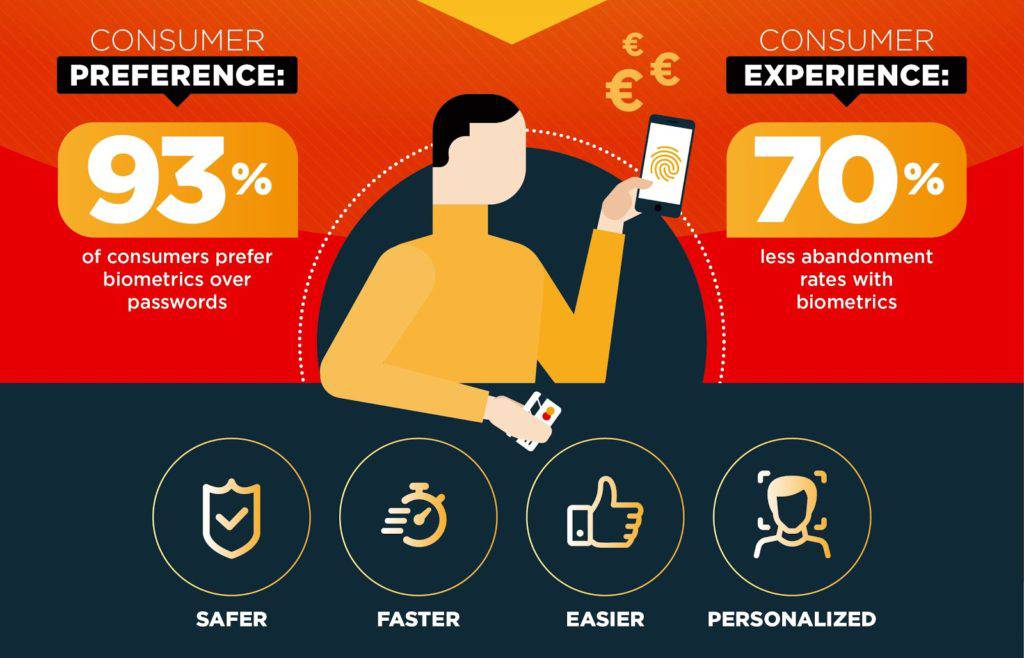 Source: Mastercard via Medium
Though biometrics company Fingerprints reports that 75% of bank respondents see fingerprint biometrics as the most user-friendly security method, other biometric tools are also used for customer authentication. 
Citi, for instance, has been offering voice authentication to verify customers' identities since 2016. Many financial services providers — including Chase, HSBC, and USAA — use Apple's FaceID facial recognition tool to let customers securely log in to their mobile banking apps. Barclay's even uses finger vein reader tech for corporate banking clients instead of passwords or PINs for advanced security. 
Biometrics can also help reduce credit and payment cards fraud. As of June 2019, 20 different contactless card pilots had incorporated Fingerprints' fingerprint touch sensors. The Royal Bank of Scotland is also piloting cards that use fingerprints to authenticate transactions worth more than £30. 
Healthcare 
Various aspects of the healthcare system could benefit from biometrics. 
For example, biometric data could enable faster patient identification in emergency situations. It could also help prevent patient fraud and mistaken prescriptions, which are common issues in the healthcare industry. New York's Northwell Health of New York uses iris scans to address this.
Biometrics could also protect patient privacy, making their health information available only to those with permission. Authorized doctors could verify their identity with a quick iris or fingerprint scan. 
Using facial recognition or fingerprints as part of multi-factor authentication could also advance telemedicine through accurate patient identification and secure digital access of patient information for the attending doctor. 
Food & Beverage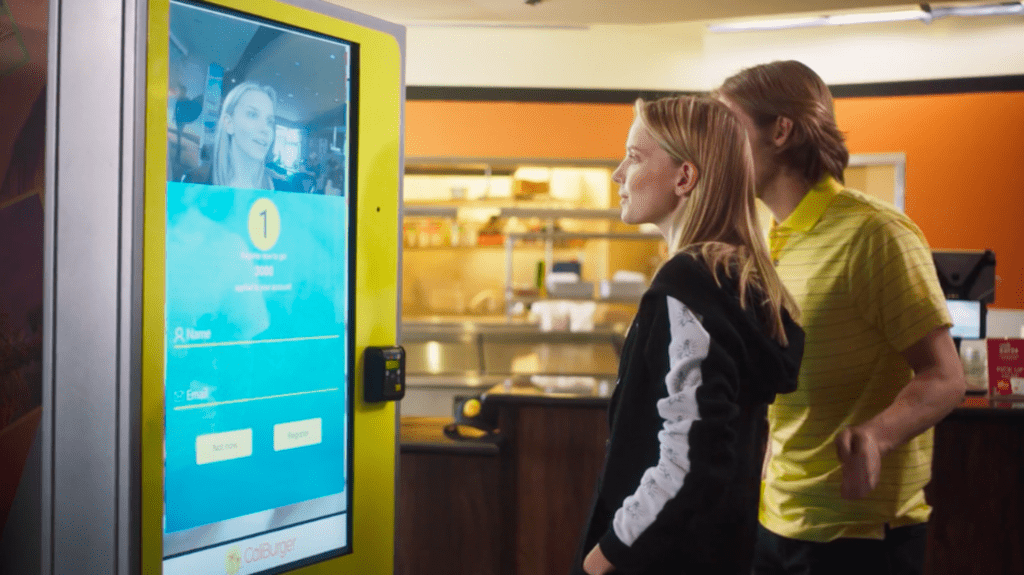 Biometrics are helping to add increased security and efficiency the food and beverage industry. 
It's common for food and beverage factories to be located across many locations around the world. Biometric technology could allow them to remotely monitor employee access levels and permissions. This minimizes the risk of cross-contamination, as different access levels can be permitted to different staff members, restricting employees from entering certain production lines.
Moreover, biometric systems could prevent unauthorized individuals from entering the premises at all. Coca-Cola uses a biometric fingerprint system to track the activity of independent truck drivers entering certain canning sites, for example.
On the consumer-facing side, many food and beverage corporates are seeking to create a better customer experience using facial recognition technology. KFC, for instance, allows its Chinese customers to pay for meals using a facial detection payment system provided by Alibaba.
Hospitality
Facial recognition is growing within the hospitality industry as a new way of providing better personalized services for customers. From instant check-in to identification-based personalized preferred services, the hotel industry has started to embrace biometrics. 
Marriott International has been testing its facial recognition check-in kiosk in two hotels in China, with the entire process taking less than a minute. 
The restaurant industry is also starting to use biometrics to remember customers' order preferences. For example, Dallas-based BurgerFi and Malibu Poke use facial recognition to speed up the ordering process by bringing up customers' favorite options.
Retail
Big players in the retail industry have been experimenting with biometric identification systems for payments, promotional targeting, and theft reduction. 
Amazon is leading the way in terms of biometric payment systems for retail. It is currently testing a scanner that uses computer vision and depth geometry to identify an individual's hand as a way to ring up a store purchase.
The retail giant aims to launch this contactless hand-scanning payment system at certain Whole Foods stores across the US by early 2020, and if successful, Amazon will roll it out to all Whole Foods stores nationwide.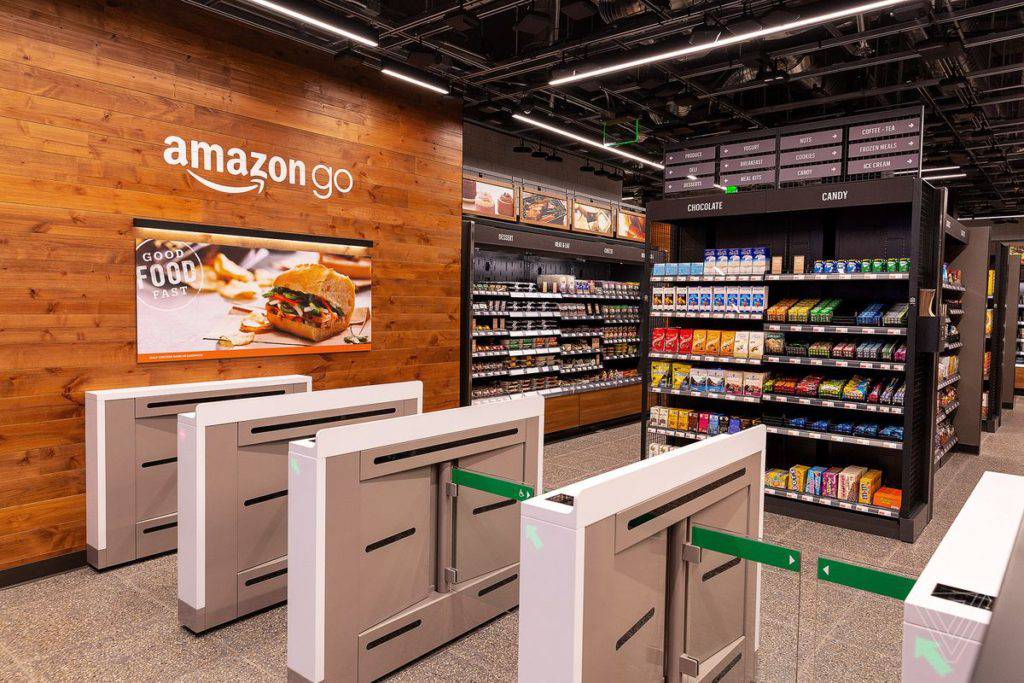 Source: The Verge
Retailers are also exploring using biometrics tech to improve in-store ads and promotions. The same cameras used for security purposes could be updated to track shoppers, studying which products they notice and the effectiveness of ads placed across the store. The Home Depot has reportedly already used its store security footage to track shopper engagement.   
Facial recognition in stores could also combat shoplifting and fraud. Companies like Target, Walmart, and Lowe's have reportedly been experimenting with the tech to that end. 
However, half of US consumers dislike the use of facial recognition to prevent theft, and only 27% are in favor of using the tech in this manner, according to the Brookings Institution. Retailers should use caution in implementing this technology to avoid alienating its customers. 
Border control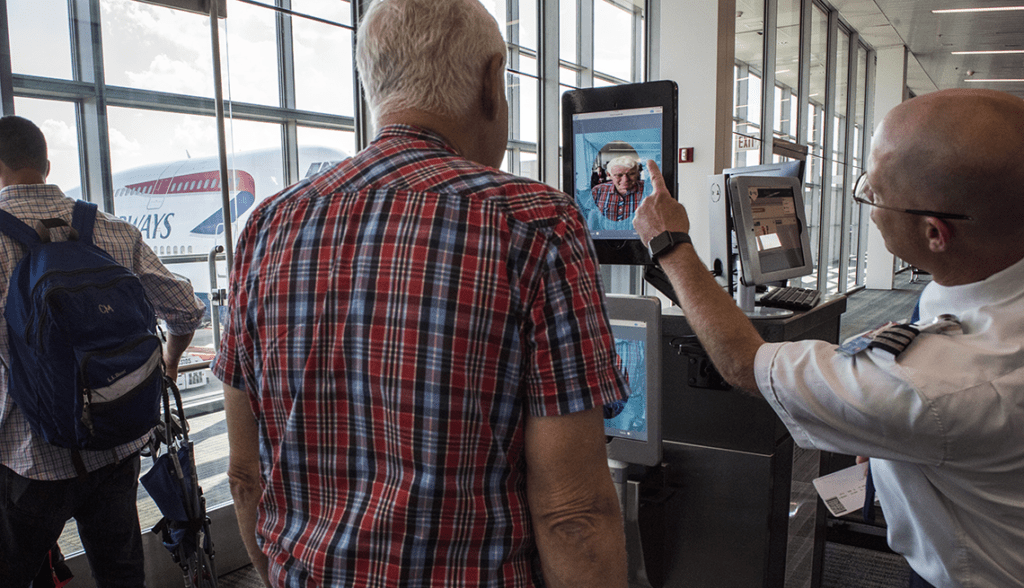 Source: AARP
Fingerprint scanners at border customs have been in use for years. 
Scanned fingerprints are compared to the Automated Biometrics Identification System (ABIS) to quickly identify anyone with a criminal track record. 
However, fingerprints have a high false acceptance and rejection rate. Various countries, including Thailand, UK, Canada, and the US, have been exploring iris scans and facial recognition as more reliable methods of identifying travelers. 
With the increasing popularity of self-serve kiosks in airports, government defense departments are increasingly collecting a database of facial, iris, and fingerprint scans to better identify any terrorists or criminals. Biometrics could also potentially replace lost or falsified passports as the next identity verification method. 
Law Enforcement
Biometrics has long been used by law enforcement. DNA and fingerprints are the two most reliably-used types of evidence in a criminal case. Officers can carry personal devices able to quickly scan a suspect's fingerprints and immediately compare to the Automated Fingerprint Identification System (AFIS). 
Worldwide, a trend of using facial recognition for live video feed identification has been growing. City-wide facial scanning surveillance systems in London, for example, led to the arrest of 3 violent criminals. 
Identifying criminals isn't the only purpose that facial scanning is serving. TrustStamp is a biometric identification system against human trafficking between the US-Mexico border, aiming to identify victims through facial recognition. It also allows authorities to securely share and confirm that information so that subpoenas and warrants can be issued more efficiently. 
From neurobiometrics for lie detection to large-scale facial recognition in cities and airports for fast identification of known terrorists and criminals, facial recognition is finding more and more uses in law enforcement.
Education
Facial recognition or fingerprints can be applied to anything requiring authentication, from lunch programs to dorm access. School faculty could use a similar system to access student grades and personal information. 
Security within school has recently became a growing problem in the United States. Facial recognition can quickly identify any unauthorized presence within school grounds. 
With artificial intelligence better able to read body language and facial features, academic integrity can better be preserved. This is particularly useful in a college exam or standardized testing situation, where proctors may not necessarily notice signs of cheating in large groups of test-takers. 
Students could also benefit from a biometrics identification system that would allow for online test taking identification. 
Even so, there are concerns regarding the collection of data and surveillance of minors that could prevent a more widespread adoption of biometric tech in the education sector. 
Biometric challenges
While biometrics may be an appealing technology to adopt from a business perspective, it also comes with some significant challenges and controversies. 
Europe's largest association of hackers, Chaos Computer Club, managed to create fake fingers to unlock iPhones that use TouchID. "As we have said now for more than years, fingerprints should not be used to secure anything," spokesperson Frank Rieger has stated. "You leave them everywhere, and it is far too easy to make fake fingers out of lifted prints."
The same hackers have also fooled the Samsung S8 iris recognition system by simply placing a contact lens over a printed-out photo of a user's eye. 
Unlike passwords or credit cards, it's not possible to replace physical identifiers. If a hacker gains access to reproductions of your biometrics, it isn't as simple a fix as changing a password or getting a new card.  
Another issue to be worked out is errors in biometric authenticators, where a false reject or false accept may occur. This is often due to the technology being unable to read the characteristics of an individual for various reasons. Anyone that has used a fingerprint scanner on their phone has probably experienced false rejects on a number of occasions. 
User acceptance and public opinion are also significant challenges that this new technology must face. Many people view biometrics as an invasion of privacy and are reluctant to willingly adopt the technology. According to a Government Technology survey, about 20% of respondents do not trust biometric technology, and roughly 40% have varying degrees of confidence in it. 
Conclusion
As the world continues to adopt biometric technology for the benefit of business and consumers alike, companies will need to be increasingly cognizant of the challenges and risks. Should a biometric data breach occur, not only will consumer confidence in the technology be severely damaged, but it could be catastrophic for the enterprise affected. 
There are some solutions that help increase biometric security and minimize such threats. Multi-factor authentication — which combines biometrics with other authentication techniques like PIN-based methods — is a solution that many companies are turning to. 
Bank of America, for instance, has stated that its iris scanning technology will be just one part of a multi-factor authentication process, as opposed to the sole means of account access. 
When it comes to the future of biometric tech, it is likely we will see biometrics moving from the now-commonplace mobile uses towards website and desktop applications. It is possible that biometrics will replace the two-factor identification method that so many security-sensitive companies opt for in their online sites, making our computer-based login a much smoother and faster experience. 
The next stage could be that we will no longer need to hold wallets stuffed with IDs and cards, as ATMs, payment systems, and IoT devices will be able to identify us on biometrics alone to process a transaction, allow us to enter our gym, or get into our office.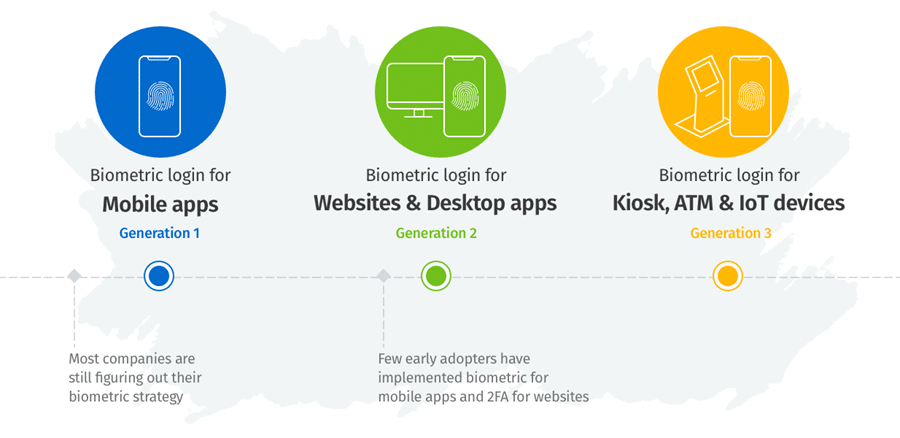 Source: Biometric Update
When it comes to the continued rise of smart cities, biometrics are set to play a massive role in increasing efficiencies and improving security across metropolises worldwide — from facial recognition devices instantly accessing a person's health records as they enter an ambulance or hospital, to authenticating food stamp recipients in the supermarket. 
There are countless ways biometrics may change our day-to-day lives in the coming years. If it is to truly be successful, however, it is imperative that companies should develop fully transparent and robust privacy policies in order to build and maintain consumer trust. 
---
This report was created using CB Insights' emerging technology insights platform data, which offers insights into emerging tech and new business strategies through tools like:
If you aren't already a client, sign up for a free trial to learn more about our platform.
If you aren't already a client, sign up for a free trial to learn more about our platform.