Our timeline visualizes AI-powered companies with exits valued at $1B+, including insurtech company Lemonade's recent public offering and Roche's massive acquisition of cancer tech company Flatiron Health.
Artificial intelligence is a sector that attracts big investor checks: Q2'20 saw $7.2B in funding, despite a 12-quarter low in AI deals. 
The industry has also seen its share of eye-popping exits. Even amid the Covid-19 pandemic, AI-powered companies like Lemonade and Zoox have garnered billion-dollar exits, with a $1.6B IPO and a $1.2B acquisition, respectively.
The pace of massive exits like these has been on the rise: since 2013, 14 AI companies have exited at valuations of $1B+ — of those, 8 have taken place in 2019 and 2020 alone.
Using CB Insights data, we visualized these exits together in one timeline.
Our analysis considers first exits only. Our definition of AI companies includes not just SaaS companies, but also companies using AI as a core differentiator for their main product offering. For more on billion-dollar exits, see our post on Visualizing Tech Giants' Billion-Dollar Acquisitions.
Please click to enlarge.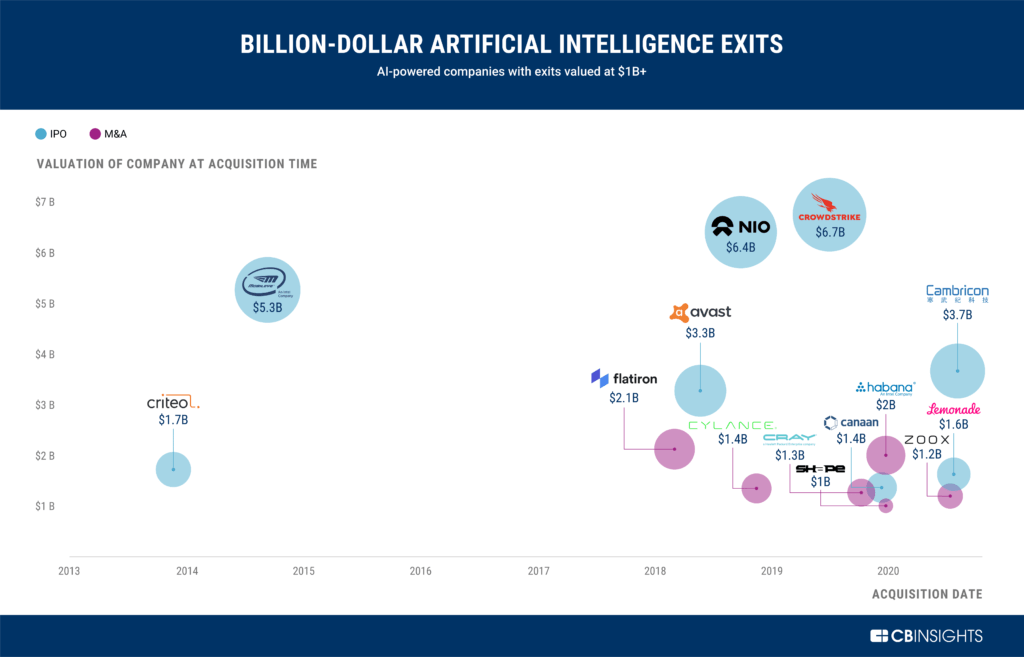 KEY TAKEAWAYS
CrowdStrike is the highest-valued exit on our list. The California-based enterprise cybersecurity company went public on the NASDAQ at a valuation of $6.7B in June 2019.
The highest-valued M&A deal on our list goes to cancer-focused healthcare startup Flatiron Health. Pharma giant Roche Holding acquired the company in early 2018, valuing it at upwards of $2.1B.
Nine companies on our list reached unicorn valuations prior to exiting: NIO ($5B), Zoox ($3.2B), CrowdStrike ($3B), Cambricon ($2B), Lemonade ($2B), Mobileye ($1.5B), Flatiron Health ($1.3B), Avast ($1B), and Shape Security ($1B).
Auto is a popular focus for several companies on our list. NIO and Zoox both focus on autonomous vehicles, while Mobileye develops advanced driver assistance systems.
Cybersecurity is another emerging area of focus, especially in the last few years: in addition to CrowdStrike, antivirus software maker Avast went public in May 2018. Cylance and Shape Security were acquired for $1.4B and $1B, respectively.
As AI requires greater computing power, chip manufacturers are also increasingly in demand. China-based Cambricon and Israel-based Habana Labs both build AI chips, while Canaan specializes in crypto mining rigs and Cray focuses on supercomputers.

Billion-Dollar AI Exits

| | | |
| --- | --- | --- |
| Company | Valuation at exit ($M) | Exit type |
| CrowdStrike | 6,687 | IPO |
| NIO | 6,420 | IPO |
| Mobileye | 5,308 | IPO |
| Cambricon | 3,686 | IPO |
| Avast | 3,266 | IPO |
| Flatiron Health | 2,125 | M&A (Roche) |
| Habana Labs | 2,000 | M&A (Intel) |
| Criteo | 1,714 | IPO |
| Lemonade | 1,592 | IPO |
| Canaan | 1,423 | IPO |
| Cylance | 1,400 | |
| Cray | 1,300 | M&A (Hewlett Packard Enterprise) |
| Zoox | 1,200 | M&A (Amazon) |
| Shape Security | 1,000 | |
If you aren't already a client, sign up for a free trial to learn more about our platform.