Since their introduction in 2015, dockless bike-sharing systems have moved from East to West as they sweep through urban transportation markets.
Bike-sharing systems have been around for a couple of decades. But in the past few years, they've gained much more prominence as new tech-infused models began gaining traction in Asia.
Viable bike-sharing models first began to emerge in Europe through public-private partnerships in the late 20th Century. These bike-sharing systems improved upon the unmanageable systems of the late 20th century due to docking stations and software for tracking and managing bicycle fleets.
In 2015, a new bike-share model began rising in Asia, particularly China, driven by the confluence of several technologies. With the proliferation of  consumer-ready mobile payments, IoT, and mature GPS technology, costs to build remote locking and tracking systems plummeted, allowing bike-share operators to build dockless systems.
Now dockless bike-sharing has become a notable example of a tech trend sweeping primarily from the East to Western markets.
DOCKLESS FEATURES AND ADVANTAGES
The dockless system has several benefits over traditional docked systems.
Dockless systems require less hardware for securing and managing inventory, translating into lower capital costs, expanded geographical reach, and lower costs for consumers.
Users benefit from the sheer flexibility of picking up and dropping off bikes freely.
Mobile payments allow users to access and pay for bikes with greater ease.
All of these factors have driven the rise in popularity of the dockless model.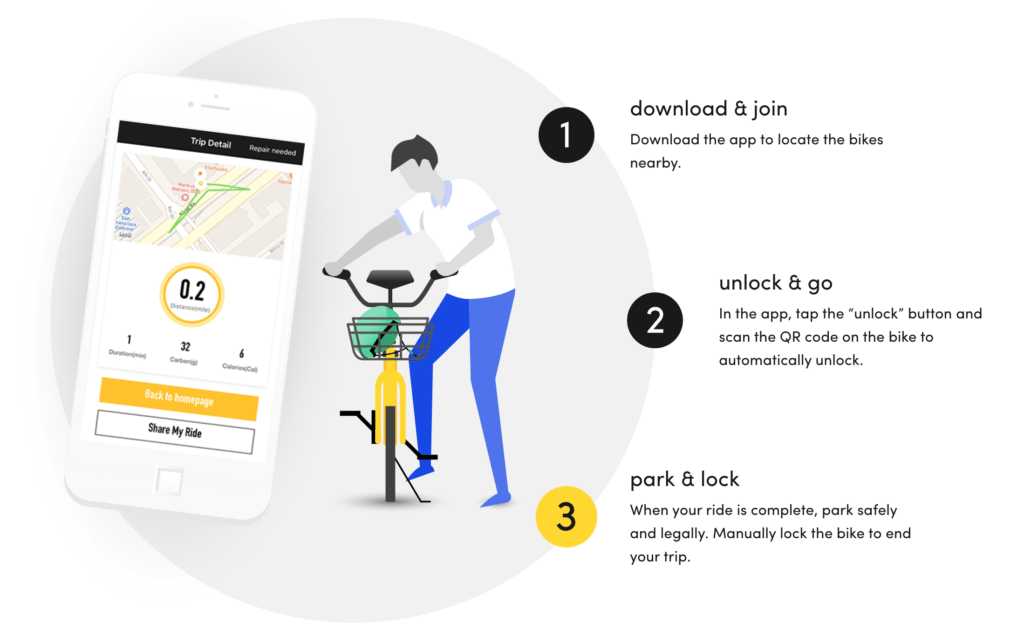 Another tangential development has been the rise of cheap electric-assist bikes (or e-bikes), which reduce rider fatigue and extend bikes' viable range. As with so many other commodities, Chinese manufacturers have driven e-bike costs downward, and these vehicles have risen in popularity along with the ascendant dockless models.
The two major players that have driven the rise in funding to the space include Beijing-based Ofo and Shanghai-based Mobike. These two companies have each received over $2B in funding to date, with Ofo most recently securing a fresh $850M primarily from Alibaba to fuel its global expansion.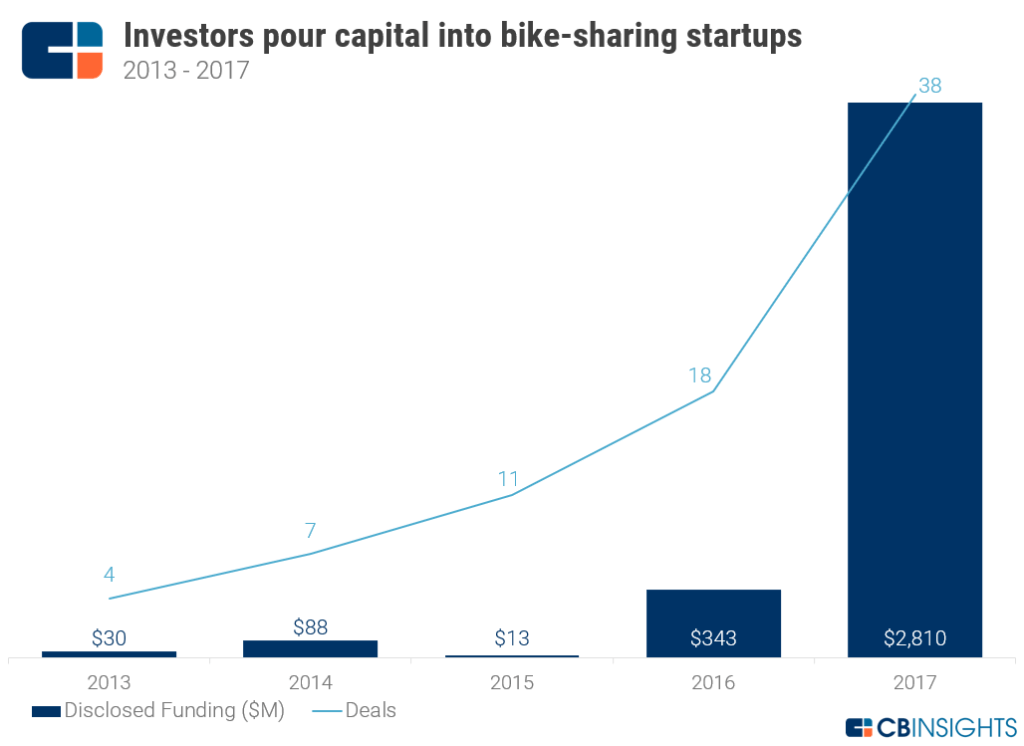 The success of these Chinese bikeshare players in the past few years has propelled the dockless model out West. While Mobike and Ofo have begun expanding overseas, other local startups are popping up with variations on the Chinese dockless model.
In the US, companies like Limebike and JUMP Bikes are implementing the dockless model for university and dense urban settings.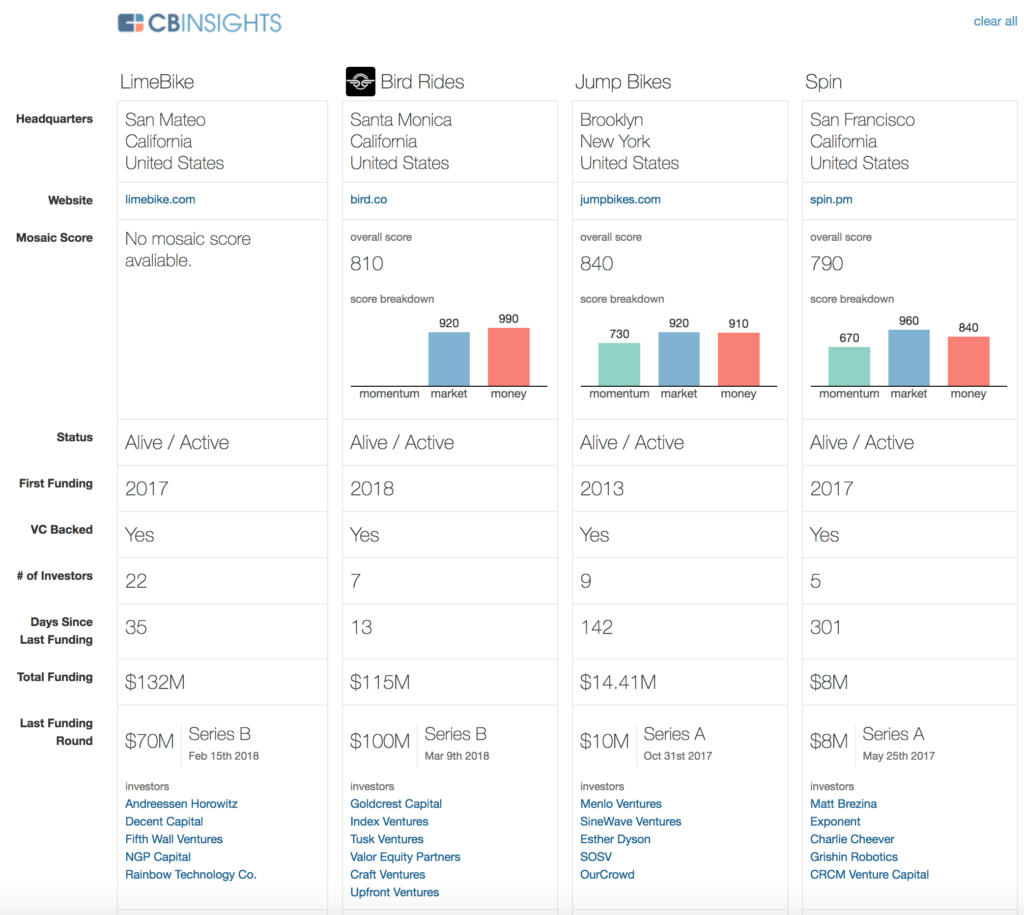 Other US and Europe-based electric-assist vehicle types have also cropped up, alongside new dockless bike-sharing startups.
American startup Bird Rides recently raised a $100M Series B to expand its dockless electric scooter service into 50 new US markes by the end of 2018. Other US bike-share players LimeBike and Spin have kept up by launching their own scooter services as well.
In Europe, Cityscoot provides dockless electric scooters for residents in urban areas.
3 IMPACTS OF THE DOCKLESS MODEL
Impact #1: Bike-sharing is replacing other short distance commute methods.
Bike-share operators report that commuting purposes rank among the top reasons for membership. In 2017, Mobike reported nearly halving car usage among its users.
In response, ride-hailing giants have scrambled to find their beachheads in the market. Uber partnered with JUMP (formerly Social Bicycles) for urban bike-share, while Lyft partnered with the city of Baltimore's Bike Share program.
In China, Didi Chuxing partnered with Ofo and also launched its own bike-share service after acquiring Bluegogo, which was on the verge of bankruptcy. These players have approached partnership models differently, with Uber currently identifying the brand of its partner JUMP while Didi does not. On first glance, the latter's UI showcases its bike option as if it were a Didi-provided service (click to compare the screenshots below).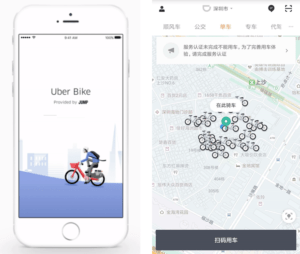 Southeast Asian players have also taken notice. In Singapore, Grab has launched GrabCycle Beta, a set of bike services including oBike and electric bikes. In India, Ola launched Ola Pedal on university campuses to facilitate short commutes.
Impact #2: Bike-sharing increases access to public transit systems by solving the last-mile transport problem.
In its 2017 annual report, Limebike reported 40% of its rides are going to and from public transit hubs and that the average ride in many US metropolitan areas is around 1 mile. Similarly, Ofo reported that 90% of its 2017 rides in the US were less than 3 miles in densely populated metro hubs.
This improves local economies around areas where bike-sharing is readily available, spurring partnerships with universities and heping solve some 21st century urban sprawl issues.
Impact #3: Expansion of the overall mobility market.
Bikeshare programs only cost a fraction of ride-hailing apps and car-sharing programs, attracting the attention of municipal governments. The city of Philadelphia has successfully piloted a program using electronic benefit transfer cards to provide subsidies for bike-share users.
Automakers are catching on as well. Ford launched its own bike-share program, GoBike, last year, and has announced that it will electrify the service later this year. The auto manufacturer received a patent last year for bike carrier systems for transporting its bike inventory.
REMAINING QUESTIONS
Despite newfound success, concerns still remain regarding the dockless bike-sharing business model.
From the regulatory perspective, safety and helmet legislation is still up for debate in several countries. Municipalities have also begun crackdowns on operators who have caused chaos by flooding streets with hapzardly strewn vehicles.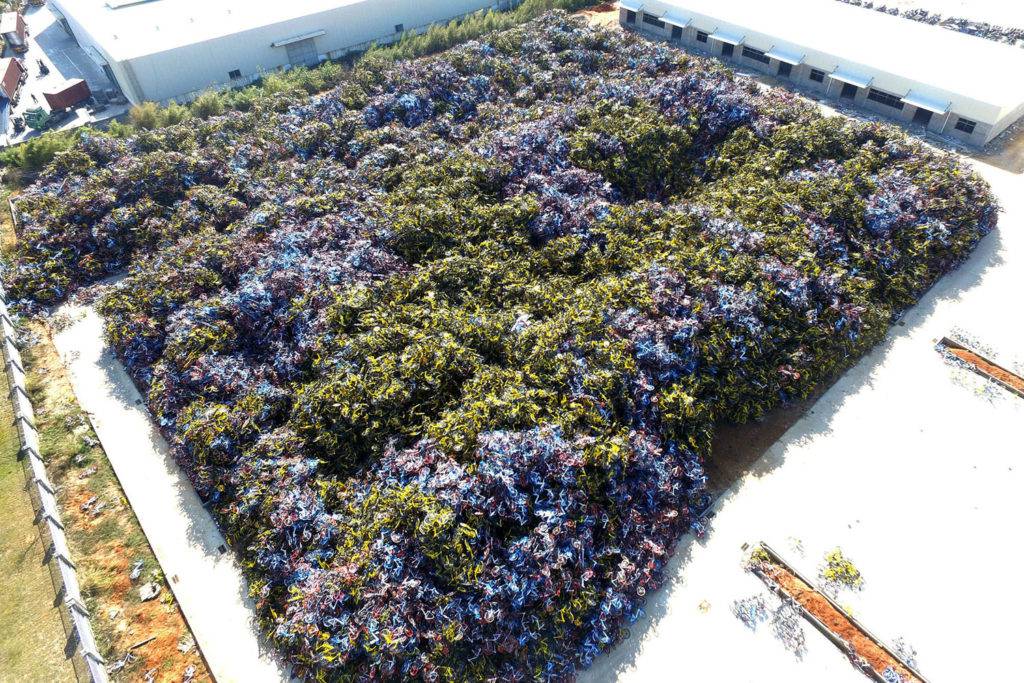 Operationally, the biggest hurdle for any bike-share operator (dockless or otherwise) is not losing bikes. Chinese dockless bikeshare startup Wukong Bike shut down last year after somehow losing 90% of its bikes.
Financially, the question of profitability also still lingers. While the dockless model is seen as less capital-intensive than other bike-sharing programs, amassing a fleet of bikes is still not cheap, and the market has seen fierce discounting and subsidy battles (echoing the still-unprofitable ride-hailing space). In the past year, 6 of China's 18 bike-share companies have shutdown, citing lack of cash.
The viability of a bike-share operator being an independent public company is currently being tested by Chinese company Youon Bike, which raised $87M in an IPO last year. Youon's stock initially soared after the IPO, but has declined since.
If these new bike-sharing models can sustain their momentum amid these uncertainties, they may prove to be a strong alternative to the automotive-centric transport services dominating many cities (particularly American ones). Whatever the case, their rise adds to the proliferation of urban transportation options, both competing with and augmenting existing mobility services.
If you aren't already a client, sign up for a free trial to learn more about our platform.