Bike and scooter startups are raising at sky-high valuations. We map out the investor landscape for the unicorns paving the way in bike- and scooter-sharing.
The unicorn craze has hit micromobility, the industry tackling last-mile transportation.
Investors are driving up bike- and scooter-sharing company valuations at unprecedented rates, as investors bet on the companies they believe will capture and dominate the market. The land grab is similar to what ride-hailing giants Uber and Didi have done in their respective countries.
The ride-hailing players themselves — namely Uber and Lyft in recent months — are also making plays in the space as they look to expand their portfolios to a wider range of mobility options.
In this brief, we look at the funding history and investors betting on bike and scooter-sharing.
Four unicorns have rapidly emerged in the micromobility space: Ofo and Hellobike, both China-based bike-sharing platforms, and Bird Rides and Lime, US-based scooter-sharing services. All but Ofo attained unicorn status within the past two months.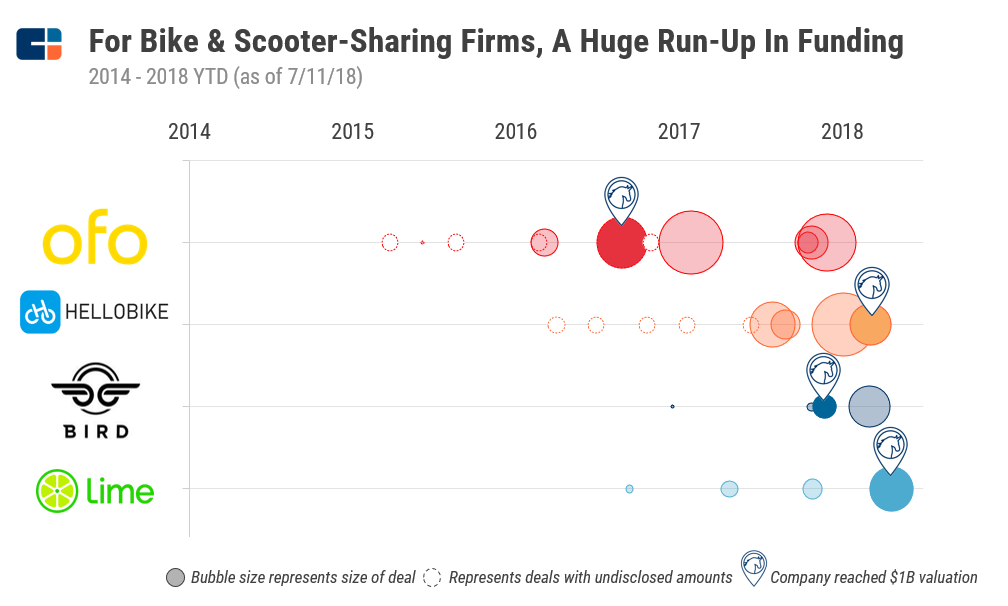 Funding in the overall space has only recently taken off globally, reflecting a newfound belief among investors that micromobility could be as disruptive as ride-hailing.
Bike- and scooter-sharing platforms are ideal for first- and last-mile transport, an area of urban mobility that's been largely underaddressed.
As a result, investors are placing bets on companies in China that have a firmly established presence in the market.
Ofo, China's largest bike-sharing operator, was the first to reach unicorn status. Its valuation is now estimated to be $3B, and the company has already raised $2.15B in total funding ($1.87B excluding debt financing).
While the company has struggled with profitability, investors (namely Alibaba and Ant Financial) continue to pour in capital — Ofo raised another $586M in a Series E follow-on in March to fund its global expansion, and is already expanding outside of China in France, Japan, and the US.
Hellobike, also based in China, only recently attained unicorn status in June with a $321M investment from Ant Financial. The company is the third-largest bike-sharing platform in China, trailing behind Ofo and Mobike.
Track all the Bike and Scooter Tech Startups in this brief and many more on our platform
Startups are working to scale and commercialize new modes of personal transport, including everything from dockless bikes to electric scooters. Look for Bike and Scooter Tech in the Collections tab.
Track Bike and Scooter Tech Startups
In the US, where the market is more nascent, investors are placing bets on companies that have scaled the fastest and show potential to dominate the market. 
Bird was the first pure-play scooter-sharing startup and has established a home-field advantage in a number of cities across the country, a strategy similar to Uber's that allowed it to become dominant in US ride-hailing.
Lime, Bird's largest competitor in the US, just reached unicorn status with a $335M round of funding. Notably, Uber invested in the round and simultaneously announced a partnership with the company to integrate the scooter platform into Uber's mobile app. The move is a serious threat to Bird, given that Uber's app is the most downloaded transportation app in the US by a wide margin.
Bird and Lime's recent rounds of funding have been largely dedicated to helping the companies expand their presences in additional cities.
Expansion for both companies requires a notable capital investment to purchase additional vehicles and distribute the equipment. That said, investor sentiment remains high as scooters take on the potentially lucrative market opening for first- and last-mile transport.
Using the CB Insights Business Social Graph, we take a look at the investors placing their bets in these bike- and scooter-sharing unicorns and the pace of funding to these companies.
The graphic below shows private market deals only. Green lines represent investments. Please click to enlarge.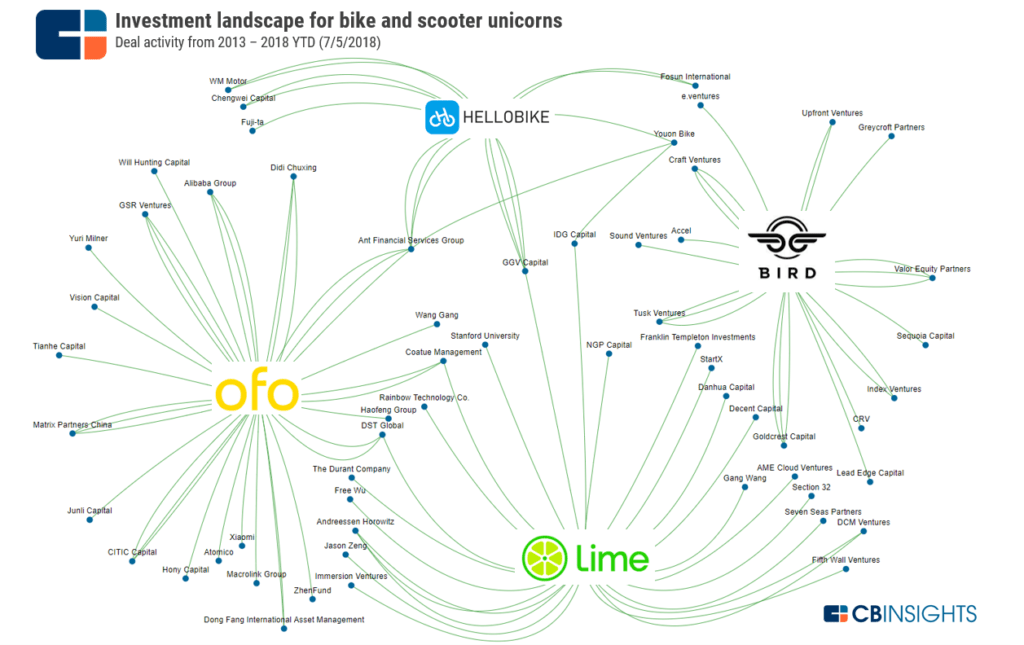 Note: This business social graph does not yet reflect Lime's $335M Series C round on July 9 led by GV along with Andreessen Horowitz, Atomico, Coatue Management, Fidelity Investments, Fifth Wall Ventures, GIC, Google Ventures, Institutional Venture Partners, and Uber.
Key takeaways
Several of the most active investors in bike and scooter tech have co-invested in micromobility unicorns. Notable co-investments include the following:
Coatue Management, DST Global, and GGV Capital co-invested in Lime's $50M Series B round in September 2017.
Ant Financial, Coatue Management, and DST Global invested in Ofo — Coatue and DST Global contributed to Ofo's $450M Series D in March 2017, with Coatue also joining Ofo's $130M Series C in October 2016. Ant Financial invested in the firm's $586M Series E follow-on in March.
Ant Financial and GGV Capital co-invested in Hellobike. Both firms contributed to Hellobike's Series D round in December 2017, with Ant Financial contributing to the initial $350M round and GGV Capital contributing to the $153M Series D – II round.
In the US, smart money VCs are getting behind the dockless scooter-sharing unicorns. Andressen Horowitz has been a consistent investor in Lime, contributing to the startup's $12M Series A round, $50M Series B round, and $70M Series B – II round.
Bird Rides has also seen interest from a number of smart money VCs, including Accel, Index Ventures, and Sequoia Capital, all of which contributed to its $300M Series C round. Sequoia led the round, and is also expected to lead another $150M round in the coming weeks. (For more information on "smart money VCs," see the definition at the bottom of this post.)
Tech giants want in on micromobility. In China, Alibaba has invested heavily in Ofo, leading the unicorn's $700M Series E round in July 2017 and contributing to an additional $586M round in March 2018. In the US, Google is betting on Lime, as GV led Lime's most recent $335M round and Google's parent company, Alphabet, is also contributing to the round.
---
Note: To analyze smart money trends, we looked at the activity of 24 top VC firms, selected according to portfolio valuations and investment outcomes. Here's our full list of 24 smart money investors:
Sequoia Capital
Benchmark Capital
Accel Partners
Greylock Partners
Andreessen Horowitz
Union Square Ventures
First Round Capital
Bessemer Venture Partners
Kleiner Perkins Caufield & Byers
New Enterprise Associates
Founders Fund
Lightspeed Venture Partners
Foundry Group
Index Ventures
Khosla Ventures
Social Capital
Emergence Capital Partners
True Ventures
Floodgate Fund
General Catalyst Partners
CRV
Spark Capital
Battery Ventures
Redpoint Ventures
If you aren't already a client, sign up for a free trial to learn more about our platform.