Big tech companies have already made a significant impact in payments and other financial services. Now they're turning to the $6T insurance industry. We look at their major moves in the health, life, and P&C insurance spaces.
Google, Apple, Amazon, and Facebook have garnered headlines for their moves in financial services industries — particularly payments — in recent years. While the companies' presence in the insurance space may not receive as much hype, it is significant — and growing.
Because the big tech companies have invested heavily in digital health initiatives like personal health monitoring and virtual care, they have been able to integrate these capabilities into health insurance offerings relatively easily. In fact, Google's subsidiary Verily recently formed its own insurance company to provide tech-driven employer health insurance plans. 
However, recent investments and partnerships show the companies are also ramping up interest in the life and P&C insurance spaces. For example, Amazon, Google, and Apple have all partnered with John Hancock's Vitality to provide wearables for its life insurance customers, while Amazon and Facebook are leveraging their platforms to distribute P&C products in India.   
Thus far, the big tech companies have formed different strategies for the insurance industry. Below, we dive into big tech's advantages over incumbents, as well as Google, Apple, Amazon, and Facebook's recent insurance investments, partnerships, and initiatives.
Big tech's threat to insurance incumbents
Big tech companies have a number of advantages over traditional insurers: They have the data, existing customer base, and distribution platforms to successfully reach insurance buyers in a more convenient and digital manner.
They also have the hardware to improve key insurance processes — such as utilizing their smart home and wearables product suites for underwriting and claims. For example, wearables, which constantly collect data on users' health behaviors, can help life insurers better quantify mortality probabilities, leading to more accurate underwriting.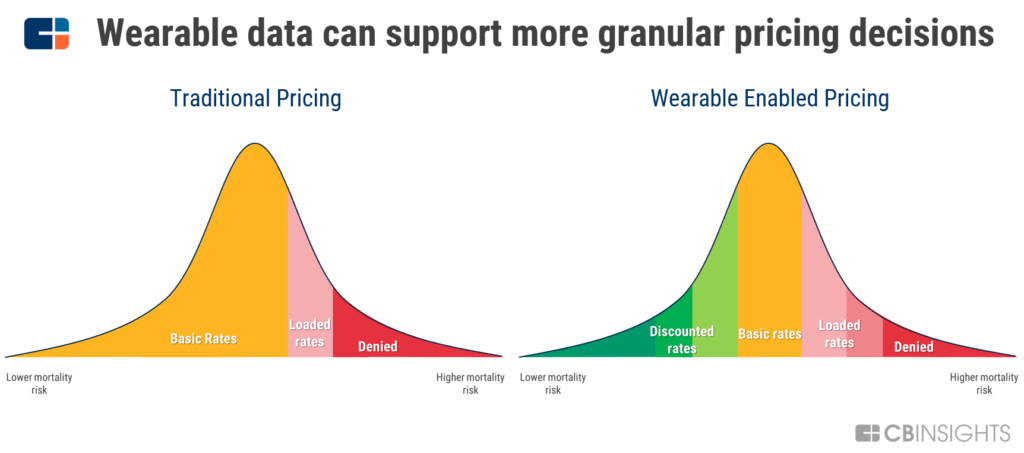 Similarly, smart home devices can sense when an incident occurs (e.g. a water leak) and trigger an automatic response (e.g. shut off the water line) to mitigate or even prevent losses from occurring. 
Finally, insurers are increasingly transitioning their data to the cloud and taking advantage of AI. These are areas where big tech companies dominate — and where they are already enabling key digital initiatives for insurers. 
Today, big tech companies act primarily as digital enablers or distribution partners for insurers. However, if they own the data (via their hardware), analytics (via their cloud software), and distribution (via their consumer platforms), insurers are at risk of being commoditized or disintermediated. 
Perhaps most frightening to incumbent insurers and brokers, consumers are increasingly willing to buy insurance from these big tech companies. A recent Capgemini survey found that 44% of customers are willing to buy insurance from a big tech firm, up from 17% in 2016.
Google
Google has shown interest in insurance for years. Most notably, it launched Google Compare in 2015, a personal auto insurance comparison marketplace that offered policies from insurers like CoverHound and MetLife.
Google ultimately sunsetted the product the following year; however, its investment and subsidiary activity clearly shows the company has not given up on the industry. 
Investments
Through its parent company Alphabet and its investment arms capitalG and Google Ventures, Google has invested in 14 insurtech companies since 2014 — more than any of its big tech competitors.
Its most significant investments in the area have been: