Tech giants from Amazon to Apple are offering new payments products in markets around the world. We look at these leaders' major moves in the payments space.
In 2019, one of the biggest storylines was big tech's move into fintech. Over the span of the year, Google revealed it was working on checking accounts with Citi, Apple launched a credit card in partnership with Goldman Sachs, and Facebook launched Facebook Pay and took ambitious first steps toward creating a digital currency.
Why all the sudden fintech moves?
In recent years, a wave of fintech startups has shaken up the competitive landscape. Private funding to VC-backed fintech more than doubled year-over-year in 2018, totaling $41B. Suddenly, startups' digital experiences were threatening incumbents across personal finance.
download the STATE OF FINTECH Q2 2022 report
Payments has been a natural focal point. As payments innovation rippled through new markets like the UK and India, incumbents like Visa have funneled 57% more dollars into private companies year-over-year in 2019.
The payments model is especially ripe for big tech, with the digital payments market representing a massive $3.6T opportunity. With superior UX offerings and an ability to route the traffic of millions of existing customers, tech giants can quickly launch new products and play the long game in the low-margin, high volume world of payments.
In 2020, big tech has continued its advance into finance, with an emphasis on payments and emerging markets. (We've previously covered how big tech is attacking financial services and drilled into efforts from Facebook, Apple, Google, Amazon, and Ant Financial.)
We dive into big tech's recent efforts and strategies around payments below.
Facebook infuses payments across its social properties
Facebook is investing heavily in payments, which it plans to embed across its social products. Recently, Facebook formalized these efforts into a business unit called Facebook Financial, or F2. 
These initiatives include both traditional payments infrastructure through Facebook Pay (to be included in Facebook, Messenger, and Instagram) along with WhatsApp Pay inside WhatsApp. The company has also eyed cross-border payments powered by blockchain technology through Libra and Novi (its wallet formerly called Calibra).
CEO Mark Zuckerberg said in a January 2020 earnings call that the company's payments strategy is to be cost-competitive, because payments will feed back into Facebook's core business in ads. Zuckerberg explained,
"As you can complete more payments in WhatsApp and Messenger, you would expect it to be worth more for businesses to bid more there, which is why we're so far focused on making it so that the payments can be free or really as cheap as possible."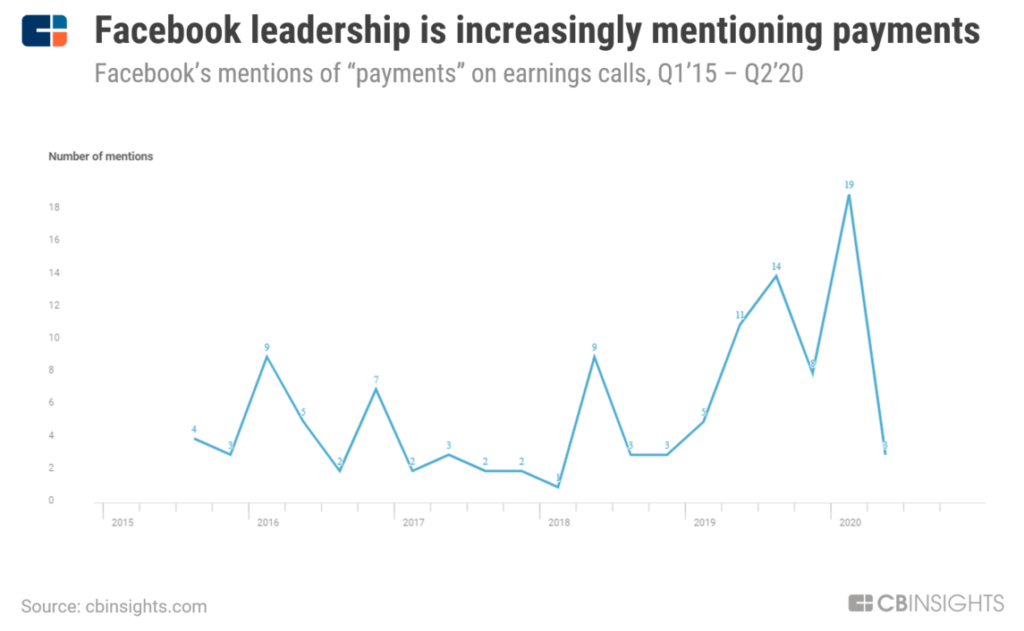 So far, Facebook Pay's efforts have focused on a Venmo-like product for in-app payments across its social properties. This helps it collect transaction data for ad targeting. However, WhatsApp will be the growth engine for global reach.
Zuckerberg mentioned in February that WhatsApp Pay would be unrolled to emerging markets such as India and Brazil (where it has 400M and 120M users respectively), as well as Mexico and Indonesia.