From livestreaming services to voice assistants, big tech companies are transforming the way beauty brands connect with consumers.
Tech is playing a bigger and bigger role in the beauty industry.
Tech companies' extensive reach — which can include search data, smart home devices, AI capabilities, e-commerce platforms, and more — offer compelling opportunities to cash in on the beauty market. For example:
Amazon runs a dedicated beauty supply store that sells salon products and equipment to businesses. It even opened a brick-and-mortar hair salon to showcase its tech.
Google works with brands to use its search data to better understand beauty shoppers' preferences.
Livestreaming beauty shopping is taking off on platforms like Facebook-owned Instagram and Alibaba's e-commerce site.
Below, we look at where big tech and beauty are colliding.
get the free beauty trends report
Find out the 14 trends changing the face of the beauty industry, from "waterless" beauty to virtual try-ons.
Big tech offers online beauty retail channels
Amazon has made major strides in expanding its beauty retail channel. It launched a private label beauty brand called Belei in 2019 and recently invested in India-based D2C beauty site MyGlamm.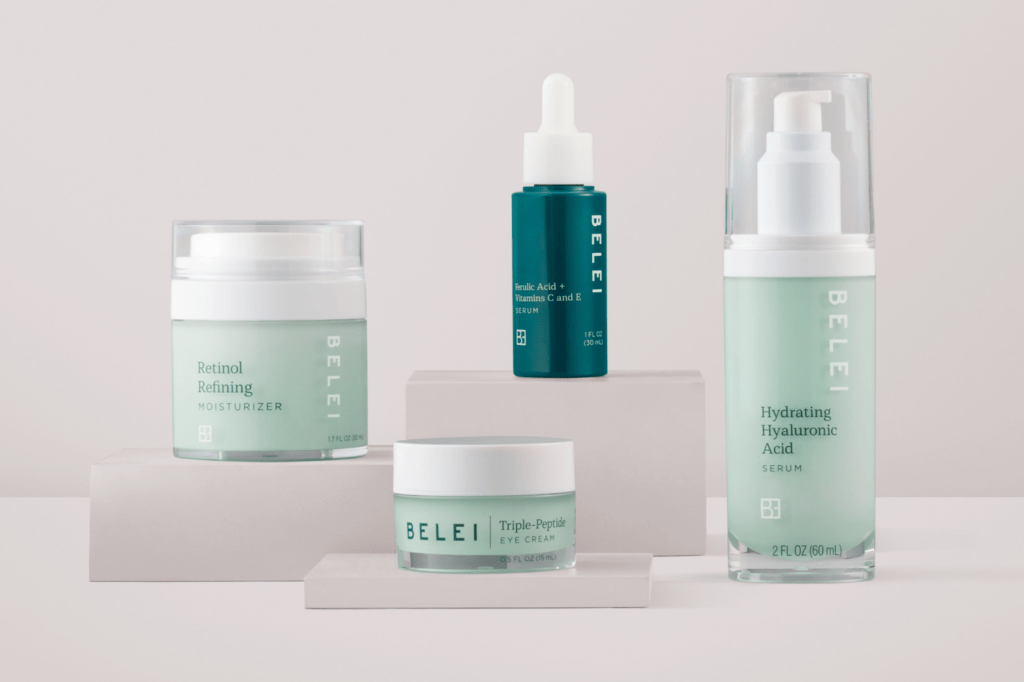 Source: Amazon
In addition to its traditional e-commerce site, it also sells beauty products on its Amazon Fresh and Whole Foods online grocery platforms — a distribution channel that received a major boost during the pandemic and presents an opportunity for Amazon to cross-sell beauty products alongside consumers' regular food orders.
Meanwhile, Facebook-owned Instagram has become a strong retail force within the beauty industry.
The platform has played a major role in creating digitally native brands across all consumer categories and is particularly well suited to beauty — an industry that is inherently visual, based on peer recommendations, and has a relatively low barrier to entry.
In 2019, the company launched in-app checkout for shoppable posts and has since rolled out features such as augmented reality shopping, in-app reminders for new product drops, and even shoppable videos — expanding its e-commerce role for beauty products being promoted by brands and influencers.
Big tech platforms forming partnerships to provide virtual try-on experiences
While virtual try-on tech has existed for some years, the Covid-19 pandemic solidified its place in the beauty industry. A growing number of big tech platforms are deciding to partner with companies like Perfect Corp in order to provide a virtual try-on experience to their customers.
Since first establishing itself as a go-to provider of AR for beauty tech in 2017, Perfect Corp has expanded its virtual try-on offering, leveraging 3D face AR technology to let users virtually test an array of makeup products. Key partners include big tech companies like Alibaba, Google's YouTube and Search platforms, and Snap.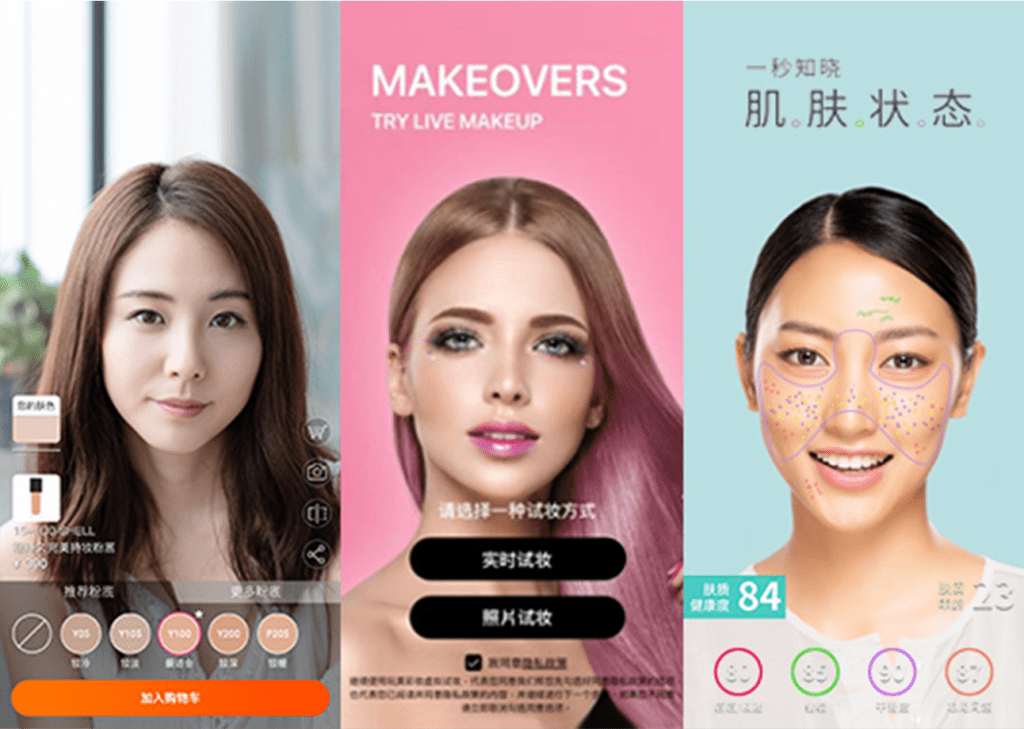 Source: Business Wire
Amazon is also incorporating AR try-ons into the physical retail experience at its new hair salon in the UK. While this is Amazon's first hair salon, this is not the first time the e-commerce giant has utilized AR tech. In 2019, it partnered with L'Oreal and Modiface to allow customers to try-on makeup products.
As people have spent more time working and socializing virtually, video filters could prove to be another expanding use case for virtual makeup. Microsoft was a first mover in this area, teaming up with telebeauty app with Shiseido in 2016 to create a makeup filter for video conferencing users. Now Shiseido's filters are available on Snapchat's Snap Camera and can be used across additional video conferencing platforms, like Microsoft Teams and Zoom.
As big tech expands it is likely to make further inroads into beauty retail, and it could greatly benefit from the adoption of virtual try-on tech. In fact, AR tools have already shown promise as a way to increase conversions for beauty products — L'Oreal previously stated that it found consumers who use AR try-on features were 10% more likely to make a purchase.
Big tech-enabled livestreaming is gaining traction among beauty influencers
Instagram is not the only company using video to sell beauty products. Livestreaming, which refers to livestreamed shopping trips where viewers can purchase the items being featured, is offering a new way to engage younger audiences and boost sales. The approach is already popular in Asia, but it has started to make inroads in markets like the US.
China-based tech giant Alibaba offers livestreaming and AR features which it has used to attract luxury beauty brands to its e-commerce platform.
Much of the beauty livestreaming activity in Asia has been driven by high-profile influencers — known as KOLs (key opinion leaders) — like "Lipstick King" Jiaqi Li, who reaches millions of viewers every month. However, more sophisticated approaches are starting to emerge, such as that taken by early-stage startup Zamface, which offers a platform to help viewers find a livestreamer with similar facial features to them.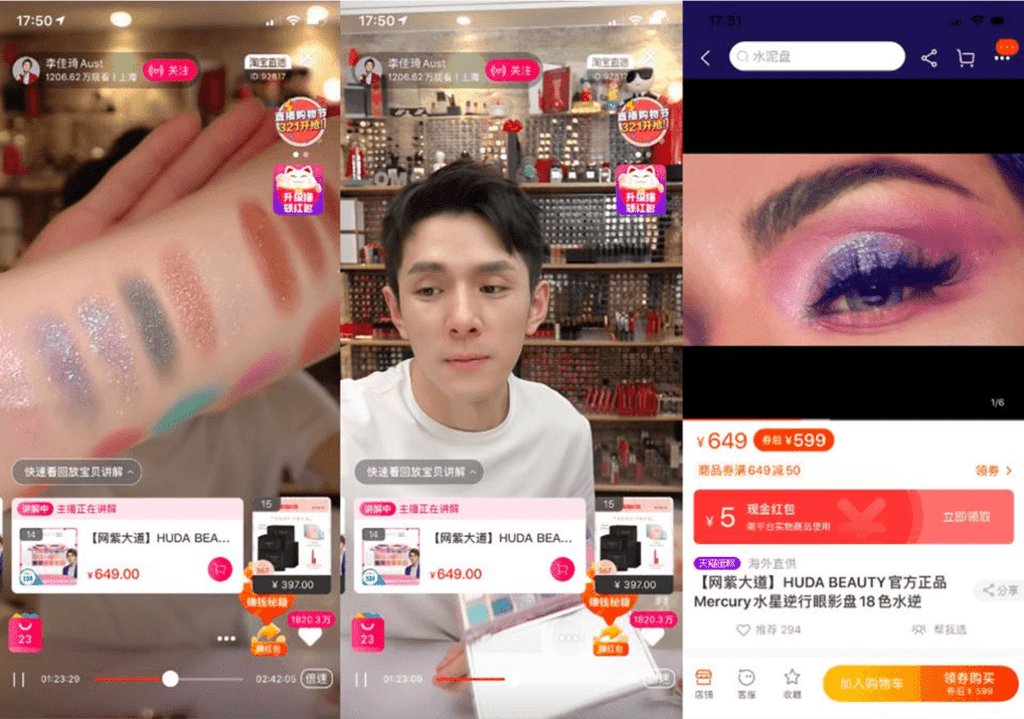 Livestreamer Jiaqi Li promoting beauty products on Alibaba's platform. Source: Alizila
Big tech looking to bring beauty into the smart home
Voice assistants like Amazon's Alexa and Apple's Siri present partnership opportunities for big tech and beauty.
Amazon, Apple, and Google all offer voice-enabled smart speakers and have designs on deeply integrating their virtual assistants into peoples' home lives. At the same time, beauty companies are looking to master voice-based shopping to ensure their brands remain top of mind for consumers.
Sephora, for instance, partnered with Google to offer its own Google Assistant app that allows users to order products, access skincare advice, and view Sephora's YouTube videos.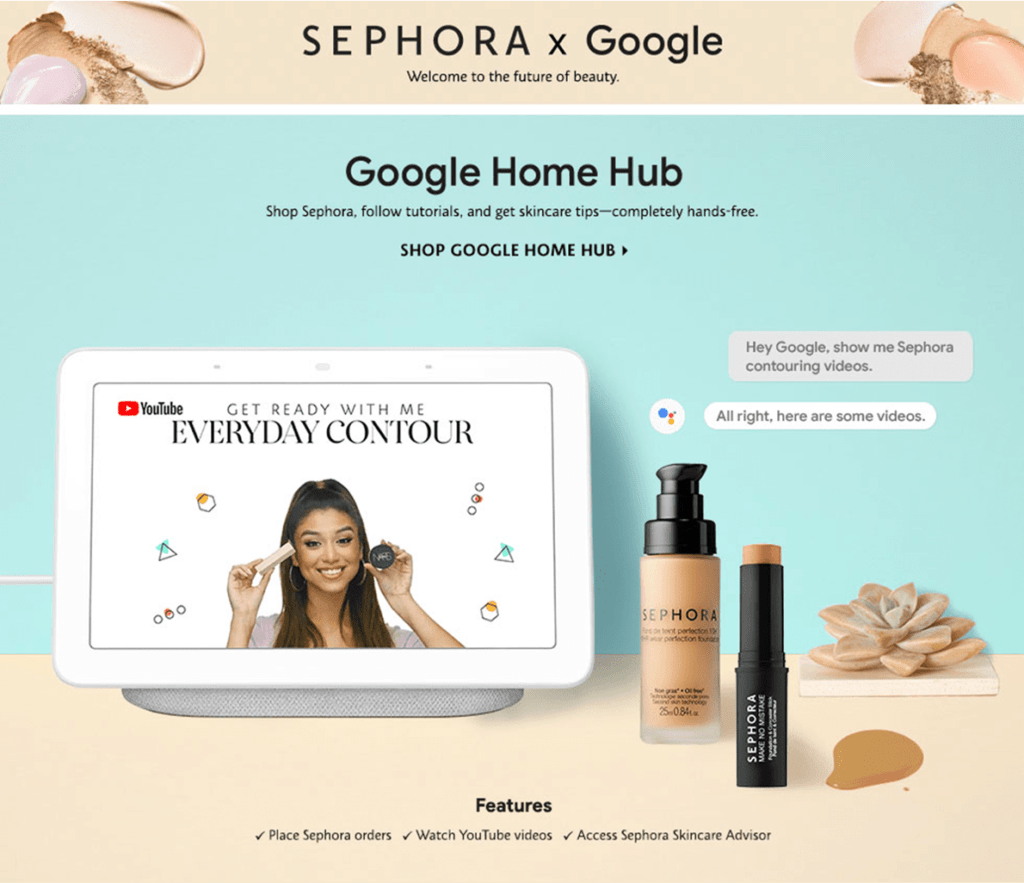 Source: Sephora
With smart home concepts continuing to gain traction, beauty brands will have to consider how voice technology — and partnerships with big tech — could be used to address shopper pain points, from personalized recommendations to conveniently booking reservations. (For more on the future of the smart home, clients can check out this report.)  
In addition to voice technology, expect to see big tech get behind companies focused on bringing professional beauty services into the home. Alibaba invested in Helijia, an on-demand beauty app focused on bringing manicure services to consumer's homes. The Amazon Alexa Fund participated in a Series C funding round for at-home nail machine Preemadonna in January 2021.

Source: Nailbot
While beauty hasn't historically been a key focus area for big tech, these giants will inevitably continue to extend their influence in the sector.
As the beauty industry becomes more tech-enabled, opportunities for big tech companies to monetize their data, platforms, and devices will only increase — but, even as partnerships abound, they may eventually find themselves competing more directly with increasingly tech-savvy beauty incumbents.
If you aren't already a client, sign up for a free trial to learn more about our platform.