October 2019 was a busy month for tech giants in healthcare. We take a look at recent moves in the space from Facebook, Amazon, Microsoft, Google, and Apple.
It's clear that big tech companies are increasingly moving into the healthcare industry, bringing their strengths in technology and customer experience to an industry that has historically been lacking in both.
For proof of big tech's opportunity, here are average net promoter scores — a measure of customer satisfaction where higher scores are better — for a number of industries associated with either big tech or healthcare.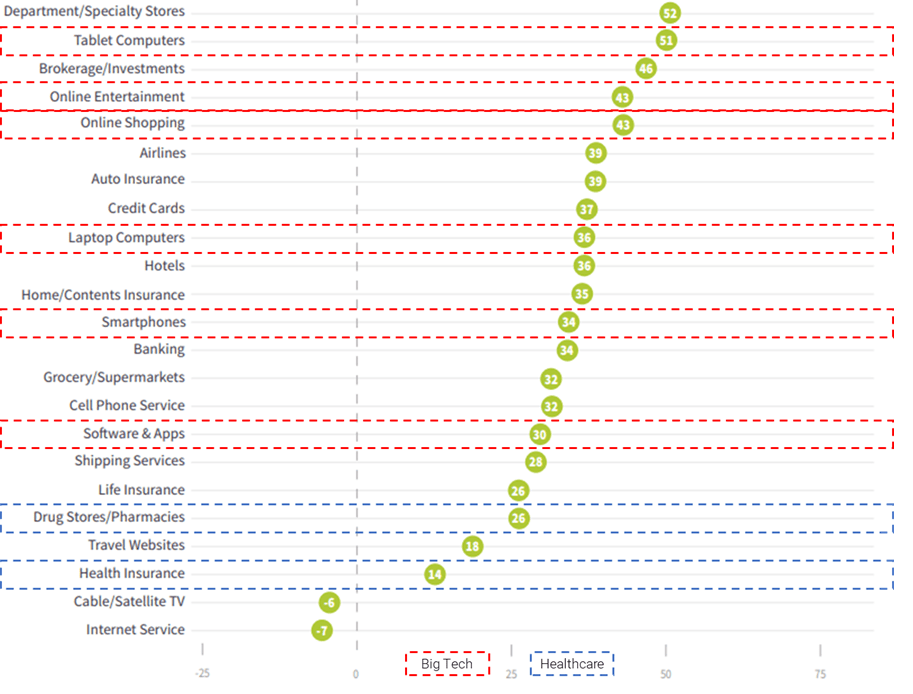 Source: NICE Satmetrix
October 2019 may have been the busiest period yet for big tech in the space. Here's a high-level view of these companies' healthcare strategies, with some of them made in just the last month:
amazon
Amazon has been pretty tight-lipped about its healthcare aspirations.
But, we know it has placed healthcare bets with PillPack, cloud computing, and its partnership with JPMorgan and Berkshire Hathaway called Haven.
This month, Amazon launched a new program for employees with cancer, expanded its partnership with Cerner, and announced HIPAA-compliance for Amazon Textract, which uses machine learning to extract text and data from scanned documents (prepare to be disrupted, Big Fax Machine!).
Finally, Amazon made its second healthcare acquisition, buying Health Navigator – a company that provides online symptom checking and triage tools. It plans to roll this out to its Amazon Care program for employees — but does anyone actually think this is just going to be for its internal use? From what I hear, telemedicine companies are getting nervous.
We went in-depth on Amazon's healthcare strategy in Amazon In Healthcare: The E-Commerce Giant's Strategy For A $3 Trillion Market.
apple
Apple is going after the data side of healthcare — generating data with the Apple Watch and aggregating patient data on its personal health record.
October saw moves on both of these fronts.
Upstart Medicare Advantage insurer Devoted Health announced it would offer subsidies for members to buy Apple Watches. Meanwhile, hospital system Sharp Healthcare announced integration between its and Apple's health records.
For more on Apple's healthcare strategy, check out our primer: Apple Is Going After The Healthcare Industry, Starting With Personal Health Data.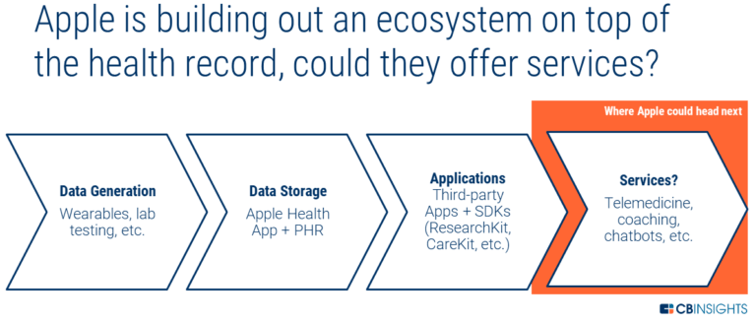 google
Google may be the most diversified of the big tech companies, with healthcare bets across the Alphabet umbrella. It has exposure to the life sciences through Verily and Calico, cloud computing under Google Cloud, and AI through DeepMind.
This month, the company announced Google Cloud partnerships with the Mayo Clinic, Meditech, Suki, and HumanAPI.
It also signed a deal with Britain's National Health Service — receiving access to 5 years of national patient data — and hired a former Obama administration official Karen DeSalvo as its 1st Chief Health Officer.
Finally, Reuters reported that Google has made a bid for FitBit, sending the wearables company's stock soaring over 20%.
Here's our report on Alphabet's AI strategy in Healthcare and other industries.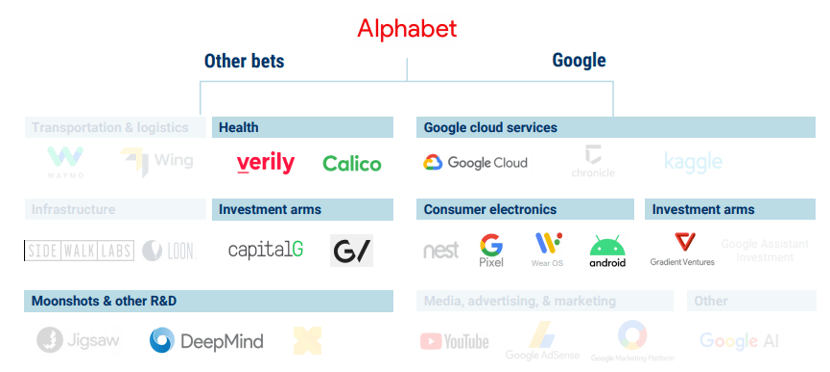 microsoft
Microsoft has historically focused on partnering with incumbents, allowing healthcare companies to benefit from its tech expertise.
This month, Microsoft continued with this trend, announcing partnerships with Novartis to apply AI to drug discovery and development, Silvercloud on mental health, and Nuance on clinical documentation.
It also signed a deal with Humana to provide cloud computing and artificial intelligence resources, with other potential opportunities in telemedicine and electronic health records.
other big tech healthcare moves in october 2019
Facebook announced a new tool called "Preventive Health," which reminds users to get regular testing and checkups
Alibaba bought a $1B stake in a medical examination chain called Meinian Onehealth
Tencent led a $132M investment round in Chinese clinical trial management company Taimei Technology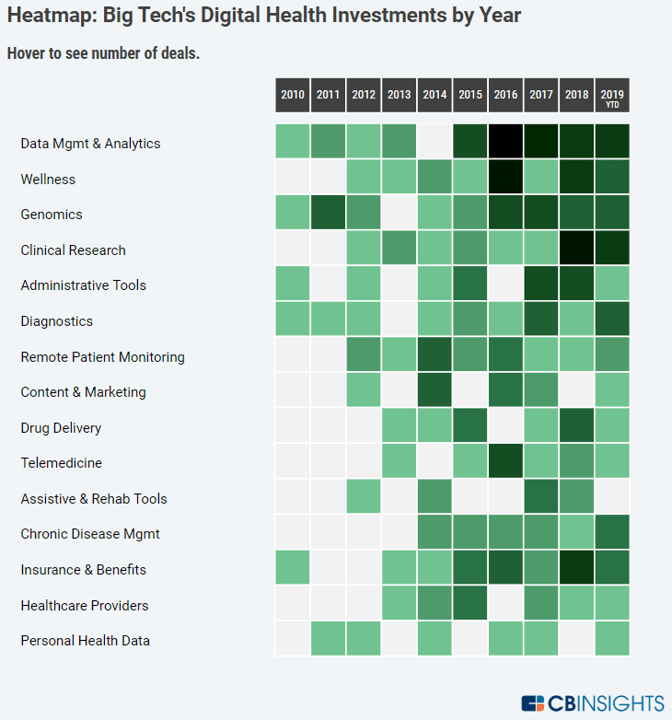 what does this tell us about big tech's healthcare ambitions?
Much of these companies' healthcare strategies are still a mystery, but October gave us a little more clarity on where they are headed:
Competition is heating up in the healthcare cloud computing space between Amazon, Microsoft, and Google
Wearables are a big opportunity. While Apple has the lead today, an acquisition of FitBit would make Google its number one competitor, and Amazon announced several wearables at its event in September
Artificial intelligence is an area where big tech thinks it can offer its expertise to incumbents
Telemedicine may be another battleground — especially as companies continue to expand the capabilities of their smart home devices
For more on Big Tech's moves in healthcare, we just published our first-ever interactive healthcare post: Where Tech Giants Are Betting On Digital Health.
If you aren't already a client, sign up for a free trial to learn more about our platform.