Since 2012, Microsoft and Google have been the most active FAMGA corporates in the gaming industry. But each of the 5 big tech giants is betting on the future of gaming in some strategic way.
Gaming is a lucrative business. The industry generated over $120B in revenue in 2017, and is expected to generate more than $180B in 2021. So it should come as no surprise that the world's largest tech companies are getting involved.
Facebook, Apple, Microsoft, Google, and Amazon (FAMGA), in particular, have all invested in the space to some degree. Some are investing, some are acquiring, and others are building products and services internally.
Collectively, these FAMGA corporates have invested in or acquired nearly 40 gaming companies since 2012.
The most active companies during this period were Microsoft and Google. Google, along with its investment arm's Google Ventures and CapitalG, invested in 13 total companies, while Microsoft acquired 14 gaming companies during this period.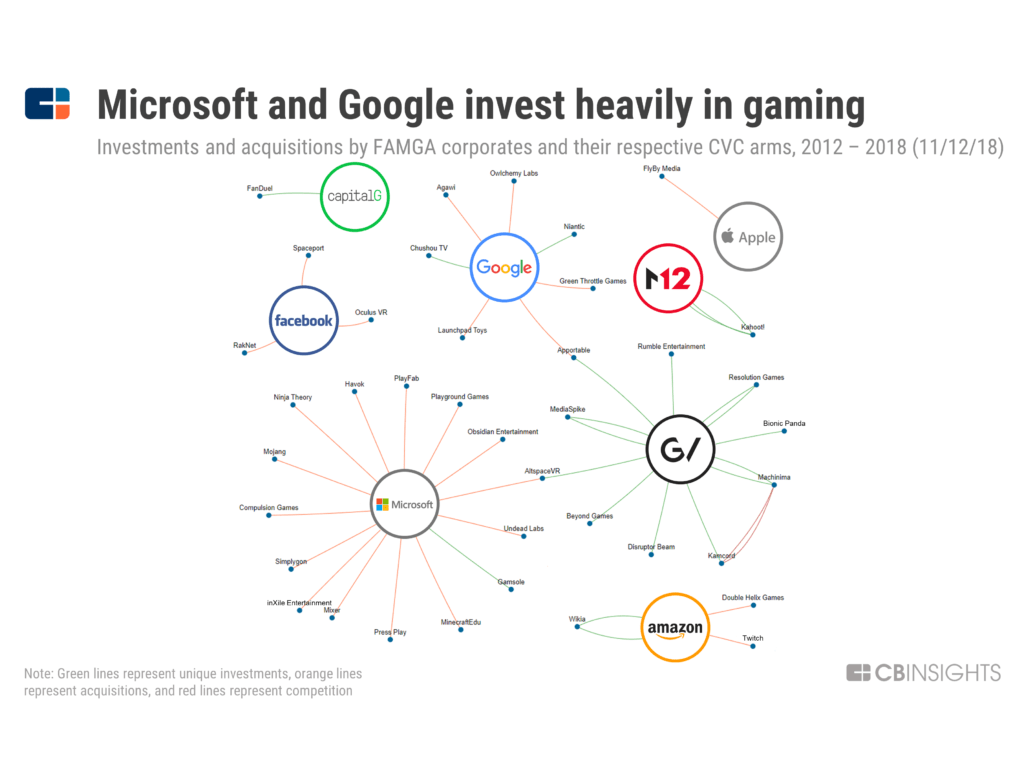 Though Facebook, Apple, and Amazon invested and acquired far less than either Microsoft or Google, they each acquired at least 1 gaming company during this period. They have also started a variety of internal initiatives that focus on gaming.
GAMING INDUSTRY
Gaming companies are defined as those developing technologies for the PC, console, mobile, and/or AR/VR video gaming market.
Track The Gaming Space
FAMGA in Gaming
In this brief, we will highlight a number of the acquisitions, investments, partnerships and internal initiatives by each of these FAMGA companies in an effort to understand their respective gaming strategies.
Facebook
While the social networking company hasn't invested in many gaming companies since 2012, it has acquired 3 companies that are directly tied to the gaming industry.
The most notable is virtual reality company, Oculus, which it acquired for $2B+ in 2014. Oculus is credited with commercializing one of the first virtual reality headsets and has since remained a leader in the AR/VR industry.
Facebook hasn't changed the company all that much as it focuses on luring more developers and creators to the emerging content medium.
This year, the company launched Oculus Start, which provides access to the newest developer tools, technical support, and licenses to virtual reality development engines Unity or Unreal.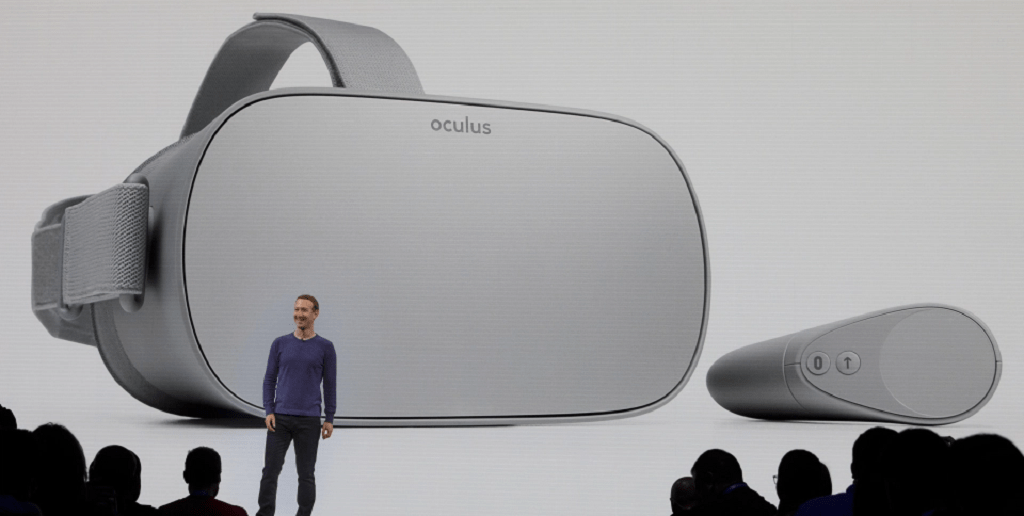 The company also released a $199 version of its Oculus headset, called Oculus Go. This became the most affordable VR headset on the market, which provides another incentive for developers to create for Oculus.
Moving forward, the company plans to offer a new headset in spring 2019, called Oculus Quest, while there are also talk of augmented reality glasses in the works.
While gaming isn't the only application for virtual reality, it is one of the most popular today.
In addition to virtual reality, Facebook has been a leader in social networking games.
While many of these games are available on the Facebook web portal, most are optimized for smartphone and tablets. For example, Facebook's mobile Messenger app offers in-app games (referred to as Instant Games) to keep users engaged and from switching apps.

The combination of a strong acquisition channel, large user base, and the potential for social sharing is an incredibly attractive incentive for game developers and publishers. These games are able to monetize through various forms of in-game advertising as well as through microtransactions.
Another one of Facebook's most recent gaming initiatives is the launch of FB.gg. This video game streaming service competes for viewership with platforms like Amazon's Twitch, Google's YouTube Gaming, and Microsoft's Mixer.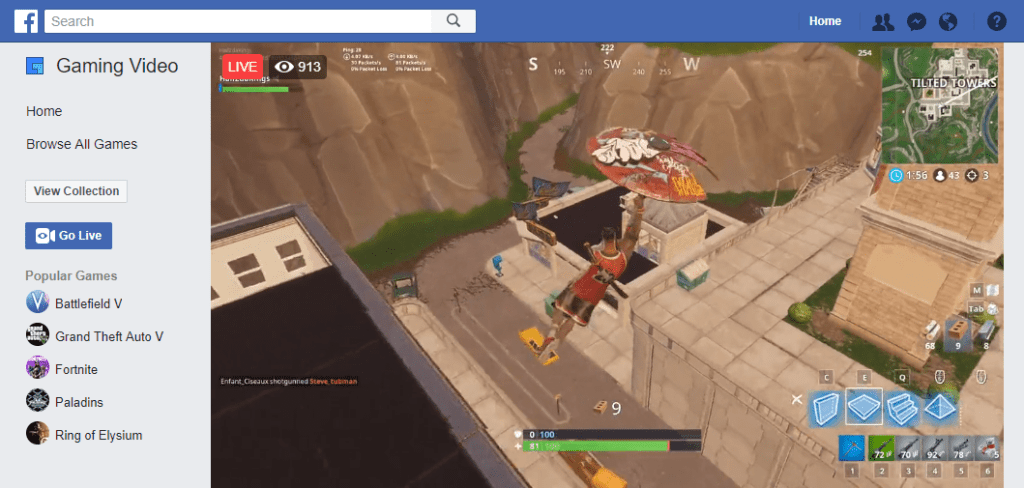 However, the main difference is that Facebook's streaming service is built atop the world's largest social network. Though platforms like Amazon's Twitch have the most popular streamers, Facebook is using its Level Up Program to attract the next big video game streaming starts.
Though viewership is nowhere near that of Twitch or YouTube Gaming, FB.gg viewership has already surpassed that of Microsoft's Mixer.
Apple
Similar, to Facebook, Apple has focused heavily on mobile gaming. According to Mirabaud Securities, nearly 82% of Apple's App Store revenue comes from gaming.
Apple iPhone and iPad users will also notice that in the past couple years Apple rolled out a dedicated page for games in the Apple App store.
Apple's history with mobile games dates back to the launch of the iPhone. In fact, the Apple App Store was the original marketplace for smartphones and tablet games.
Game demos are also a regular feature at Apple's annual Worldwide Developer Conference (WWDC).
In recent years, these mobile game demos have focused on the augmented reality capabilities of the newest Apple devices, operating systems, and development tools.
Since the release of ARKit in 2017, Apple's augmented reality software development kit (SDK), there have been over 13M downloads of apps developed with ARKit.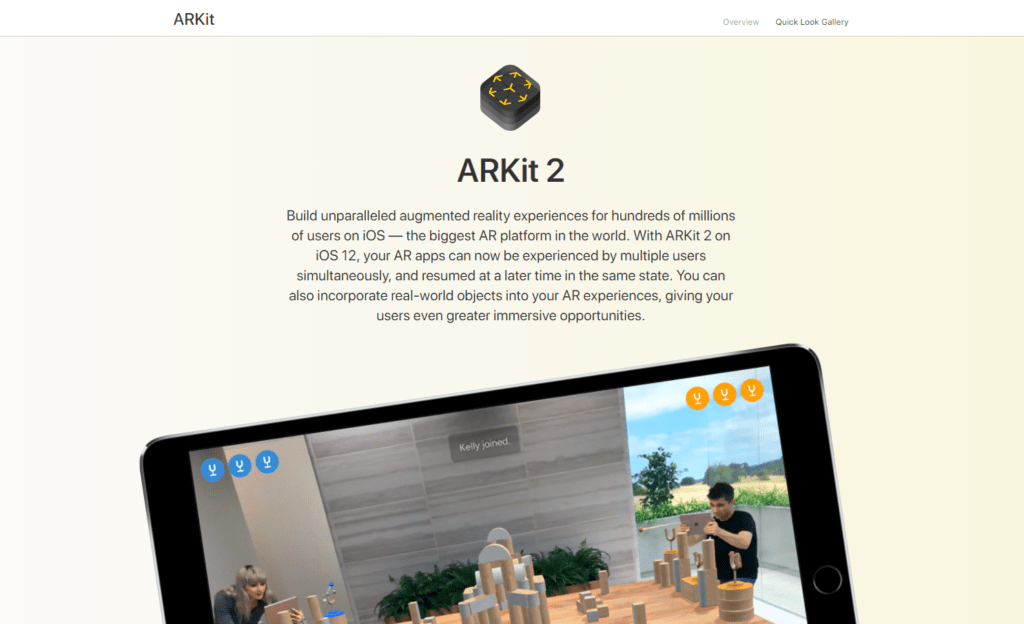 And nearly half of these downloads were for games built using ARKit. Apple has worked with companies like private, VC-backed Directive Games to demonstrate the capabilities of Apple devices for augmented reality games and apps.
And while these games don't yet leverage an AR/VR headset there are rumors that Apple is currently developing one or more headset devices.
In addition to Apple's mobile devices, the company's Apple TV has also been used as a gaming platform. While the Apple TV is optimized for streaming video content first and foremost, games are available within the dedicated Apple TV App store.
As Apple announces future iterations of these devices, it's possible that gaming becomes more of a priority. With many companies toying with cloud-based gaming, it's also possible that the Apple TV becomes capable of streaming high-fidelity games like those available on consoles like Xbox and PlayStation.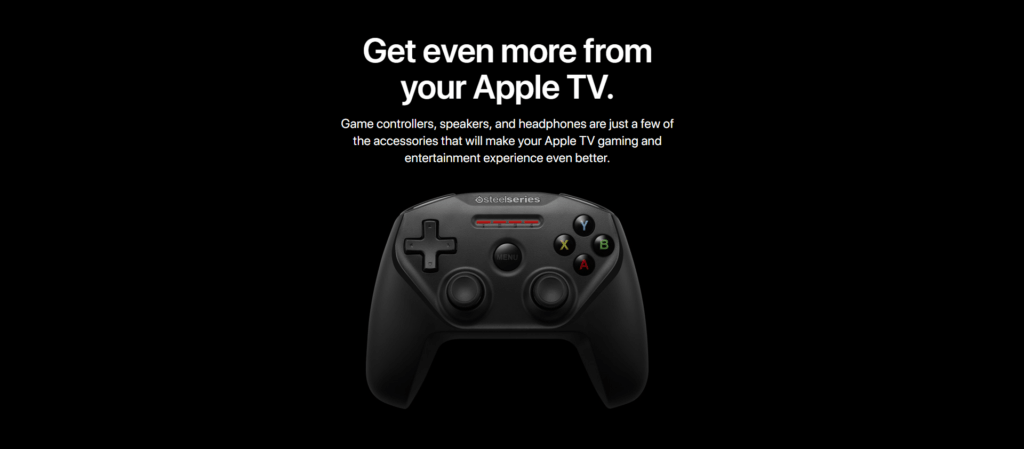 That said, mobile gaming is Apple's main focus.
To date, the company has primarily avoided PC gaming entirely. This has a lot to do with the slim profile of Apple's laptops and PCs. Most of these devices don't have the space to accommodate the somewhat bulky GPUs that are standard in today's best gaming PCs and consoles.
In addition, it would require a significant amount of investment to capture even a fraction of the (increasingly software-centric) market dominated by the likes of Valve, Nintendo, Sony, and Microsoft, among others.
Microsoft
Microsoft's Xbox stands out from the rest of Microsoft's business lines, but is increasingly playing into Microsoft's larger Azure cloud strategy.
Xbox has been around for nearly 2 decades and played a central role in the proliferation of online, multiplayer gaming for consoles. This service, known as Xbox Live, now boasts approximately 57M monthly active users.
While Xbox Live remains the premier subscription service of Microsoft's Xbox, and a primary revenue driver, the company has launched a number of new subscriptions services in recent years.
One of these notable services is the Xbox Game Pass, which launched in June 2017. This recurring subscription offers unlimited access to ~200 digitally downloadable games.
According to interviews with the Xbox team, this curated catalog of games looks to provide something for everyone. And Microsoft regularly adds new titles to keep the catalog relevant.
Microsoft has partnered with a number of studios to develop Xbox exclusive games, but the company also designs games of its own through Microsoft Studios.
Microsoft Studios is the video game production wing of the company and is responsible for certain games in the Forza Motorsport, Halo, and Gears of War franchises.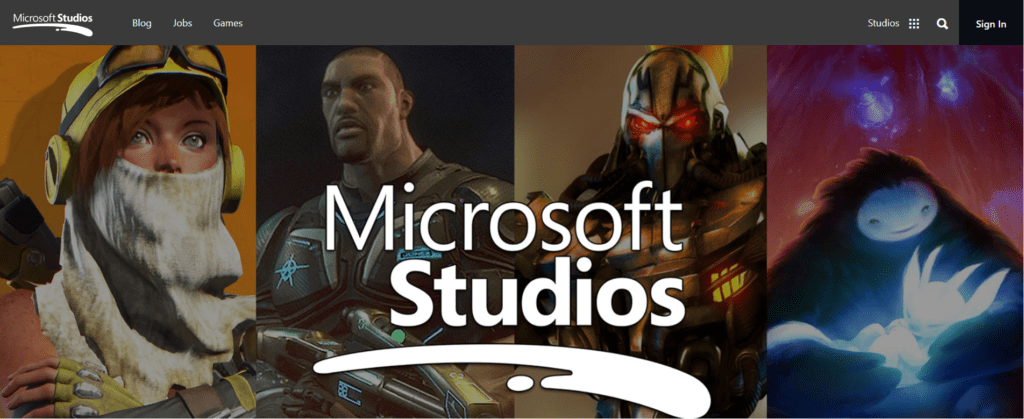 While Microsoft Studios has been known to create games of its own, the organization typically acquires outside game development studios to bolster the growing list of Xbox exclusive games.
And this is part of the reason that Microsoft has been the most active FAMGA acquirer of gaming companies since 2012. Of Microsoft's 7 gaming acquisitions in 2018, 6 were game development studios. 
The studios acquired include inXile Entertainment, Obsidian Entertainment, Compulsion Games, Ninja Theory, Playground Games, and Undead Labs.
The only other gaming company acquired in 2018 was game developer platform PlayFab in January 2018.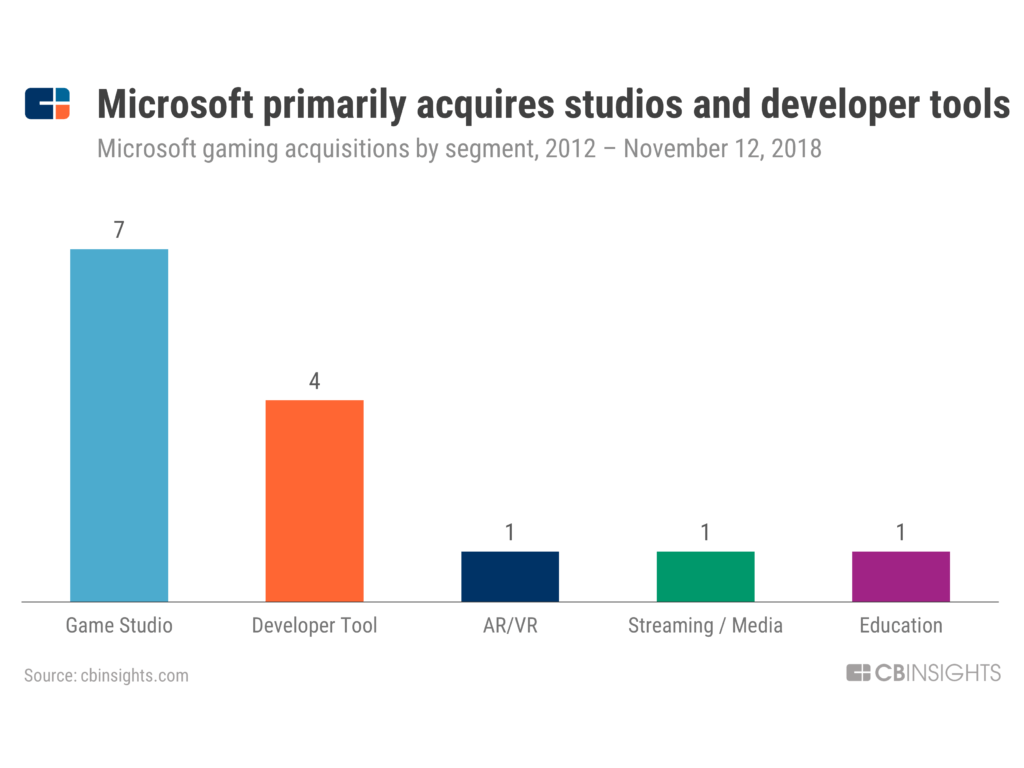 These studios will benefit from acquisitions like PlayFab and Havok (October 2015), which make it easier to build and operate high-fidelity games, as will customers of Microsoft Azure's Game Development Cloud.
Today, companies like Ubisoft and 343 Industries (developer of recent Halo games and established by Microsoft Studios) use Azure to accommodate large online multiplayer gameplay, while others develop entire games using Azure's infrastructure and development tools.
By attracting more developers to Azure, Microsoft may also incentivize those developers to create more Xbox exclusive games — a benefit to both sides of the business. But in addition to reliable infrastructure and advanced development tools, developers and publishers look for platform reach.

And while Xbox's distribution is strong, more consumers own Sony's PlayStation. This may have been a driver behind Microsoft's decision to develop a game streaming service, which was announced during the company's recent E3 keynote.
The service, called Project xCloud, will expand the company's reach by providing console-quality gaming on any device, including Xbox, PC, or smartphones. And Microsoft is uniquely positioned to deliver a reliable and seamless service with the help of its Azure cloud services.


In addition to this cloud-based game streaming service, the company is investing in another type of streaming service that looks to increase fan engagement.
Microsoft acquired Mixer in August 2016 in an effort to compete with live-streaming services like Google's YouTube Gaming and Amazon's Twitch.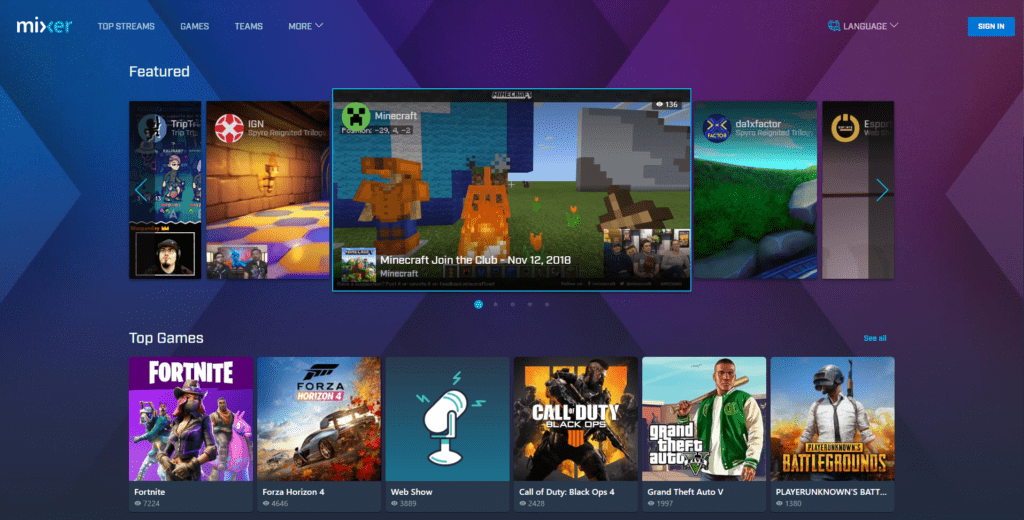 While Microsoft's Mixer platform is the least popular of the streaming services, it is another example of how Microsoft has used acquisitions to build out its video game business and how it plans to fortify that business for the long term.
Google
Google, similar to Microsoft, offers a video game streaming service called YouTube Gaming.
This platform is the second most popular live game streaming service behind Amazon's Twitch, though YouTube does have more pre-recorded gaming content in general.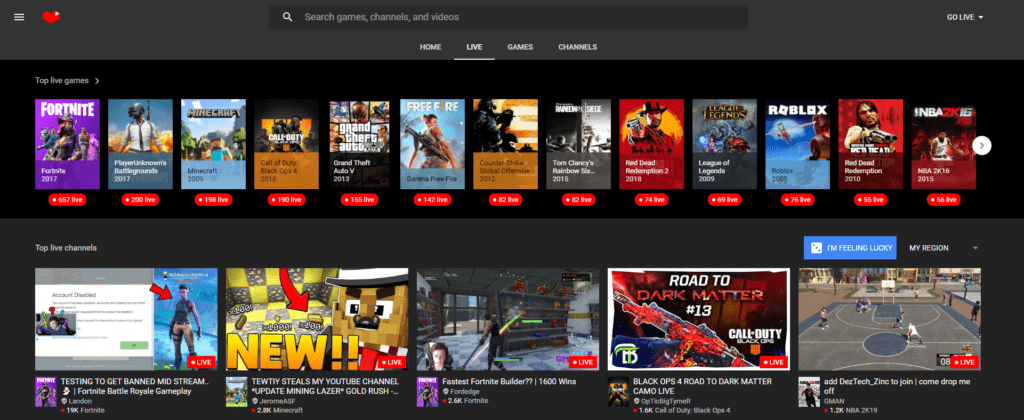 YouTube Gaming is a valuable asset to Google's advertising revenue, but also helps expand Google's reputation beyond mobile Android games. Many fans now turn to YouTube to watch their favorite gamers play PC games.
However, since Android is the world's most popular mobile operating system, it's not surprising the mobile games remain core to Google's broader gaming strategy. Similar to Apple, Google's Play store generates a significant portion of its revenue from mobile games.
In countries where gaming is particularly popular, that figure can reach upwards of 94% of total Play store revenue, according to WiseApp.
And as mobile gaming is now the highest growth segment in the overall gaming industry, it's not surprising that Google is encouraging developers to build games for Google devices and software — Android or otherwise.
Google has optimized many of its platforms for gaming, including the Android OS, Chrome browser, and the company's new virtual reality platform, Daydream.
Daydream is optimized for Android smartphones and is enabled with the addition of a low-tech VR headset, the Daydream View.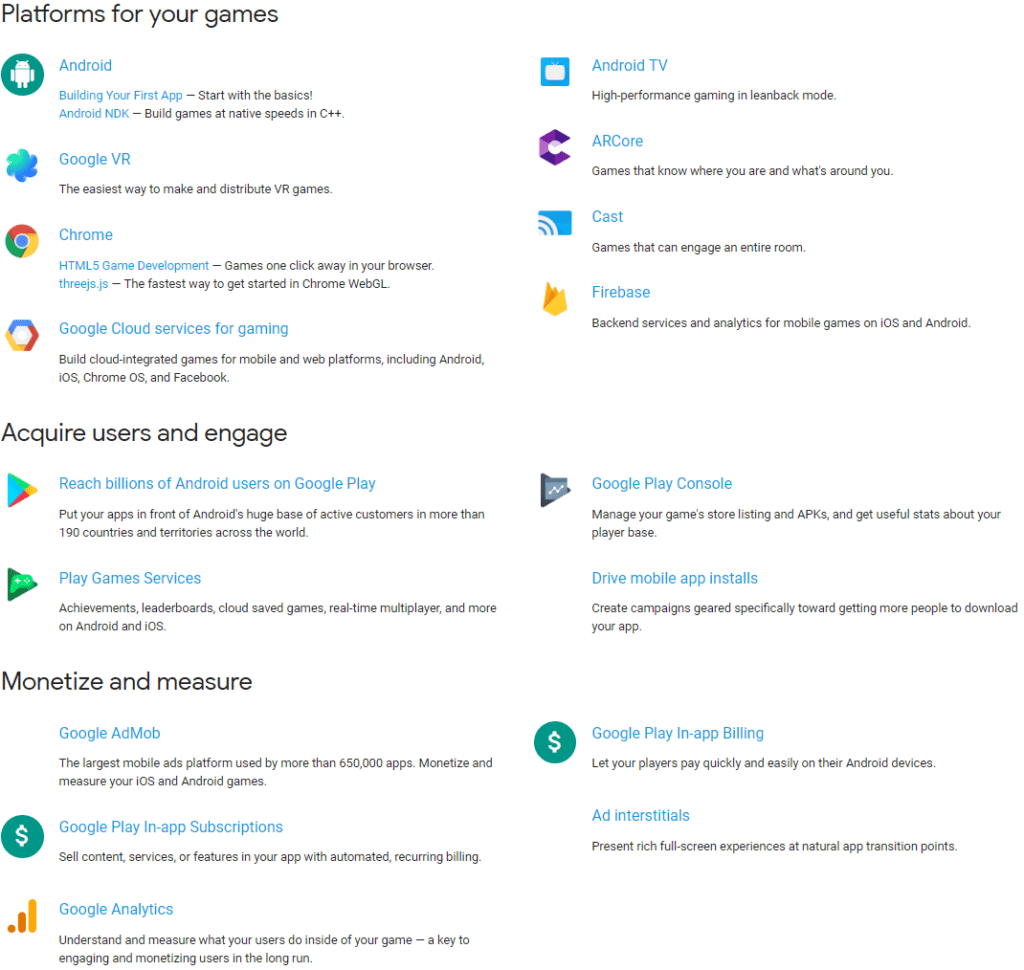 Unlike other platforms, like Facebook's Oculus, Google is betting on a VR experience built with mobile phones. Instead of having to buy a separate, standalone VR headset, Google believes that users will be more incentivized to try VR if they can leverage the same mobile device they use all day.
Another area that Google is exploring is cloud-based gaming. Like Microsoft's Project xCloud, Google recently announced its own version called Project Stream. Users with a 25Mbps internet connection will be able to stream games online, without the need for a console or downloading the game itself.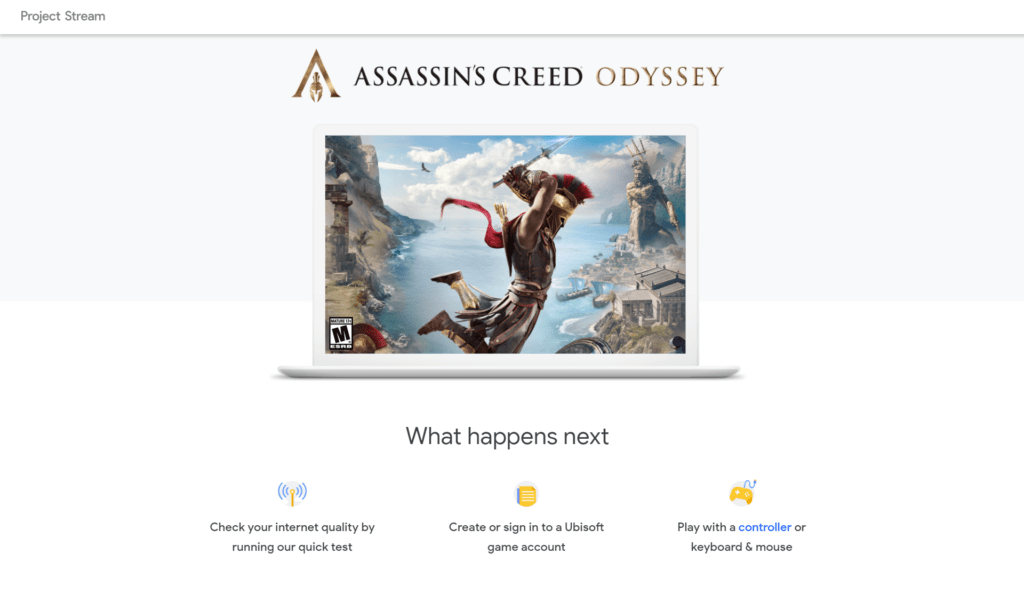 Google recently partnered with game developer and publisher Ubisoft to provide beta access to one of the studio's Assassin's Creed games.
In addition to all of Google's internal investments and initiatives, the company has also been investing in external gaming organizations. Since 2012, Google, along with its investments arms Google Ventures and CapitalG, has invested in 13 gaming companies.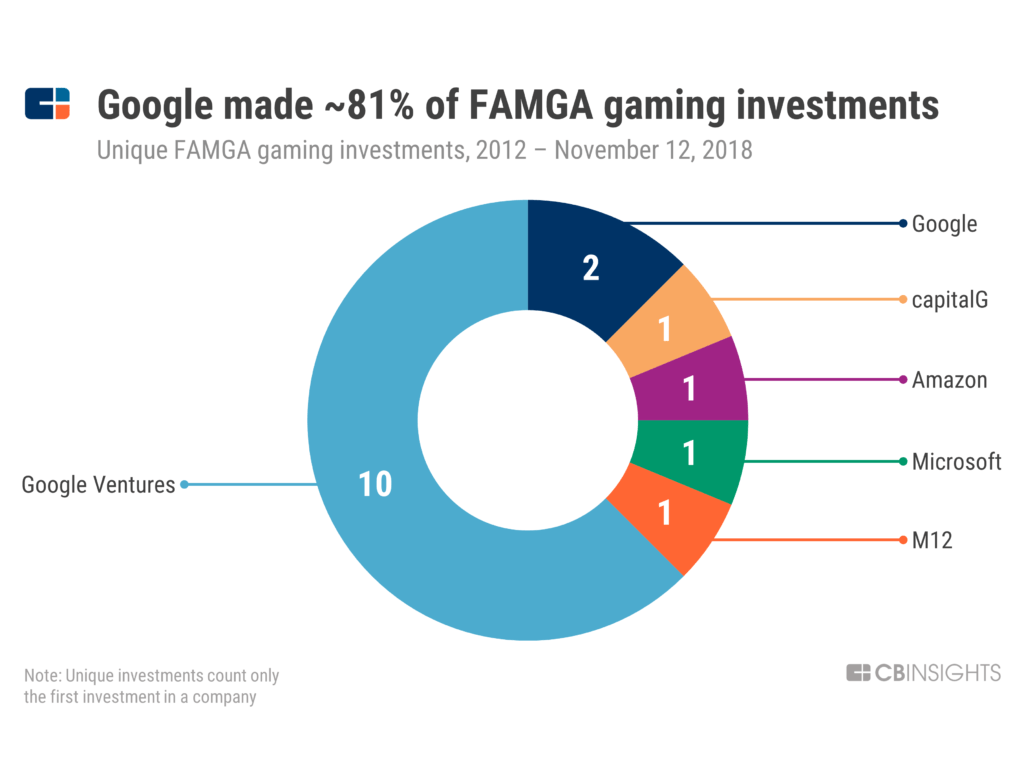 6 of the 13 companies are game development studios, and many, like Disruptor Beam, Beyond Games, and Niantic, are focused on mobile gaming. According to recent reports, Google has launched a secret game studio called Google Arcade, which will also focus on mobile game development and user engagement.
However, others like Resolution Games focus on developing virtual reality games.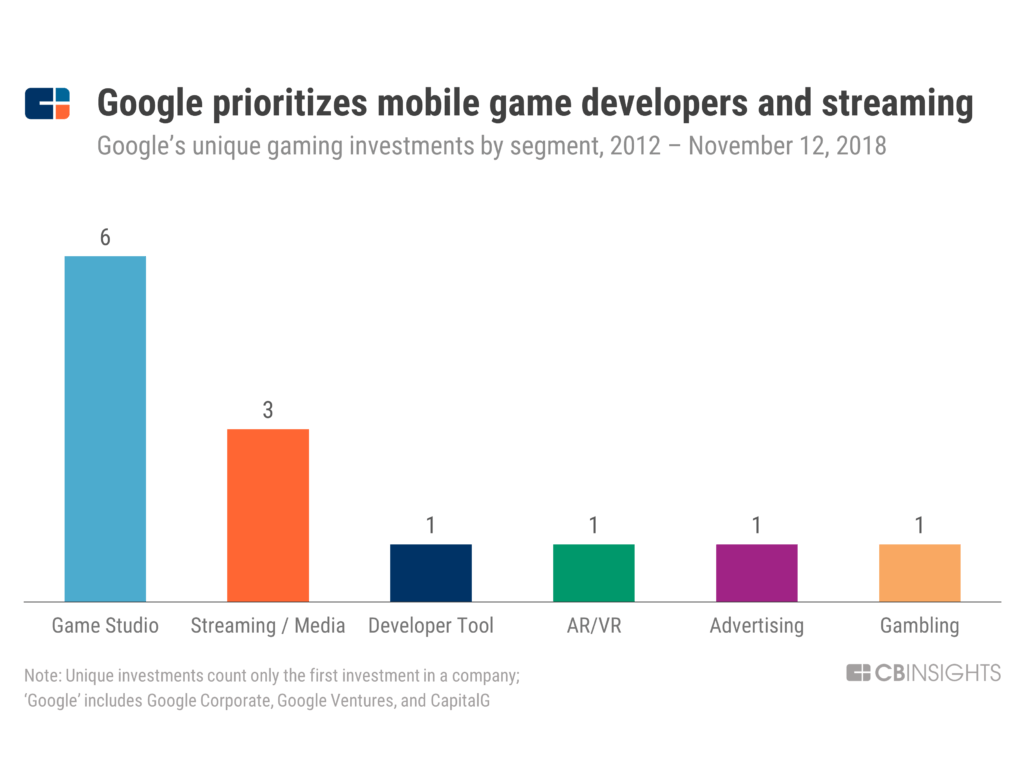 In addition to investing in game development studios, Google and its CVC arms have invested in video game streaming technology, a video game developer tool, and an in-game advertising platform.
Amazon
Like Microsoft and Google, Amazon is also a player in the video game streaming space.
And its Twitch platform, which Amazon acquired in 2014 for nearly $1B, is the most popular video game streaming service when measuring concurrent viewership of live gaming content. The company has even attracted a number of YouTube influencers and pop culture celebrities.
The platform also sells video games directly on the site, an expansion that competes with game marketplace platforms like Valve's Steam. Twitch membership is free with Amazon Prime, making the Prime membership attractive to gamers who are already well accustomed to buying their gaming titles online.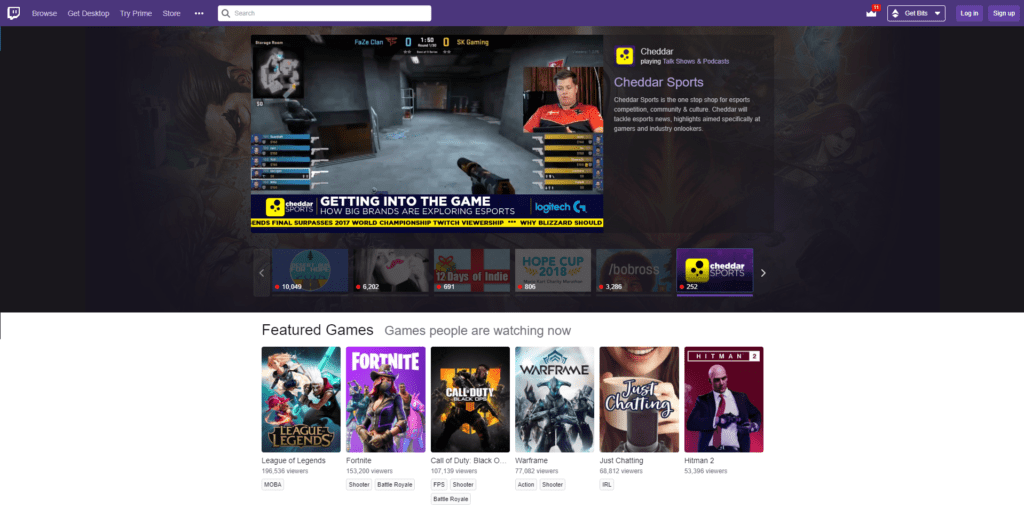 And while Amazon doesn't have a gaming console like Microsoft or a streaming service like Google, it does have a large catalog of streaming devices, notably the Amazon Fire TV. These devices could eventually be the basis for some type of console or cloud-based gaming device.
Amazon has marketed these devices to gamers in the past by including an Amazon brand gaming controller.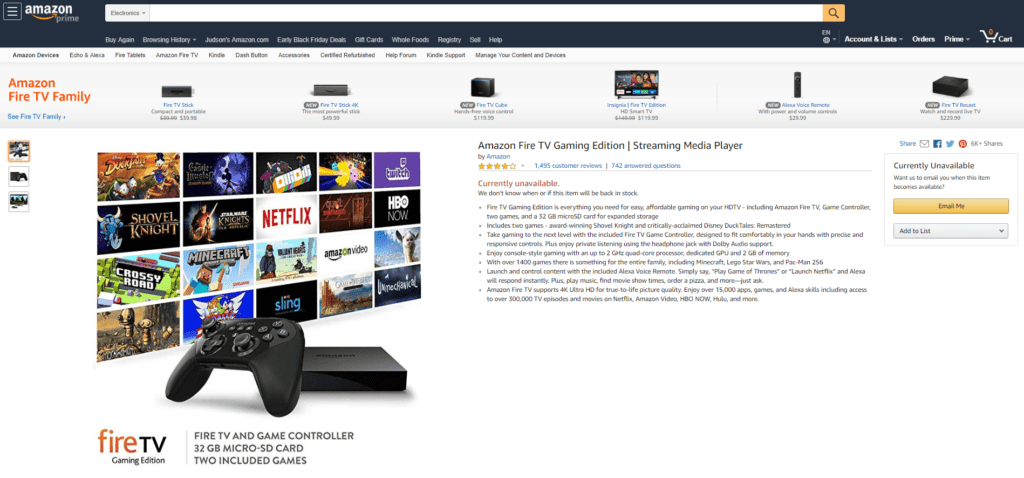 In addition to these products and services, Amazon is also very involved in the development of video games. Similar to Microsoft, Amazon's cloud business, AWS, offers a suite of game development tools to help its customers develop high-fidelity games.
The service, known as Amazon Lumberyard, offers a free game development engine optimized to run on AWS cloud services.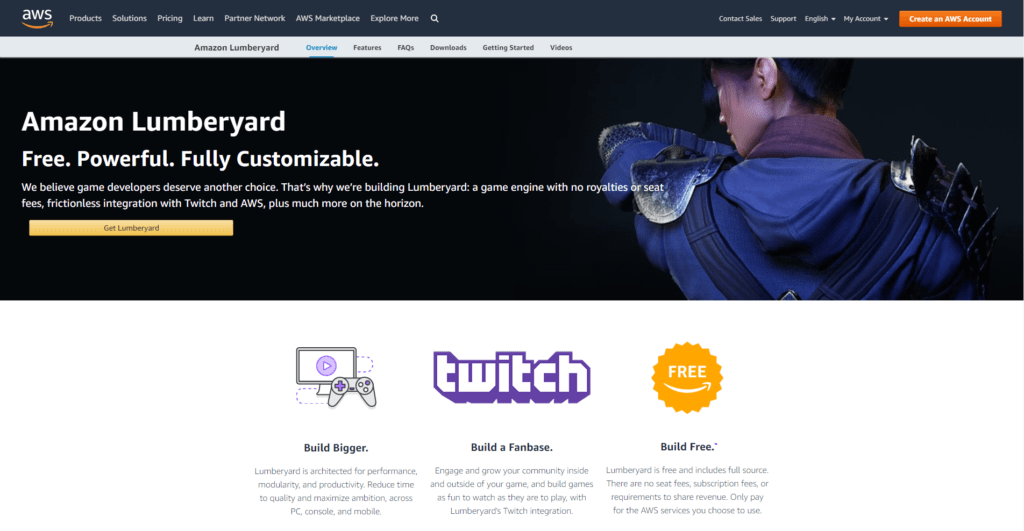 Even Amazon is using its own game engine to develop games.
Twitch, AWS, and Amazon Lumberyard are all used at Amazon Game Studios to develop games optimized for streaming and fan engagement.

Amazon Game Studio has two games currently in production, though the release of these titles has yet to be announced.
If you aren't already a client, sign up for a free trial to learn more about our platform.